RSS Feed
RSS Feed
Stratics Veteran
Greetings Fellow Avatars!
Welcome to Release 99! As many of you might have noticed, next release is a huge milestone for us. Release 100! Due partially to us wanting to make Release 100 extra special and the short month, Release 99 is largely polish and just a handful of new features! The headliners items for this release are some much-needed quest journal improvements and the final entries into the big cats family along with unique ROAR effects for all tamed big cats! The new town of Grusk was very close to making it for this release as Sannio has been working hard on fleshing out the NPCs and expanding the quests in the scene but we decided to save it for next month's exciting celebration release!
For those wishing to participate in any
community activities
, upcoming one-time and recurring community events have been announced! Be sure to also review the
Player Guide
and
Known Issues
list for additional information on recent changes and upcoming fixes.

Release 99 Patch Notes!
Below is a list of game changes and new content that are live as of Release 99 (R99).
New Journal UI
Mounted Young Fish – added mounted decorations and recipes for all young fish types
Fixed Leather Backpack deco floating issues SOTA-69784
Fixed issue with Lion Cub Pet missing Dismiss option SOTA-70050
Fixed typo in Stone Dungeon Room Spawned (Random Encounter 2) blueprint
Fixed issue with tamed crocodile names not displaying correctly SOTA-69582

The lion roar should now properly mesmerize nearby hostile opponents
The lioness should now grant nearby friendly players a life attunement buff
The tiger roar now grants nearby friendly pets a bonus to critical hit chance
Jaguars now have a unique roar that grants some limited magic resistance to those nearby
Black Panthers now have a unique roar that grants a modest dexterity bonus to those nearby
Snow Tigers now have a unique roar that reduces the fire resistance of enemies that hear it!
Sabertooth Tigers and Snow Leopards, wild and tamed.
Sabertooth Tigers have been spotted in the Normal, Hard, and Extreme difficulties of Lamech's Bazaar and Desert Encounters in Novia, Hidden Vale, and Mistrendur! When tamed, their roar grants party members additional strength!
Snow Leopards have invaded the Obsidian Panopticon and Snowy Mountain Road Encounters and Snowy Tundra Encounters in Novia and Mistrendur! These fierce creatures have a roar that increases crit damage vs enemies that hear it
Splintering Strike has had its damage calculation changed to do slightly less base damage but factor in attunement to increase the overall damage
Glacial Glissades damage has been reduced slightly to be in line with other, similar skills
Aether amplifiers will no longer take up a deco slot to make it easier to place them for temporary events
R99 Reward: Set of Leprechaun Bowler Hats
R99 Reward: Set of Ancient Xenossian Urns
R99 Reward: Sparse Clover Paver Set
R99 Login Reward: Irish-Themed Wax Cylinders

Fix: Fixed lua function ShroudGetGameTime day and month which was giving 1 less than it should.
Fix: Fixed lua function ShroudSetInputText.
Added commas to the lists of locations given by town criers. SOTA-70084
Player can now use hotkeys for decks 13-48. SOTA-69855
Fix: Stripping URL bbcode from lua as this was not suppose to be allowed.
Added ShroudGetEquipments to lua function which work the same way as ShroudGetInventory
Loot that is rolled in party will now appear in "Recently Looted" sorting option.
Estgard: Updated the journal entry for "Convince Knight in Estgard" to help clarify what needs to be done. SOTA-69871
Ferig's Battle Camp: Ean should now pay players some gold as instructed by Ferig, even after the avatar has finished the Courage path.
Highvale Outskirts: Fixed a typo in one of Esmeralda's responses.
Necropolis Barrens: Updated the gates at Envy Angel's home so that NPCs don't simply walk through them. SOTA-70198
Solania Catacombs: Fixed a typo in the logic used by Whiteguard Helena's responses to fix a build error.
Solania Catacombs: Updated the logic in Whiteguard Helena's responses to help ensure the Ichor Witch's Skull is removed after the completion of the quest.

Soltown: Updated some text and logic used in Jeanne's responses to improve how players give her the silver necklace.
Corrected the display name for the Eternal Pattern: Feathered Leather Wizard's Hat. SOTA-70203
Additive Loot Table update for spiders in the Player Dungeon Spider Room (Hard and Boss) to drop blueprints.
Display Name changes for player dungeon spider rooms are now more consistent.
Deco can now be placed in the Hilt Spider Room (Debris Deco) Player Dungeon Room SOTA-70202
Corrected Z fighting in the long connection hallway for the Spider Deco and Spider Pristine player dungeon rooms.
Eliminated warnings seen when loading into a dungeon with the Pristine or Debris Deco versions of the Player Dungeon Spider Rooms placed.
Moved all uncategorized dungeon recipe book entries into the smelting category. (Spider Totems will be in the correct category as of R99 patch1) SOTA-68339, SOTA-70220
Blueprints for the (Pristine Deco-able) Spider Player-Dungeon room and the Spawning Spider Player-Dungeon room will now drop in Hilt as expected. SOTA-70201
Added the following subscriber rewards to the store to appear on March 19th: Leprechaun Bowler Hat 2-Pack, Sparse Clover Pavers, Ancient Xenossian Urn 3-Pack. Added the Very Sparse Small Pavers to the store to appear on February 24th. Adjusted some icons for brightness. Added bowler hat patterns to proper classification.
Added GDOC_Occludee components to all 21 prefab variations of the gustballs so that when players have GPU Occlusion set to "on", the gustballs do not mysteriously disappear at odd moments.
Five new wax cylinders are now available as loot in the Floating Barrel (Flotsam) which can be fished from the waters of the moat at Castle Atos.
Avatars!
Rewards Program
login items for Release 99 are a must-have — don't miss out! This month's collection includes Xenossian vases, Leprechaun Bowler Hats, and a new paver set! Subscribers to the
Reward Program
must login during Release 99 to receive these special login items:

The
Shroud of the Avatar Rewards Program
lets you earn the best rate on purchasing Crowns, AND receive monthly reward items! For the low price of $9 USD per month you will receive the following:
900 Crowns of the Obsidians every month
Monthly Login Reward Items (about 3 per month)
Exclusive Title every 3 months

3 Months: Keeper of the Faith
6 Months: Keeper of the Word
9 Months: Keeper of the Vow
12 Months: Keeper of the Flame
15 Months: Keeper of the Oath
18 Months: Keeper of the Pledge
21 Months: Keeper of the Bond
24 Months: Keeper of the Promise
27 Months: Keeper of the Covenant

Pick any Dye 12-Pack every 6 months
Pick any three of these 7 Obsidian Potions every month:

Potion of Capacity: Increases carrying capacity
Potion of Conservation: Reduces reagent use chance
Potion of Expedience: Swift gathering on all gathering skills
Potion of Precision: Increases Meticulous Collection to all gathering skills
Potion of Preservation: Reduces armor and weapon damage
Potion of Reclamation: Increases Salvage and Repair to all production skills
Potion of Stamina: Decreases focus use from sprinting

While subscribed to the rewards program, players also receive these special bonuses:

Obsidian Potions are significantly more powerful!
24 Additional Deck Slots!
Bug Brigade & Testing Directives!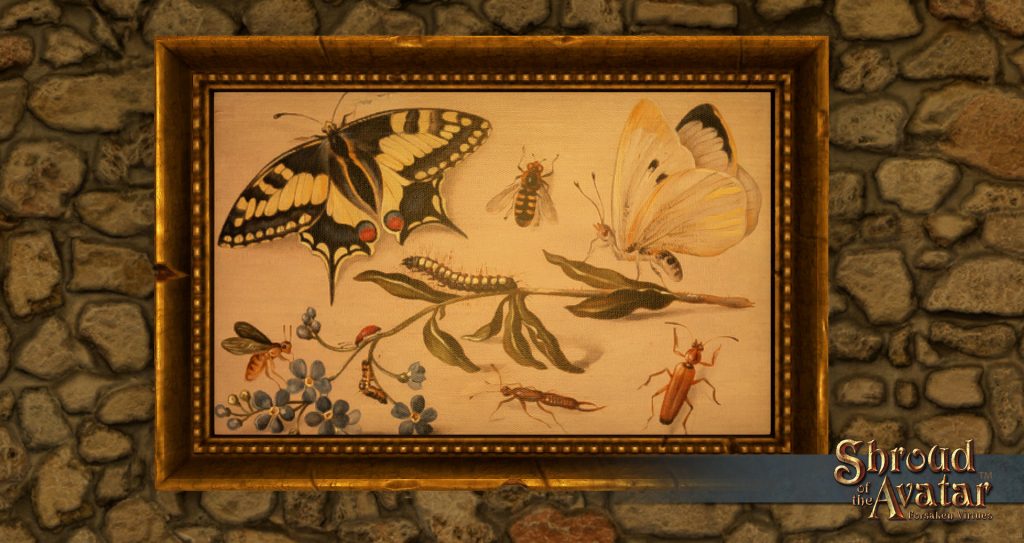 The Bug Brigade was established to improve how the community and the development team work together to improve the game. Since the Brigade's inception, the program has gone through a number of changes and was eventually placed on hold. The stability of the game is as important to the development team as it is to the players, therefore the program was revamped and was relaunched.
The Brigade has been up and running and the volunteers (Alley Oop, Echondas, and Justyn) are in a good rhythm for verifying and submitting bugs to the developers. If you have reported a bug that has not yet been addressed, please be patient while the backlog is being worked. The Brigade is working diligently to clean up the backlog of bug reports posted by players on the forums.
Every month, a considerable amount of development time will be spent working many of the verified bugs which have been submitted to the team by the Bug Brigade. This focused effort on bug fixes would not be possible without the recent efforts of the Bug Brigade. Please take the time to thank these bug hunting aficionados when you encounter them in your travels!
In turn, the development team would like to express a big thank you to the Bug Hunters! These community members are doing a fantastic job bringing so many bug reports to the team, and they're doing it in a way which makes the process smooth and efficient. Thank you, thank you, thank you! Much improvement has been noticed by the development team and we're so very excited to see the program's continued success!
The development team would also like to thank all of those who take time to participate in QA Testing Directives. Thanks to your hard work and dedication, many issues and bugs can be identified and fixed prior to content going to the Live Server! Keep up the great work! For those that wish to participate in future bug hunting endeavors, please check the forums regularly for upcoming
QA Testing Directives.
Don't forget, the Bug Brigade is open to all players in good standing and bug rewards are SWEET! They will be awarded on a monthly progression basis with only minimal requirements to qualify. The available rewards to receive in progression via qualifying participation are as follows:
Antennae Head Gear and Forum Title 1: "Bug Hunter"
Single Ant Cloak
Lady Bug Backpack
Bug Painting A and In-Game Title 2: "Associate of Aphids"
Ant Farm
Insect Leg Table
Many Ants Cloak and In-Game Title 3: "Bachelor of Beetles"
Bug Painting B
Bug Sprayer and /bugspray Emote
Bug Painting C and In-Game Title 4: "Master of Moths"
Butterfly Chair
Corpion Chair (Pictured Below)
Yellow Fireflies VFX and In-Game Title 5: "Doctor of Dragonflies"
Hacked Oracle Flyer
Giant Blue Butterfly Pet
Butterfly Mask
Dragonfly pet
Fairy Wings
Monarch Butterfly Pet
Dragonfly Wings
Hacked Oracle Crawler
Blue Butterfly VFX
Orange Fireflies VFX
Orange Butterfly VFX
If you've come to think of Shroud of the Avatar as your home, sign up and help make New Britannia a better place to live! To learn more about joining the Bug Brigade, please read the
announcement thread
by Ravolox in the main Bug/Feedback forums.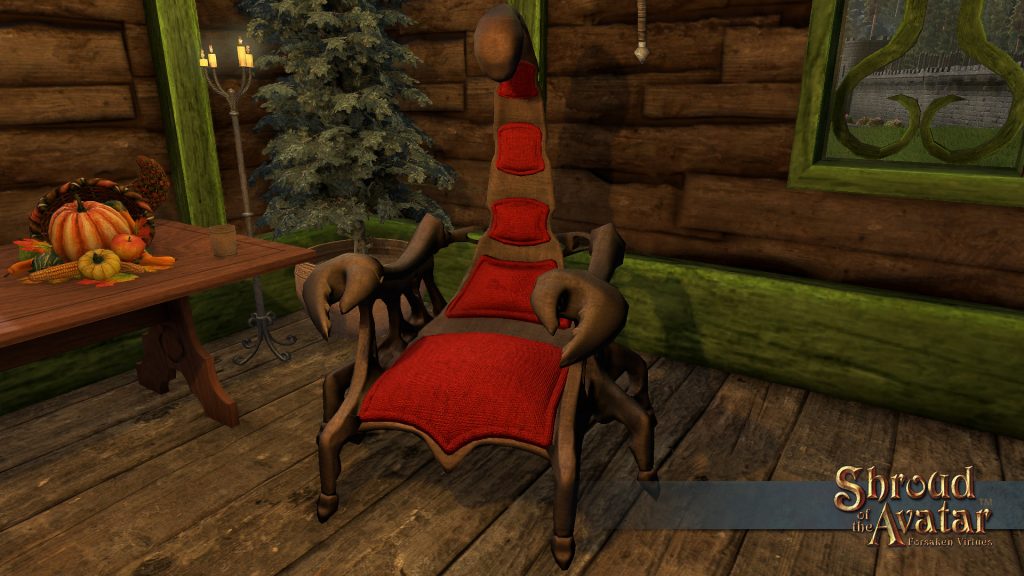 Updates to the Streamer Rewards Program!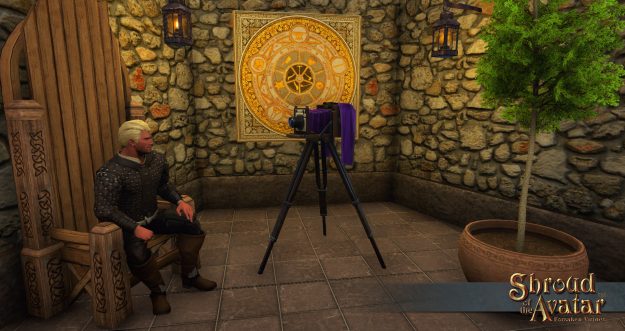 Several months ago, a program was proposed for the Streamers of
Shroud of the Avatar
. The ultimate goal being to showcase
Shroud of the Avatar
while giving SotA streamers a reward for their efforts. The program is currently in Phase I, with Phase II technology currently being discussed and worked internally. So, let's talk Phase I!
Phase I:
Streamers who wish to be included in the Streamer Program must contact Laney via in-game mail or in a private message on the forums with their Character Name and Twitch Channel information. If you have already signed up for the program in the past, fear not, you're on the list, and you don't need to reapply.
Streaming Rewards Program participants must adhere to our Terms of Service (TOS) and Community Rules while Streaming Shroud of the Avatar.
Streaming Rewards Program participants must stream at least 10 hours of Shroud of the Avatar ACTIVE game play to remain in the program with reward accrual.
Streamers will receive a one-time digital reward of in-game items after meeting the program's requirements: Streamer's Cloak, Streamer's Camera, and a brand-new LIVESTREAMING title. Future incremental rewards will occur at 6-month intervals. (More information to come).
Rules:
To qualify for Streamer Rewards, each streamer must continue to meet the minimum requirements for 60 days after application.
To accrue additional rewards, Streamers must stream SotA a minimum of 10 hours per month, tallied on the 1st day of each month, to remain in the program.
Streamers must be actively playing the game during their streams. Being away from the keyboard (AFK) for short periods is acceptable. If Twitch indicates the streamer is playing SotA but they are streaming other content or a timeout/login screen, they risk being removed from the program.
Items of Note:
SotAbot: Streamers in the program will be included in the SotAbot StreamPop function, appearing in the player-streaming channel in Discord.
Graphics & Overlays: An optional "Streamers Kit" is available to the participating streamers as well as all players of Shroud of the Avatar, which includes graphics, overlays and other material.
Watch the forums for more information, coming soon, regarding Titles, future rewards and for info on Phase II of the program. We love our Streamers, so get out to Twitch and follow them, watch them, and support them!
Upcoming Release Dates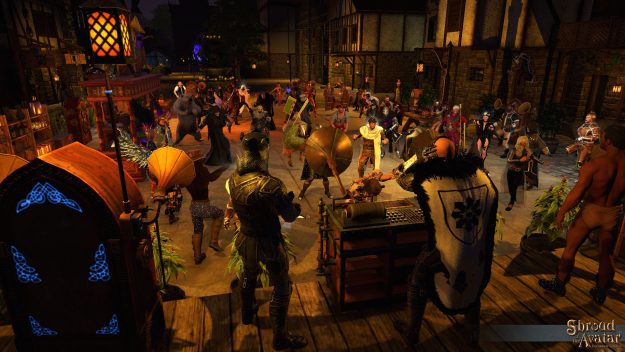 Be sure to check out the
Upcoming Events
page for spotlighted events plus links to various areas to post or find events on our forums. The upcoming 2022 Release Schedule is as follows:
This Release 99 – Feb 24 (Content)
Release 100 – Mar 31 (Polish)
Release 101 – Apr 28 (Content)
Community Updates & Resources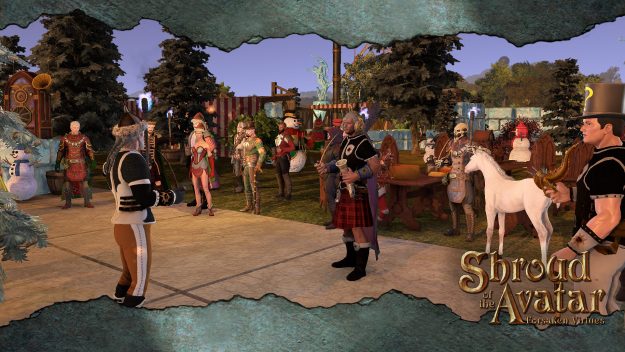 Greetings event holders and event attendees! So many fun and exciting events are available in the upcoming weeks. Be sure to get out there and participate, make some new friends, perhaps make some great emote, recipe, or gear trades, or get some adventuring and role-playing into your mix! Here are spotlighted events or updated community resources that we've noticed popping up lately on the official forums. Note, we are putting a hold on our official Catnip Games events while we train up our new community person!
Special Announcements:
Quel Regional Market Now Open: Tired of searching endlessly for what you'd like to buy? Well, the Britannian Mining Company feels the same way, so they've created a well-organized and easily accessible vendor town. And the best part… All row lots inside the settlements are FREE for any merchant in New Britannia to claim!
Recurring Events:
New Player-Created Resources:
Crafting Q&A with Coswald Dirthmire: Recently, streamer extraordinaire Coswald Dirthmire hosted a crafting Q&A session in the town of Haven Ridge. As the 3rd installment of Haven Ridge's Q&A series, it turned out to be a highly informative event. Please watch the video and see what you missed!
Community Calendars:
Avatars-Virtue Radio Calendar: Just when are all those talented DJ's and streamers broadcasting? Don't just guess, check out there very helpful calendar! Never again will you wonder when's the best time to tune in!
NBNN Calendar: This calendar provides a great schedule for NBNN and WRFB programing as well as many other community events. If you're a fan of the Laz & Jack show or even if you're hoping to catch them in action for the first time, this is the calendar for you!
SotA Event Calendar: Event participants, take heed! Thoryk Omara has done a wondrous job creating a community event calendar which is available to all players of Shroud of the Avatar. Please make an effort to support this new calendar. The more resources players have at their disposable for event notifications, the better!
Community Event Resources:
Here are some fantastic resources for tracking down community events or posting your own events. Become involved! Create! Explore! Make friends! But most of all, have fun!
SO many options to stay tuned-in with fellow community members. Please take advantage of all these wonderful options. Happy adventures, Avatars!
Project to Support: Ghostbusters: The Gates of Gozer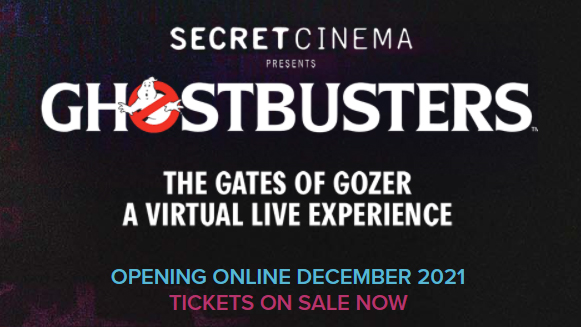 We are excited to share, Starr "Darkstarr" Long's (Executive Producer at The Acceleration Agency) latest project: Secret Cinema's "Ghostbusters: The Gates of Gozer." Travel back to the '80s and experience never-before-seen storylines based on the original film in this live virtual adventure. Get ready for the jaw-dropping detail of any Secret Cinema event, brought to you online and to a whole other level! Team up with the Ghostbusters to investigate paranormal activity, explore the infamous 550 Central Park West and uncover spine-chilling secrets from other dimensions. The world needs saving and you're the one for the job!
Project to Support: Shard RPG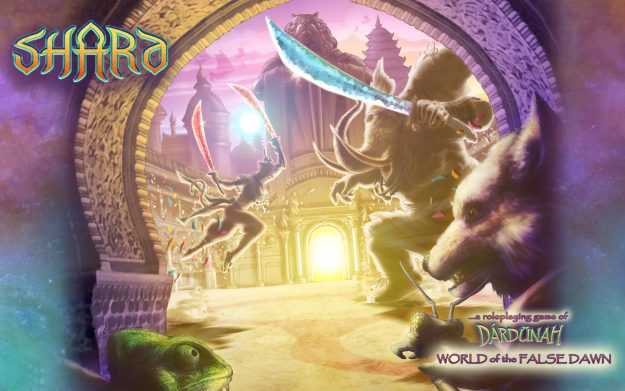 Shard Studios invites you to enter the fantastic world Dárdünah, the vast shard of a shattered realm, as presented in the colorful pages of the SHARD RPG! Many years in the making, this system allows players to choose from a wide variety of animal people who are the main cast of the many adventures this otherworldly setting offers. Skyships glide through shimmering clouds past majestic crystal peaks. Giant insects prowl alien jungles or lurk in the sparkling emerald seas. Warriors with blades of diamond and amber duel across crimson sands. And mystics chant in shadowy chambers as their spirits wander abroad.
Intro Sheet: For a quick glimpse into the world of Dárdünah, be sure to download the intro pdf! It's packed with great information and features beautiful artwork, not unlike the artwork found throughout the many pages of this gaming system's gorgeously designed manuals.
Core System Manuals: It's easier than ever to delve into Dárdünah, World of the False Dawn, with the Core Books Bundle! If you've never had the opportunity to experience this unique gaming system and setting, now's your chance! This bundle includes two beautifully illustrated, full-color, hardcover books: the original Basic Compendium and the Magic and Martial Arts book! They contain everything you need to begin your adventures, and include instructions for the ritual magic and martial arts combat systems. These manuals also include 90 new Animal Templates upon which to base your character!
Other Shard RPG Products: So many more manuals and gaming materials are available! Everything an avid tabletop role-player and game master needs to delve into the world of Dárdünah!
So if you're ready to experience a gaming world like no other, check out what Shard Studios has created for tabletop role-players on the
Shard RPG official website
! You'll most certainly be immersed and amazed by the offerings of the Shard RPG!

Project to Support: Ember's Adrift!
Help support one of our team members' other projects, Ember's Adrift! While not live yet, they will be releasing a schedule soon detailing their timeline. Check out their newly released video here:
Project to Support: Avatar Express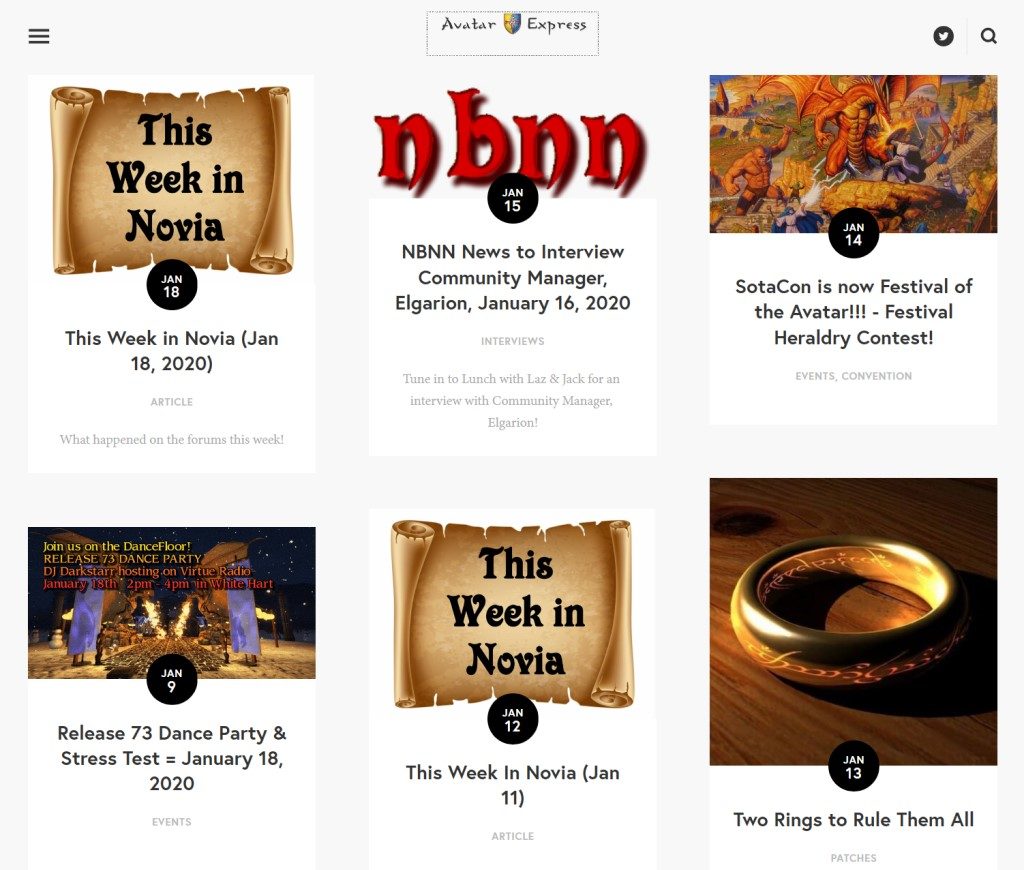 [Forum post by Vladamir Begemot]
I'm pleased to report that
The Avatar Express
is clacking away furiously. News is being delivered and we have established systems to deliver it directly to your brain. You can use one of those systems by following us on
Twitter
at @avatar_express. Even more reliable due to its fully automated nature is joining us on the
Discord
server. News items are posted there via RSS. Or you can subscribe to RSS directly on the site.
If you run an event, quests, etc, please consider helping out by self reporting. The Shroud community is big, and many things are happening that are never seen by others. With 10k monthly users, we would need a full time staff to track down everything that is happening.
You can fill out the
contributor form
, message
@that_shawn_guy
here or post in the Discord server that you would like to help. There is no commitment once signed up, you can post as much or little as you like.
Writing up your own events has several benefits beyond the immediate exposure. It serves as a record for others to see the history of New Britannia as we create it, in an attractive format. Publishing in the Express also has a higher chance than the forums of being seen by search engines and random readers, thus bringing more eyeballs and new players to the game.
It will even make posting in the forums easier! You can upload images to your news item, and then link to those images in your forum post. No more need for 3rd party image hosts!
So if you have something going on in your guild or town, or want to be a Reporter, Cartographer or Historian,
please join us!
Resources: Players Helping Players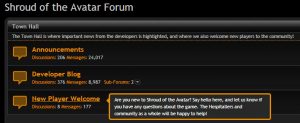 The official SotA
New Player Welcome Forum
and the
Player Created Resources Forum
have the best player created resources for Shroud of the Avatar, whether it's a Player Written Guide, a Video Walk-through, or a Wiki-type Website.
Visit the official
Community Resources page
for a complete listing of all things community.
Continue reading...