Surprise For Ozog At SHE Auction
​
SHE Auction, Zedland City
Saturday April 30th 2011​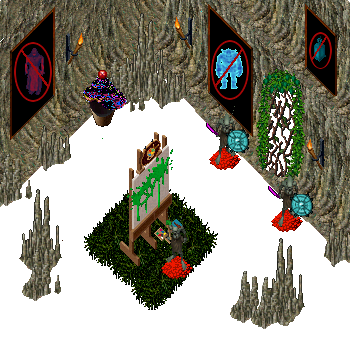 This Saturdays SHE Auction was one to remember as one of Chesapeakes most famous Goblins was recognized for his long and continued daily commitment to Roleplay and the Goblin race. What started out as a fun time at the Luna bank has grown into a fully developed race with its own history, lore, language and passion for Ice Cream.
The Goblins have surly left their mark not only on the Chesapeake shard but in the hearts of many from across the shards. SHE Auctioneer Zelda of Zed was honored and supportive of the idea to recognize Ozog and granted the "unknown players" request to have the recognition happen during the auction.
​
"Over the last two years we have watched you face many things such as Frost Trolls, Lady Jessica, Ear Pulls and Knots, Goblin Cages and so much more.

We may not hunt, RP or interact with each other very often but that doesn't mean we haven't notice all that you do.

Goblins come and go but one always remains. We are proud to present this to you and recognize your continued dedication to roleplaying goblins!"
​
Imperium Core members should expect a proposal to be on their desks soon requesting for the Third week in May be officially declared "Goblin Recognition Week". If passed they will send the proposal to other township leaders and the Event Moderators to make it shard recognized.
It is always a pleasure and a joy to write reports such as these. Many haven't taken the time to get to know you Ozog or the Goblins but that doesn't mean they haven't noticed you and the things that you do. Keep up the great work and we hope that you and the goblins are around for a long, long, long, really long, really, really long time.
Please raise your root beer floats to Ozog!
Chesapeakes Grandest Goblin!
​