UO Content Editor | UO Chesapeake & Rares News
Alumni
Stratics Veteran
Stratics Legend
Wiki Moderator
Royal Guard - Special Request from Queen Zhah

A

theneum Island, Ter Mur -

Sunday, July 17th 2011

By: Sarberius and Merik

​
​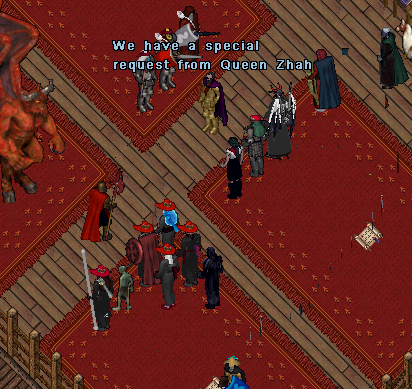 ​
Commander Drake Foxx's voice echoed through the Assembly buildings hall as he called the Royal Guard to ATTTTENNNTIOON
The Britannian Provisional Government authorized combat operations on the island of Atheneum, located in Ter Mur after receiving a special request from Queen Zhah herself asking for assistance. Their mission was to clear out "pesky" Demons on the island and obtain any ancient scrolls.
​
[FONT=&quot]

Mission:

[/FONT]
Clear Atheneum Island and Secure Gargish Documents
-Primary Objective:
Clear
Atheneum Island of all Demons
-Secondary Objective:
Obtain Several Gargish Documents
Taking point:
Private MaintSorc
Mission:
Accomplished!
-Primary Objective:
Successful!
-Secondary Objective:
Successful!
Commander Drake Foxx, "
We certainly faught the good fight Guards
While we were unable to recover all of the documents we did recover some of them, three to be exact I am very proud of all of you this eve. Who was the mage responsible for keeping the paralyze fields up?
"
​
Lycanthropy humbly informed the commander that he was laying down the fields. Commander Drake Foxx called it an excellent tactic and stated he should be commended for it.
Captain Irina and Commander Drake Foxx took note of each persons accomplishments and will promote those where applicable.