UO Content Editor | UO Chesapeake & Rares News
Alumni
Stratics Veteran
Stratics Legend
Wiki Moderator
Royal Guard Exercise, Bedlam Beneath Umbra City


Saturday August 13th 2011 By Merik/Sarberius


Captain Gwen Irina commanded the attention of the room as she entered the Royal Guard Assembly Hall. She wasted no time jumping right into the mission briefing and getting the guard underway.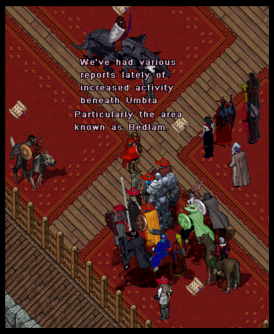 "ATTENTION, ALL! *Salutes* It looks as if we have a strong showing tonight, which is good. We've had various reports lately of increased activity beneath Umbra, particularly the area known as Bedlam.

In response, we'll be conducting an assault intended to root out whatever...opposition may choose to stand against us. It will be a difficult fight, but I have faith that our numbers and skill will prevail. Is everyone ready for combat? Let's see if this will blow up or if Balandar did something right...
"




​
The first wave of Royal Guards encountered a number of hostiles ranging from Bog Things too Plague Beat Lords. Dexxers poured into the center as Archers took to the ledges firing down upon the horde. Medics setup the old school healers pad by the entrance, while mages laid down poison and energy fields at the small passageway. The Royal Guard unit was in and out of the Bedlam area in under twenty minutes with minor casualties.


Mission: Crush Organizing Opposition in Bedlam

-Primary Objective: Defeat Ilhenir the Stained
-Secondary Objective: Defeat All Bogs, Pleagues and Shimmers

Mission:
Accomplished!
-Primary Objective:
Successful!
-Secondary Objective:
Successful!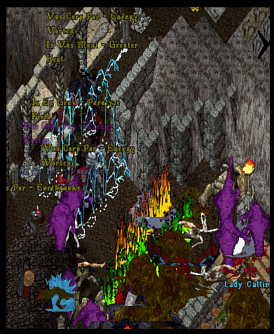 ​