UO Content Editor | UO Chesapeake & Rares News
Alumni
Stratics Veteran
Stratics Legend
Wiki Moderator
Hall of Commons Report, HoC Building in Britain Trammel
Sunday, August 14th 2011 By Merik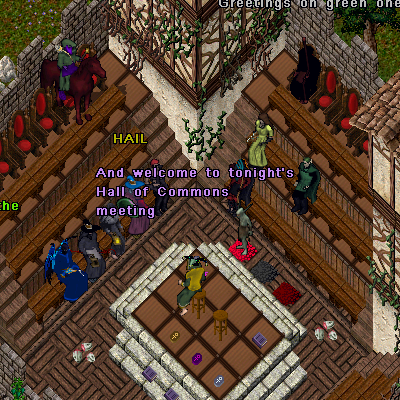 Events Remaining This Month
Wednesday, August 17th Feelin' Crabby Window 6pm - 10pm ET
There will be double the amount of
combat encounters
available so 8 all together. Each worth 500 crabs.
Thursday, August 18th The Sosarian Solstice Fair @7pm ET
We have three events on the bill for that evening, firstly we have a "Dress the mascot" competition. We will randomly select people into teams. Each team will be given time to put together a mascot uniform that myself and Dross will wear during Fair Events.
We also have a Ale and Wine tasting that evening. There have been a great many brewers at work in the realm and this will be a chance to sample some of those potables.
And finally we have an event called "Bunnies Gone Bananas" more details will be available the night of the fair on that event.
Sunday, August 21st Fortune's Fire Casino @7pm ET
The Fortune's Fire Casino will open once again. If everything goes right we will be introducing a new game of chance. Similar to what many refer to as a "Slot Machine" Following will be a Hall of Commons meeting.
August 24th & 30th Poseidon's Fury Saga

​
We then have two events continuing with the Finale of the Poseidon's Fury Saga tentatively they are scheduled for August 24th and August 30th.
**

That may however change

**

We will keep you posted on the developments of those two events. That's going to round out August for us here.

Open Floor

​

Phoenix
:About that the casino is for high rollers only, will there be games for the indigent?
Elder EM Dudley
:Not true Maximum bet is only 50k and minimum bet is 5k/ We are looking into a high rollers night but that is not set in stone yet.

Morpheus Mardox
:Is there to be an update in the standing for the feelin crabby or did I miss it?
Elder EM Dudley
:Was last updated on July 24th