Hall of Commons Report


September 26, 2010

HOC Building, Britain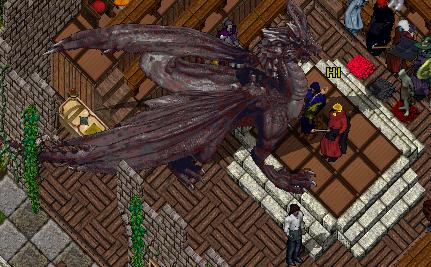 -Events for the week of September 27th-
​
Wednesday the 29th at 8pm - The Great Serpent's Hunt
This will be similar to our previous fishing competitions. Except this time you'll be looking for Serpents instead of Fish. This is likely the last fishing event before the launch of High Seas. Once the High Seas Launches The
Sons of the Sea
will be hosting a "Catch of the Week" Each week a different fish will be selected. Whoever gets the biggest fish, gets their name on a shiny plaque and has eternal glory. Since the fishes now have date and time stamps no room for cheating.
Thursday the 30th at 7pm - Livery Quest
Takes place in serpent's Hold stable on the other side of the island. This will be very similar to the last one where you have to kill something, loot an item off it and turn in for the recommendation.
Month of October Previews

-Continued search for the Map Pieces to locate the artifact-Working version of PvP King of the Hill
-
Scarlet's
Continued Exploits
-
Royal Guard
Training
-Special
Magic Show
-Another link in trying to find the truth behind
Sheffield's
death.
-Festival of the Harvest Moon
-
Township Summit
Oct 13, and Oct 27 at 8:30pm ET
Keep your eyes on the
EM Forums
for the complete schedule of events for October.
*Remember dates and times are subject to change.*
-EM Announcements-
​
Sheffield Murder
The Sheffield investigation will proceed different depending on it anyone can decipher the coordinates book, that was found at his house. It will remain for another two weeks for those trying to figure it out. Sheffield's Residence is a house on the Western coast of Yew. If no one solves it within one week, a copy of the book will be put in the Royal Guard Barracks.
Water Purification

Water purifying instruction can be requested, in writing, from the Royal Surveyor's office. Use the
mailbox
at the
Hall of Commons
David, The Keeper of Knowledge
For those of you who were at the Best Served Cold event. You may or may not have realized a new RPC is now available. David, The Keeper of Knowledge. Basically a glorified librarian/researcher who is completely neutral. This character is one I think that many townships can utilize for roleplaying opportunities.
EM Characters are visiting at random
Lt. Gwen
has been taking patrols. David was visiting townships earlier this week, looking for Libraries specifically. Even
Scarlet
,
Commander Foxx
,
Queen Dawn
and
Tavalia Zodok
have been around. Remember RPC's have their own personalities and views. It's probably not the smartest thing to ask Gwen to come visit if you're aggressive to the crown, Or Scarlet if you're loyal, etc.
​