UO Content Editor | UO Chesapeake & Rares News
Alumni
Stratics Veteran
Stratics Legend
Wiki Moderator
Hall of Commons Report


Hall of Commons, Britain

September 18th 2011

By Merik/Gareth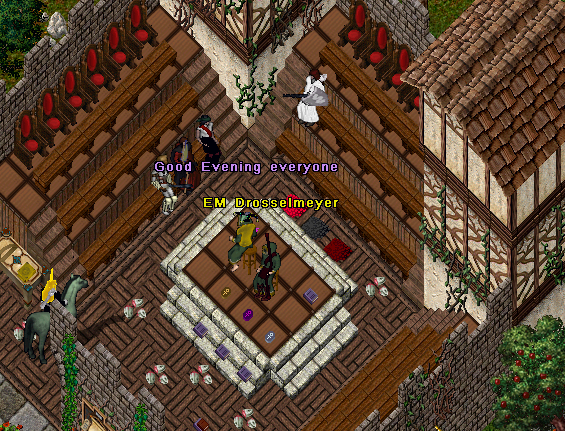 Announcements From the EMs
Scheduling Update
The "Where no Olmec" event is being postponed a bit. The "Risen from the Sail and Timber" event will take place Saturday, the 24th instead of Friday the 23rd at 9pm ET. These changes will be reflected on the scheduling thread. We apologize for the postponement, but it was a necessity unfortunately But rest assured, the wait will be worth it.

Feedback
Also there is a thread on the EM Forums regarding Township Attainable. Please feel free to post any suggestions or comments.
Township Attainable Additions Suggestion Thread
First Township Offering
​
Our first offering is going to be through the healer's guild. Successful completion of the requirements will grant the township a healer's hut of some sort that will res dead folks. That's going to wrap up the announcement section.
Open Floor Discussion
​
Elijah Cross:
What types of things could be attainable for the Warriors guild? I know a building would be too much more then likely
Elder EM Dudley:
Training Dummies, Archery Buttes, Buildings, definitely not. More like house add on, think house add on. Look at the stable something like that.

Ozog Giantfart:
Weed kin gets ice creams stad?
Elder EM Dudley:
That might be a bit of a stretch
Ashlynn:
Township additions does each one have to be identical for each town ie: a resurrection shrine will be the same in form for all towns?
Elder EM Dudley:
Yes it'd be the same addition to each town simply because we have one building and she is going to stamp them out just like the stables.