Adventurer
Stratics Veteran
Stratics Legend
Hall of Commons Report
December 11th, 2011
By: Cheever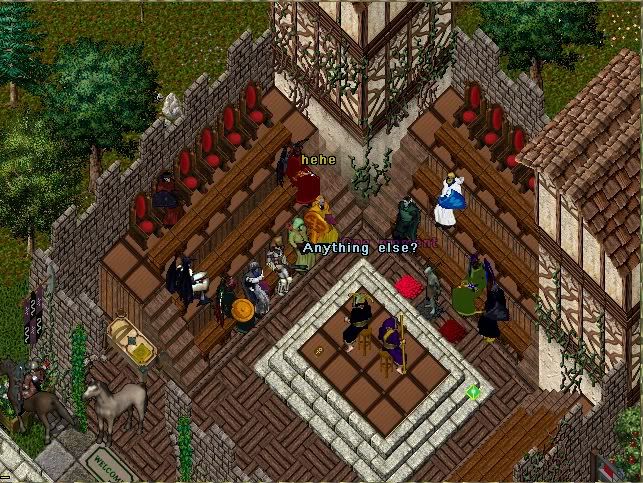 Announcements from EM Dross & EM Dudley
EM Dudley
: First: The Royal Guard exercises scheduled for Monday evening are being postponed. Dudley was takin' ill this weekend. The setup didn't get set in on time, so we have to move it back. A new date will be posted ASAP. Keep your eyes on the EM Forums.
Second: There is an event on the 23rd called "Beacon and Dregs" which will be a static event. You may complete it anytime over the weekend right up until the event on the 28th @ 8pm which is called "A Fun Guy's Folly".
EM Dross
: In preparation for the event on the 28th, there is important information about it that can be found within recent event fiction. Of course this information may not be apparent at first. As part of the ongoing investigation, there are multiple codes and hints in the two pieces of fiction up, and they will allow you to affect how the event proceeds if you solve them.. and propose/act on that information in various ways. If you choose to not act on it, you will have more info than others, but it will likely not change. As drastically as if you come forward or try and propose a plan of action to the investigation leader Captain Irina. Also, there is an extremely difficult puzzle in one of the pieces of fiction, and if nobody figures it out by next week's HoC meeting, a single clue will be given. Good luck!
Question to the EM's
: The crew from the DOE Star and RoadRunner from Kijustsu Anei wanted to know if you two were getting a little soft in your old age because we mopped the deck with your "Queen Crabs".
Answer: (
Dudley
) "I mean if mopping the deck is what what you call taking an hour to kill one cuddly crustacean, then i guess that is the case... Glad you enjoyed it! I can't stress it enough though, use cannons to kill a Scalis! Does like 2200 damage per hit." (
Dross
) "That does help just a Teensy bit."
​