UO Content Editor | UO Chesapeake & Rares News
Alumni
Stratics Veteran
Stratics Legend
Wiki Moderator
Hall of Commons Report


Sunday, July 17, 2011

​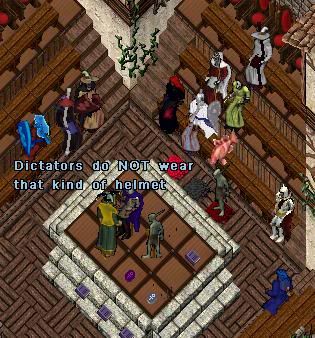 ​
Events For The Week
​
Wednesday, July 20th @ 8pm ET - The Missing Piece, Gate from the Luna Bank
Kendrick Morrow cannot hold out for long. He alone knows the location of the final piece needed to complete the map left by Captain Marcus Tokinson. With it Lord Balandar and the forces of good shall be one step closer to recovering the Poseidon's Fury Artifact! You should be prepared for anything!!
Event will involve combat and puzzle solving in order to recover the final map piece.
Saturday, July 24th @ 9pm ET - Hall of Commons Meeting @ the Hall of Commons

This weekly meet and greet allows players to meet with the EM team and bring up questions, concerns, and issues, as well as for the EM team and players alike to make announcements

Monday, July 25th @ 7pm ET - The Trial of Kendrick Morrow @ the Trinsic Jail.

This will be a heavily RP'd event.
Announcements

Crabbing tournament numbers will be updated sometime this week. Drosselmeyer made comment stating, "Its just shellfish to keep asking"

Dudley asked for peoples thoughts on the request to increase the number of Moby Lobstahs, Phoenix said might be a good idea and Orin have a thumbs up while Carl Jr looked for a thought.



​