UO Content Editor | UO Chesapeake & Rares News
Alumni
Stratics Veteran
Stratics Legend
Wiki Moderator
EM Hall of Commons Meeting Report


HOC Building, Britain Trammel

January 1st 2012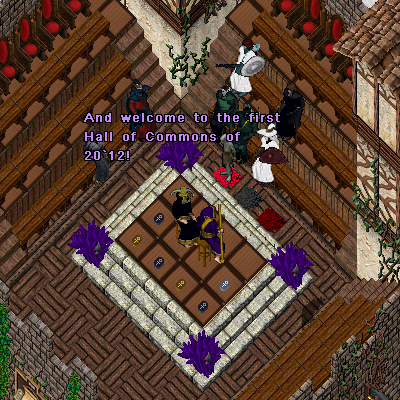 Whats In Store For 2011


Dudley & Drosselmeyer Combined


​
Welcome to the first Hall of Commons of 20`12!
​
It appears it shall be a more intimate affair than our usual HoC *chuckles* Anyhow, we've got a HUGE 2012 planned You really have no idea Heh how huge its going to be. Expect things like you've never experienced and like you've never imagined. If it will be the end of the world in 2012, we're going to make sure that we've given you the...best events of any year you've ever experienced!!! Full Schedule of EM Events for January will be posted by the end of the week. Please remember Elder EM Dudley will be gone from January 18th to February 13th
Tokunese Banquet Volunteers Wanted
​
We have an interesting announcement to make about the Tokunese Address event on the 8th it will take place at 7 PM And if you wish, you can volunteer to serve as a waiter or waitress.
This is a trial for this event about player participation if it goes well we'll do what we can to do it more often so please if you do want to volunteer, let it known that you'll be expected to behave. It is a roleplaying type of thing as well so you should be at least familiar with roleplaying.
If you are interested in doing so, please send an email to both of our email addresses as soon as is humanly possible with your character name, email address to reach you back And whether your character is male or female. Unfortunately due to it being a Tokunese banquet No gargoyle or Goblin characters will be accepted Only humans or elves.
[email protected]
[email protected]
Again, if you're interested in participating as a waiter or waitress in this event, email us both and we can get into a bit more details. Also you will be expected to be available at least an hour before the event for explanations and supplies Drinks, food, etc and to be given your uniforms. We'll only be accepting a small number of applicants though we will pick from the viable ones at random with a lottery system and if you don't get a chance in this event. In the future when we do something similar you'll get priority over people who were part of this one.
Upcoming Static Event
​
So far that's the only event we have an exact date on but we'll also have a much longer, multipath static quest in late January similar to the small one we did with Beacon and Dregs but much longer, and with six paths of varying difficulty. The sixth will be a true challenge where we will do our best to stump you while still being fair in giving you a chance Well..A slight chance.
Holiday House Decoration Contest Winners!
First Place, Jade
Second Place, Gareth
Third Place, Columbus
​
The EMs thanked everyone for entering, and our top three will have a scroll in the
Hall of Victory
as well as a small pedestal and marker in front of their homes denoting their victory and placing.
Beacon and Dregs Static Event
​
The beacon and dregs event will remain live until tomorrow afternoon. It has two paths each with their own ending. Each gives information to go further on and helped to keep people up to date.
Fun Guy's Folly Followup
​
Jamison Tort
is currently under close watch with the Guard but his wounds from falling from the tree were severe, and he was coughing blood last we saw him We all hope for his recovery. I'm sure something will be released shortly by the Guard though. The assassin is still out there in January a compilation of the hard facts and clues will be released, likely later in the month in the form of investigation notes from
Captain Irina
.
Mr. Tort claimed to have no small share of enemies, though he did not know Morty the herbalist. He said there were a number of people who would want him dead over his gambling debts including several people in the
Fortune's Fire Casino
and others. A point raised by players was that he did know Drakar Thantz and Olin Brash but was unaware that Drakar was apparently rolling in the money as of late.
He also mentioned that when he got the peculiarly altered copy of Mycologist Monthly 47. It was from a pretty brown haired lady archivist who had well worn leather boots. What pheonix said is also correct, so I think we'll be finding Lily and Abigail at some point in the near future if we can. It's since been determined by Captain Irina, that there are no female archivists in the employ of the Lycaeum that match the description combined with it being the lure, it's probably this was the Assassin or an accomplice.
Sons of The Sea - Winter Dragon Fish
​
Thank you all for struggling against the winter dragonfish. We know how frustrating it was and we have passed along this information so it should be fixed. Thank you all for continuing with us for the year of 2011 And we hope you enjoy 2012 just as much if not better. I believe the sons of the sea will announce the new one sometime this week. Feel free to submit any dragonfish for the tournament.
Who You Callin a Tool?!?
Well I will say this, we are getting some new tools that will hopefully
allow us to do month long hunts similar to this But stay toon'd






​