RSS Feed
RSS Feed
Stratics Veteran
Stratics Legend
All Shards Tavern Night Recap
Iron Bandit Inn, Kijustsu Anei Village
Tuesday, June 01, 2010
The All Shards Tavern Night was hosted on Chesapeake by the Iron Bandit Inn located in
Kijustsu Anei Village
. This event runs between the tavern on Chesapeake and the
Golden Brew Tavern
on Baja. The hosts of this event put on one of its largest Tavern Night events to date. Niva the Savage and Ado the Thief were tending bar. Lady Angelica crafted clothing for those visiting from others shards and Lord Gareth prepared for the Boat Race Challenge.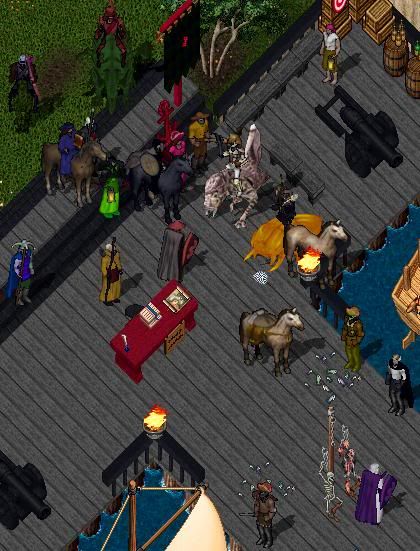 Townships from
Baja
,
Catskills
and
Chesapeake
made their way from the Iron Bandit Inn to the
Kijustsu Anei Keys Pier
. Everyone in attendance seemed very excited about this race. One contributing factor to the excitement of the race was it did not just involve townships from one shard. The main event involved townships from multiple shards.
Boat Race Challenge Town Participants
S.S. Zeke Stargazer,
Guardians Gate
[Chesapeake]
United Pirates,
Red Skull Bay
[Catskills]
Golden Compass,
Town of Golden
[Baja]
Void,
Kijustsu Anei Village
[Chesapeake]
Prince Riain's Yacht,
Kingdom of Dawn
[Baja]
Poseidon's Fury,
Kijustsu Anei Keys
[Chesapeake]
Demon Sun,
Moria Village
[Chesapeake]
RBG,
Haven
[Catskills]
Honor Bind Thee,
City of Olympus
[Catskills]
Oath Marauders,
Cimmerian Pass
[Chesapeake]
​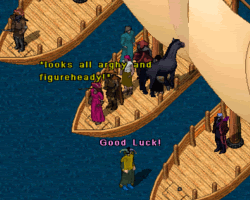 The ship Keys and Survival Packs were distributed to the racers. Instructions and rules were announced to everyone. The racers could hardly wait to get underway and show off their great sailing skills. Chesapeake Event Moderator
Dudley Lightfinger
appeared on the Golden Compass vessel to lend assistance. It was very kind of Dudley to assist but it was not very kind of Gareth to push him overboard!! Luckily Dudley came prepared for such a thing by bringing his famous... Waterwalking Shoes! Way to plan ahead Dudley! The Ship captains and crew sat in awe for a moment once they saw the amazing shoes.
EM Dudley used the Waterwalking shoes to place the starting boxes for the race. The boxes were placed on the water in front of every other vessel. Once completed Dudley waited for the go ahead to light the fuse. Captains could be seen scanning the ships next to them. Some smirked knowing they would soon leave the other races in their water mist. Lord Gareth gave a nod to EM Dudley who lit the fuse. A few moments later the boxes exploded in a massive ring of Yellow and orange fire. Before the flame burnt out the ships were already off.
The race course named the Bladmor Run was used in this competition. The hardest part of this course is closely sailing around Bladmor Island and making sure you pass just right between the southern part of Bladmor Island and the Northern part of the other island. Should you take the turn to sharp you will hit the island. If you were to take it to wide you could hit the southern island or get passed by another vessel. Four vessels were neck and neck around the Baldmor turn. These ships placed in the first, second, third and fourth place spots. It was a very exciting race and fun was had by all.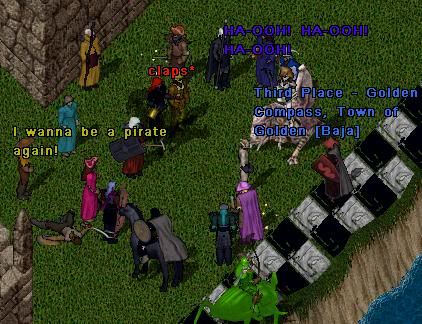 ​
Race Results
​
First Place - Demon Sun, Moria Village [Chesapeake]
Second Place - S.S. Zeke Stargazer, Guardians Gate [Chesapeake]
Third Place - Golden Compass, Town of Golden [Baja]
Fourth Place - United Pirates, Red Skull Bay [Catskills]
Fifth Place - Void, Kijustsu Anei Village [Chesapeake]
Sixth Place - Prince Riain's Yacht, Kingdom of Dawn [Baja]
Seventh Place - Oath Marauders, Cimmerian Pass [Chesapeake]
Eighth Place - Honor Bind Thee, City of Olympus [Catskills]
​
Congratulations to each captain and crew for a job well done. All of you showed great skill in commanding a racing vessel. Look for the rematch race on Catskills!!! The creators of this event will be contacting The United Pirates in the coming days to be the hosts of the next Boat Race Challenge.
​
(To all of the people who made this event possible)

​
Rotep [PGoH]
Niva The Savage [T_T]
EM Dudley [EM]
Tiger Lily [Tips]
Katherine [PGoH]
Schuyler [UP]
Ado the Thief [-Y-]
Daria Blackmoor [RBG]
Mirt [TEB]
Benito [Fryr]
Angelica [CCS]
Magdalena [QSA]
All Ship Captains and Crews
Stratics Forum Moderators​
more...