RSS Feed
RSS Feed
Stratics Veteran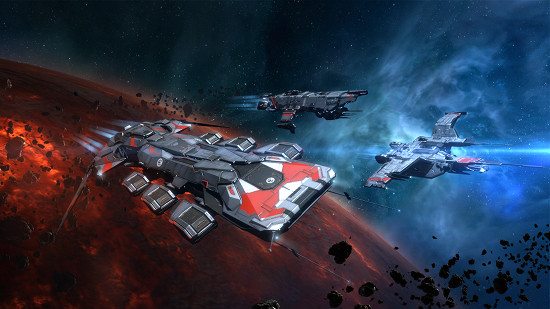 We are excited to present a brand new SKIN for Caldari ships: Enjoy the
Steel Cardinal
SKIN!
This brilliant SKIN features polished steel and red enamel. It is available now in the New Eden Store for 51 Caldari ship hulls:
Frigates, Destroyers, Cruiser, Battlecruiser: 55 PLEX
Battleships: 110 PLEX
Capital ships: 250 PLEX
Excluded from this offer are the following seven ship hulls: Moa, Onyx, Eagle, Widow, Leviathan, Charon and Rhea.
Additionally, we have a
clearance sale on several Raata Sunset SKIN
. The Raata Sunset SKIN for eleven ships will be retired from the New Eden Store on 5 September at 11:00 UTC. Until then, we offer this SKIN for the selected ships with a discount of 25% for only 41 PLEX!
Grab your discounted Raata Sunset SKINs for the following ships:
Bantam
Griffin
Merlin
Heron
Harpy
Hawk
Kitsune
Badger
Tayra
Crane
Bustard
Check out the New Eden Store for further details and offers!
Purchasing SKINs is easy:
Log into EVE Online
Have sufficient PLEX
Go to the New Eden Store (press ALT+4 or use the Neocom to access the store)
Purchase the SKIN(s)
The SKINs are then available in your redeeming system
Continue reading...