Summoners, are you ready for a spooky edition of the Summoner Showcase? We've got adorable fan art and cosplay for you to feast your eyes on, as many of your favorite champions get into the holiday spirit with some new costumes of their own created by summoners just like you! All you've got to do is hit play…
Voidborn Fizz
This adorable Void-version of the Tidal Trickster by
Blazemalefica
is one adorable monstrosity. Having Cho'Gath as the shark really seals the deal on this one.

Amethyst Tryndamere
Irahi
wonders what Tryndamere would look like if he shared Ashe's amethyst motif. Taric probably thinks this outfit is outrageous, but then, everything that sparkles is outrageous for the Gem Knight.
Teemo Trick or Treat
Teemo puts on the most frightening costume of all – Vladimir – for some trick or treat action in
Akraizumi09's
fanart. With pumpkin bucket in hand, Vladeemo is ready to scare up some fun and leave Mushroom Traps for those who give apples or books for Halloween. Beware.
Thespian Ziggs
"To bomb, or not to bomb" is always the question on Ziggs' mind, and there's no way this little actor won't break some legs. Alas, poor Yorick – he's probably in pieces right now.
Thanekats
even drew in the adorable frilly collar. Ziggs is truly a master at his craft.

Lulu Cosplay
SlaughterTM
hits the mark with her Lulu cosplay, complete with staff, Pix, and adorable yordle hat. For scale, you can see a life-size Maokai behind her in one of the pictures.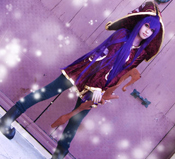 Queen Ashe Cosplay
DarkAgeSun & Despairs
put together this excellent Queen Ashe cosplay, complete with bow for some Enchanted Crystal Arrow action. The work and detail on the dress and gauntlet really sell this one.
Orianna Gingerbread Cake
Your first instinct might be to try and devour some of
Sugarwren's
Orianna gingerbread cake. Stop! That ball is dangerous! Unsuspecting foodies beware -- you never expect a delicious Dissonance.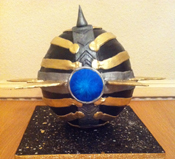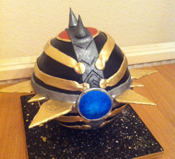 Meanwhile, at the Pentakill concert…
See if you can name all of the champions who've taken a break from the Fields of Justice and have kicked back in casual attire for the Pentakill concert in this rockin' piece of fan art from
Nero
.
Send in your submissions to us at
[email protected]
. Be sure to watch for your submissions in the next installment of the Summoner Showcase!
Continue reading...