Former Stratics CEO (2011-2014)
VIP
Alumni
Supporter
Stratics Veteran
Stratics Legend
UNLEASHED
Campaign Benefactor
This week's submissions are shining new light on some of our favorite champions. It's no surprise that these gorgeous, immaculately detailed artistic submissions come from our very own League of Legends Community!
Scroll down for a closer look at this week's entries.
Special Forces Yordles
This submission by
Kaiser
shows just how big the attitudes of our smallest champions can be.
Demacians
Kas999'
s gorgeous submission is heavy on theme, and by no means light on talent.
Stick Figure Spotlight
We're glad that
Hyun90
decided to stick it to us with animation celebrates the versatility of being a stick figure,to bring us this amazing video hhighlighting the skills of some of our most notable champions.
Last Hit
Thisadorable video created by
LoLily
shows us the plight and the determination of a brand new Summoner, trying to hone her skills.
Lulu in a Jar
If you have ever wanted to
bottle-up a yordle
and carry its cuteness around with you wherever you go,
Minkadin's
creative idea presents you with a solution.
Queen Ashe Cosplay
We have seen quite a bit of
League-inspired cosplay
, but the attention to detail in
Hyiakuza's
Queen Ashe surely hits the mark.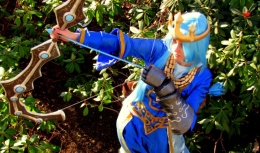 That's it for this week, but if you have your own yordle-in-a-jar, gorgeous cosplay, or other creative work, we need to see it! Send your fan creations and Summoner name to
[email protected]
!
We'll see you next week!
Continue reading...