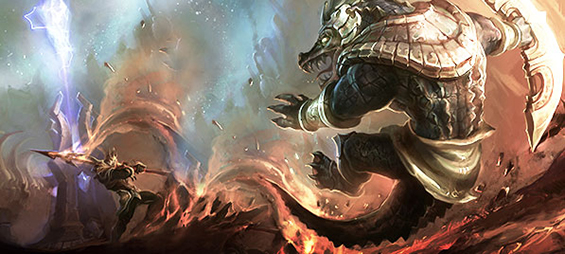 Season 3 is almost here, and that means champions need to double-up on the Iceborn Gauntlet deadlifts, max out their Brutalizer bicep curls and blow through some Zephyr-wielding wind sprints.
The Preseason 3 Digi-Art Throwdown Contest gives you a chance to show the League lineup getting their practice reps in.
Here's how MaTTcom – the community artist who inspired Pool Party Ziggs and Astronautilus – saw the preseason shaking out for some of your favorites:
MaTTcom's take on champion conditioning finds a despondent mummy wielding a new tool to hunt down friends, a yordle packing major heat and a few more surprises. We worked in collaboration with him to create what we hope will fire up your imagination and steer you toward your own interpretation.
Do you find yourself as burdened by questions as Teemo is carrying an entire armory in a bag? MaTTcom'll be available to help you take the load off here. Post a comment about the contest, working with us or the airspeed velocity of an unladen swallow, and check back for his answer.
If you were holding back on account of a lack of ludicrous prizes, may I direct your attention to this
giant list of kickass stuff you can win
?
With two weeks left before the contest deadline, there's still time to nab a Wacom Cintiq pen display or snazzy foam banana.
Of course, it wouldn't be an internet contest without a
list of rules
and a
Contest FAQ
that a bevy of lawyers hammered out, so you should review those too, and double check that your submission
meets our technical requirements
.
Continue reading...