Former Stratics CEO (2011-2014)
VIP
Alumni
Supporter
Stratics Veteran
Stratics Legend
UNLEASHED
Campaign Benefactor
Summoners!
PAX East 2012 has come to a close, but if you weren't there to catch the action or just want to relive those unforgettable moments, we've got you covered. Our booth was filled with summoners from all over North America to spend some quality time with Rioters and League of Legends, including two highly anticipated champions: Hecarim and Varus! Here are some of the highlights from the show!
As expected, cosplayers were in full effect and sporting some of the best craftsmanship on the show floor. During the Cosplay Fashion Show, they got a chance to show off their creativity on stage for all to see. Britthebadger put on a show as Orianna our Lady of Clockwork, complete with a floating ball and voice over. Dfoxx blended right in with the champions of the League as Kassadin that it's hard to tell there's a person in the second photograph. Jilikins slithered in as Desperada Cassiopeia, tail in tow. Even Urf made an appearance as Regal Cabage took to the stage with spatula and fish in flipper.
To see the rest of our remarkable summoners in costume, click here for the full gallery!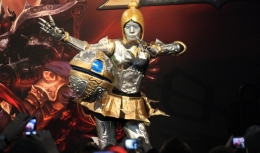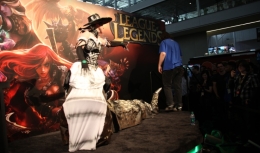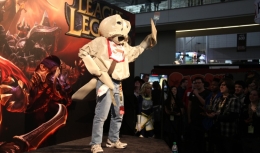 Not only were attendees witness to an amazing display of ingenuity, they also experienced a touching moment when Blind Trooper as Mafia Graves bent to one knee and proposed to his girlfriend, grim0ire as Explorer Ezreal. She accepted much to everyone's delight, especially Blind Trooper's! We wish the happy couple the best of luck and expect wedding invitations!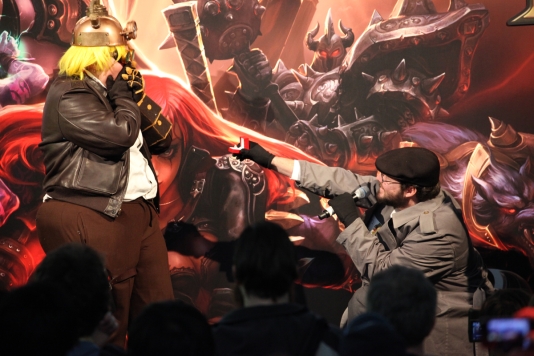 No event is complete without some friendly competition and there was quite a bit of that with 32 teams duking it out in the Needlessly Large paysafecard Tournament! And why not when presented with a chance to take home $2,000 and other awesome prizes from our sponsors paysafecard and Razer?
Taking 3rd place was the pretty in pink Team Underground Alley (Havek, DN740NM, NickDangerr, Hue-Hurricane and Zoff). Flattening most of the competition was The Pancake Syndicate (ZodiacMunch, GamesChess, TurboSherb, BebHead and SanchoPanda) finishing in 2nd place and earning $1,000 total. Coming out on top and earning the $2,000 grand prize was Team on a Boat (Ayux3, I Got A, Im goin fast and and Mostly Silent)!
To view more shots from the tournament, click here.
Thank you, summoners, for making this weekend out in Boston an incredible experience! We enjoyed meeting you and hope to see you next year!
Continue reading...