Former Stratics CEO (2011-2014)
VIP
Alumni
Supporter
Stratics Veteran
Stratics Legend
UNLEASHED
Campaign Benefactor
Pip pip summoners! It is I, Cho'Gath. I'm newly returned from my constitutional in the Outer Void and ready to share my unexpected good fortune with you commoners. If you'll gather 'round, I shall display the most extraordinary collection of wares for your perusal. These skins and champions – gained at great cost through the personal expenditure of my brandy snifter slush fund – are now being offered to you at a severely discounted price. What do I gain from it, you ask? How droll! As if the gentlemanly desire to aid my fellow beings weren't reward enough! Feel free to examine them at your leisure.
Cassiopeia, The Serpent's Embrace: This dusky beauty displays a most appealing devotion to all things serpentine. Normally, she would cost a daunting 975 RP, but I might be persuaded to part with her for a mere 487 RPs.
Zilean, The Chronokeeper: I confess I never enjoyed this gentleman's company. Too fixated on that infernal clock. 585 RP is the asking price, but I'm happy to send him to you for a mere 292 RP.
Urgot, The Headsman's Pride: Urgot proved a most delightful companion. Our evening games of whist proved quite memorable, particularly when he lost and reduced the cabana boy to toxic sludge. You too can share in his whimsical eccentricities for only 487 RP, less than half his base price of 975 RP.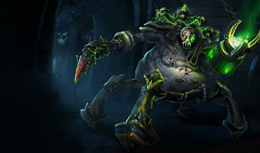 Musketeer Twisted Fate: Even a scoundrel of this caliber can benefit from a few upscale accoutrements, as I'm sure you'll agree when you see his ensemble here. He runs for 975 RP, but I will permit you to take him off my hands for a small gratuity… say, 487 RP?
Fiddle Me Timbers: The nautical scarecrow plies the waves in search of adventure! Bring his swashbuckling visage to your fields for a mere 487 RP, marked down from 975 RP.
Kennen M.D.: Much as we may loathe our visits to the physician, they are unfortunately necessary… especially when one's pustules fail to ooze at acceptable levels. I recommend Kennen M.D. for such occasions. Though normally he runs of 975 RP, I can present him to you at the discounted cost of 487 RP.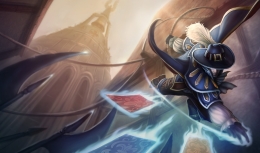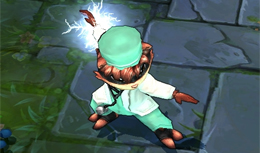 As tempting as my goods are, I can only offer them from this Friday, April 27 until next Monday, April 30. I wish I could do better, but I do have pressing obligations elsewhere.
Speaking of which, I can't help but notice that… well, with all your attention focused on my humble offerings, your soul has taken on a most delicious hue. And now that you are within devouring distance, I'm afraid my baser appetites are rapidly overwhelming my fine breeding. Would you mind terribly if I had a taste? There's a good chap… NOM-NOM-NOM-NOM-NOOOOOOOOOMMMMMMMMMM!
Continue reading...