Former Stratics CEO (2011-2014)
VIP
Alumni
Supporter
Stratics Veteran
Stratics Legend
UNLEASHED
Campaign Benefactor
Summoners!
Spring has sprung, and what better way to celebrate this time of renewal than by hopping onto the Fields of Justice alongside Battle Bunny Riven. Let it never be said that Riot Games shirks the opportunity to provide a sexy, yet seasonally appropriate new take on one of our famous champions of the League. Featuring a full complement of new,
lagomorph
-appropriate spell effects, this simultaneously alluring and imposing take on Riven, the Exile is sure to dazzle even the most curmudgeonly of springtime enthusiasts.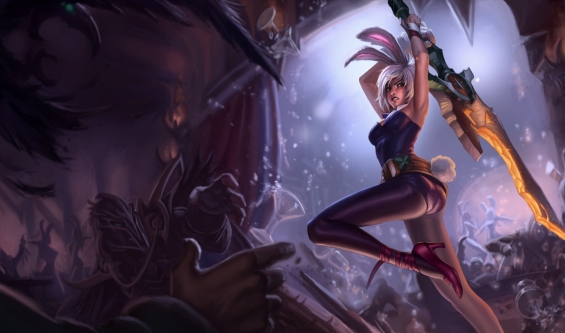 Picture yourself hippity hopping on in on your Broken Wings to strike down your enemies with the fury of a thousand bunnies. If you're not sporting an impressive arsenal of goose bumps, yet, just wait until you get your first look at her reforged carrot blade.
You can pick up Battle Bunny Riven in the League of Legends Store for less than the price of a bushel of carrots!
Continue reading...