RSS Feed
RSS Feed
Stratics Veteran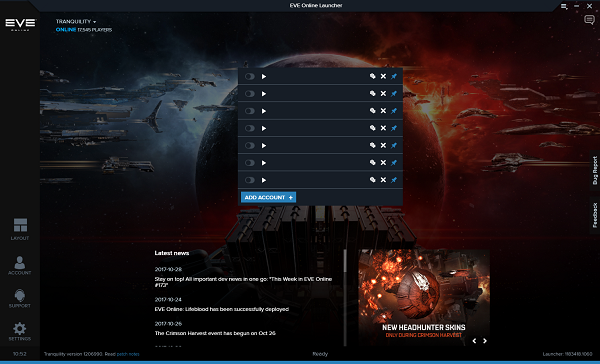 We're happy to announce that a few changes will be coming to the EVE Online Launcher tomorrow, after completion of significant revisions to the codebase for the launcher's UI.
The revision has allowed us to break the launcher into smaller components, for better fault finding and bug fixing, as well as allowing for better logging of issues, and streamlining of the client launch process.
So, what does this mean for you guys?
Overall, going forward, you'll be able to benefit from a more streamlined and healthier launcher, that has a more streamlined launching process from the client, which should reduce the impact on your system if you've got a lot of accounts pinned to your launcher.
An issue where the launcher could forget – or remove - pinned accounts on startup should be fixed with this iteration, and it should no longer remove accounts when it fails to refresh the account. Instead, an error message will be displayed, rather than your accounts simply vanishing from the list. Pilots will also benefit from a few new UX improvements, including a loading indicator before the login window appears, and an improved progress bar when starting clients.
Refreshing the launcher, updating the UI version, or switching from TQ to test servers – or vise versa - will now cause non-pinned accounts to be logged out going forward.
While these changes are great for the health of the launcher, they don't come without one small drawback.
The user data that we hold is not compatible between the old and new series of launchers, which means we won't be able to migrate any pinned accounts from the old UI to the new version.
This means that once the changes are deployed tomorrow, all players will have to log their accounts in again.
Continue reading...