Journeyman
Stratics Veteran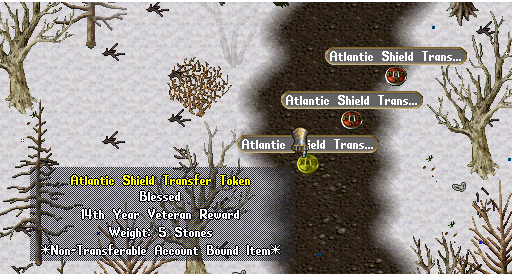 Okay here is my story. Two weeks ago, I planned on transfering to another shard, so I acquired an Atlantic Shield to send back farmed stuff. I had two characters I planned on taking to a different shard. Which I paid SIXTY FIVE MIL PER transfer 30 minutes ago. I then double clicked a transfer token and it changed to an atlantic transfer token. I had a shard shield token in my bag when this occurred. I then was very confused, decided I'd just buy another one and maybe it was a weird display bug. I then decided to page a gm and lock down the one that got changed to the shield transfer token. I double clicked my other transfer token to transfer while I waited on a gm. The 2nd real transfer changed to a shield transfer.
I am able to use all three so they are account bound to me and not account bound to someone else so it's now "I might have accidently bought the wrong type of transfer". Now I am broke and can't transfer. Due to a bug...
I only am 2 months into 14 years and I only got the Shield two weeks ago. So it is PHYSICALLY impossible for me to own 3 shield transfer tokens. How am I supposed to get off of Atlantic if all my transfers turned into Atlantic Shard Transfer Tokens
The sad thing is, I can report this all to GMs, but I will not be able to have them changed back to transfers to get to another shard and I'm 130 mil out....
Last edited: