Goodman's Rune Library
Alumni
Stratics Veteran
Stratics Legend
Goodman Memorial - Monday, August 30th 8:00 pm EST
To Those I Love
If I should ever leave you whom I love
To go along the Silent Way, grieve not,
Nor speak of me with tears, but laugh and talk
Of me as if I were beside you there.
I'd come-I'd come, could I but find a way!
But would not tears and grief be barriers?
And when you hear a song or see a bird I loved,
please do not let the thought of me Be sad.
For I am loving you just as I always have
You were so good, to me!
There are so many things I wanted still to do,
So many things to say to you!
Remember that I did not fear,
It was just leaving you that was so hard,
We cannot see Beyond.. But this I know:
I loved you so - 'twas heaven here with you!
Ardis Marletta
In Loving Memory
Please join us on Magincia Beach Trammel for a Memorial Service for our Dear Friend Goodman aka Frank Campbell. There will be a short Eulogy followed by Remembrances by his friends. If you would like to speak more formally, please pm me.
Thank you for all your support this past year.
Andrasta
GRL
Goodman Memorial - The Eulogy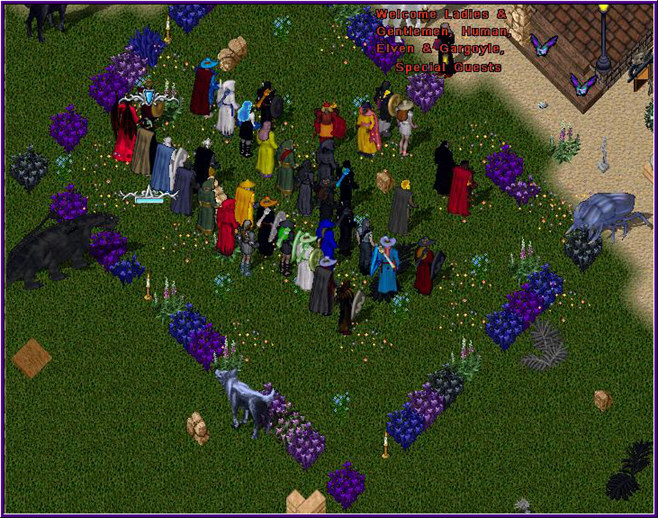 Welcome Ladies & Gentlemen, Human, Elven & Gargoyle, Special Guests.
Thank you for joining me to mark the 5th Anniversary Memorial
for our dear friend Goodman also known as Frank Campbell.
Some days like today I find it hard to believe
that it has been so long since I last saw my good friend.
Other days it seems like just yesterday
that we ran down to the Dojo to check out the new monsters.
I struggled this year to find a theme or message
that would properly put into perspective my feelings.
After 5 years how many would come?
How many would remember his kindness and generosity.
How many would care?
After all, each year that goes by means less and less of us
that remember why we are here today.
I finally decided that it was important
to continue this service as a way to remind ourselves
that every day with our friends and loved ones is precious.
Each of us has lost precious loved ones
at different times in our lives.
Sadly we have lost a few good citizens and friends this year.
Please join me in a Minute of Silence
For Doc of Jhelom

For Mike of The Home Guild

For Shadowmaker of UWF


Our understanding of the value of a simple kindness
or the act of giving someone our time,
grows each time someone special leaves our lives.
I can tell you from personal experience
that nothing is ever the same again.
The heart misses them still years after they have left us.
Our memories fade over time to enable us to cope
so that we are not sad every day.
We must go on to spread the joy and light of these souls
that we were lucky enough to spend time with.
Perhaps some one will remember us too
and better still perhaps we will see them again.
I tell myself that someday I will be with my loved ones,
that they will welcome me with open arms.
We will agree that we have missed each other
and promise never to be separated again.
Miraculously we will all be young and beautiful
and nothing will ever hurt us again.
I have been honored to look after this memory
we all share together on Atlantic for 5 years.
I am especially grateful to all the people of Atlantic
for helping me ensure that Goodman remains a Legend here
and that his heart & soul are not forgotten.
As is our custom, people came up to share their memories of Goodman.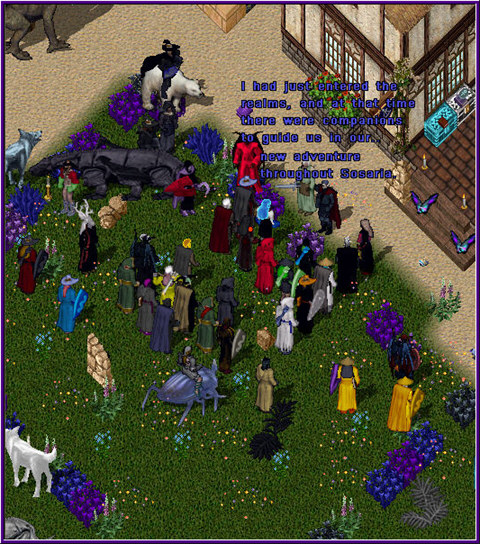 Thank you for attending this Memorial
For our Dear Friend Goodman.
Andrasta's Postscript: Thank you Tazar, Min, Lady Frany Flame, Bryelle Vaughn, Bill Gates OSD & EM Nestor and especially Mesanna for your assistance with the memorial this year. To Everyone who helped throughout the year, My Thanks. Without you Goodman's Rune Library would not be what it is today. Thank you.