There are four factions:
• Minax (MIN)
• Council of Mages (COM)
• True Britannians (TB)
• The Shadowlords (SL)
All factions are aggressive towards each other (in Felucca only).
Minax
- The stone fortress lies deep within the mountains. The entrance to the fortress can be found on the north side of the mountains, almost opposite to the entrance to Destard.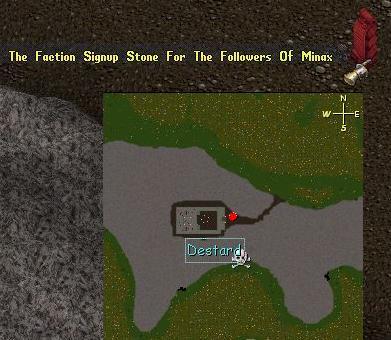 Council of Mages
- The Magincia Parliament Building in the southeast corner of what's left of Magincia.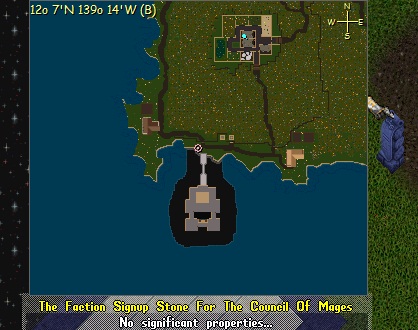 Shadowlord
- Located in the unused crypts in the Yew forest, a fair distance in a direct line northeast from the east Yew Healer's Shop named "Deep Forest Healing". This is not the Yew Graveyard, but instead the haunted crypts east of the Yew moongate within the woods.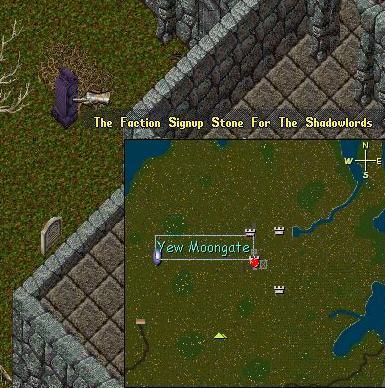 True Britannians
- Located within Lord British's Castle, in the town of Britain.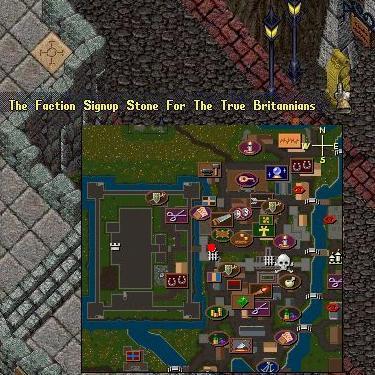 Joining a Faction
Note - You may join multiple characters on the same account into the same faction.
Non-guilded players:
Double click the Faction Stone, and select the "join" option.
• You must not have any other character on the same account in a different faction.
Guilded players:
• If you are in a non-faction guild, you must resign from the guild before you can join factions.
• You must join the same faction as the guild.
Joining a guild to a faction:
Only the Guildmaster of a guild can join a guild to a Faction.
• The guild cannot be allied with another guild. (This isn't in yet)
• If a member has another character on that same account and same shard in a different Faction, that member will be removed. (I think)
Non-participants:
Characters who are not in a faction will not be able to perform beneficial acts (such as healing, curing, etc.) on any character in a faction in Felucca (This isn't in yet, right now there's no beneficial acts anywhere). This rule applies to pets as well.
Quitting a faction:
Guilded members must first resign from their guild, then from the faction.
A Guildmaster may resign his or her guild from the Faction system. All players in the guild will remain within the Faction for three more days.
During the three day resignation process, players resigning will not be able to use the faction stone or steal sigils but will still be eligible to attacks from opposing Faction members.
Resigning players can find out how much time they have left in the faction by saying in game:
"
What is my faction term status
"