...and we're back again ....
The sixth season of the Europa Chicken League is almost here, first match of the new 12 night season will be Monday, 5 August, at our standard time of 8PM UK time, at the O*T Arena in Zento!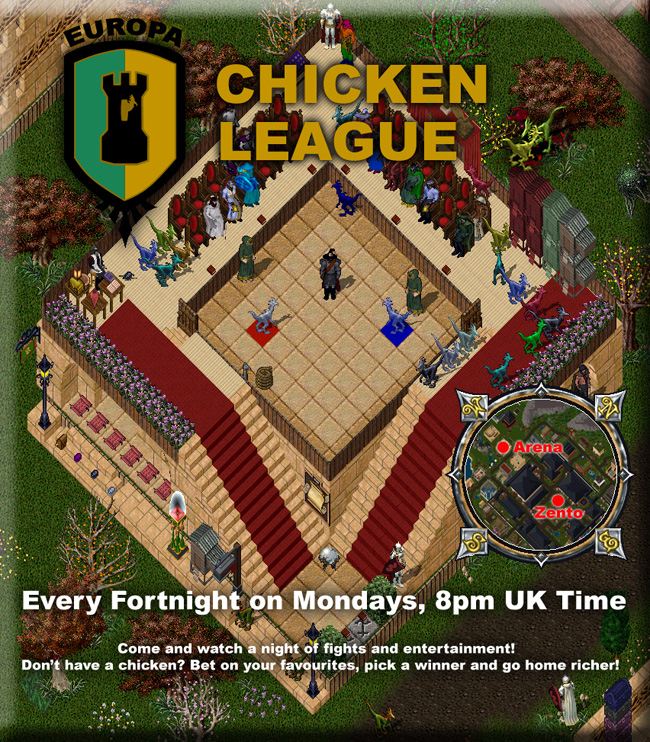 Whole batch of new birds for this season, and a couple of old 'favourites', anyone welcome to train and compete with their own battle chicken lizards (Trammel rules mean we'll have to join the pet owner to ECL guild for at least the duration of the matches), or just come along to chat and bet on the outcomes.
For the league title, points are simple ; winner of a fight gets one point, loser none, your bird will usually only fight once per evening, no healing/ treats or other 'outside interference' allowed to affect the fight itself - it's all down to the skill and luck of the fighters!
So far, all our season winners have missed one or two fights in the season, as well as usually losing one or two, so even if you get off to a slow start you still have a good chance of a place at the top of the table.
Even if your pet's not trained up, we will do our best to find you a reasonable opponent from the house 'flock', though of course your chance of the title and prizes are increased by the skill of your fighter....
Hope to see you there!