UO Content Editor | UO Chesapeake & Rares News
Alumni
Stratics Veteran
Stratics Legend
Wiki Moderator
Victory Dedication with Lord Balandar, Hall of Victory, Malas Tuesday, June 2, 2011

By: Merik Imperium News Service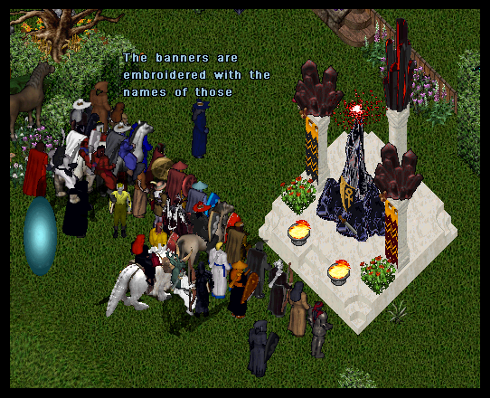 ​
"
Good Evening friends it is nice to see so many familiar faces for this joyous event. As you can see, the Artisans of the land have been very busy and have provided us with this gorgeous Triumph as a testament to those who fought ever so valiantly. Let us not forget, however, those who lost that fight. Let this Triumph stand as a memory to those the banners are embroidered with the names of those who were able to recover the crystallized liquid and eventually the Nemesis Stone itself. I'd like to invite anyone up here who would like to share a personal story from the fight against these phylacteries and the vile Kendrick Morrow.

In the center the artisans were so careful to reconstruct a perfect replica of the Nemesis Stone. It truly is a beautiful stone and here, we can admire its likeness forever and finally...the shield and sword upon the stone it is inscribed, "And Victorious In War Shall Be Made Glorious in Peace"

*
touches the shield
* Let this Victory be remembered forever, I invite you all to touch this shield now and share in this victory. It was an honor to fight alongside you as well. I am told Lord Commander Foxx has intelligence as to the Whereabouts of Kendrick Morrow. Surely he will call upon the Royal Guards to assist in his apprehension. We shall bring this vile man to justice!
"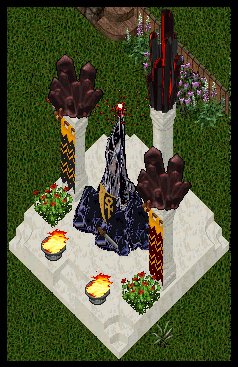 Banners Are Embroidered With The Following Names
Green Hornet, Nimrod, Calesto, Wilder, Rasear Wej, Eclipse,
Sarberius, Omi, Benito, Tattoo, Bottle, Sexy Sally, Demon Slayer,
Elandra Star, Horness and Fuzzy Stick
​
Zanku
"
I would like to say it was an honor to fight along braves souls. I salute you a great tribute here toda
y"
Recap of Events Leading up to the Dedication


(From a Townships View)



​
Nematic Phylacteries
were discovered in townships throughout the realm. The origin and abilities of these structures were unknown at the time but soon became the worst nightmare possible for each township and its people whom resided within the borders.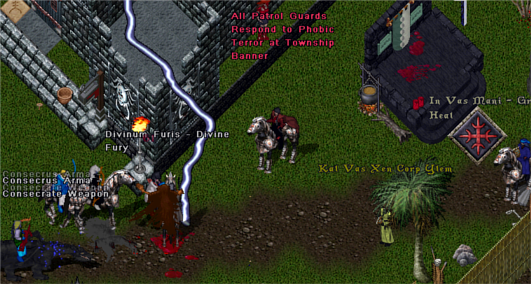 ​
During these attacks the
Kijustsu Anei Village
Tribal Council approved the creation of a township Militia known as the "Patrol Guard" under the leadership of Niva the Savage. Over time the Patrol Guard became a joint operation with citizens from
Aryslan city
under the leadership of Emperor Jamlyn. Through the coordinated efforts of Niva the Savage and Jamlyn the new join task force were successful in protecting many of the townships from surprise attacks launched upon them and the creation of the Village Emergency Communication System known as V.E.C.S.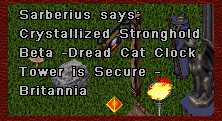 ​
The townships residing within Tokuno and Malas were the next targets followed by the remaining townships in the lands of Trammel. Glorious battles and perfect examples of communities working together can be found throughout these weeks leading up to the final battle. May everyone remember what can be accomplished by people's willingness to work together with one another.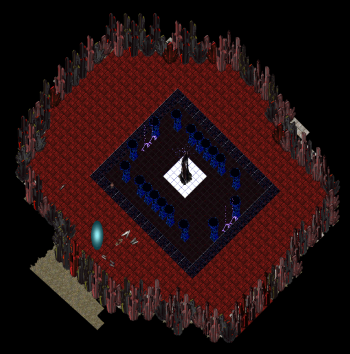 ​