UO Content Editor | UO Chesapeake & Rares News
Alumni
Stratics Veteran
Stratics Legend
Wiki Moderator
Into the Paws and Claws…Uhoh!​
Monday, May 09, 2011
By: Merik [Imperium News]

​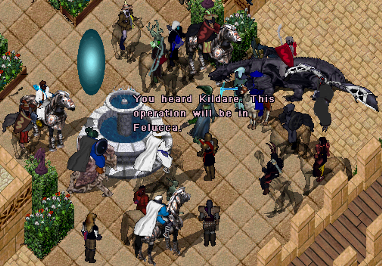 ​
"
During our transportation of Mornwok's belongings what he didn't steal back in his ambush, that is. We discovered a rather extensive tome along with some maps that detailed about the lost city of Paws, and it seemed to have notes in it. One of the maps was an ancient one, with markings that no longer exist but a second one was more modern, and had a few indicators on it. I asked Andrea Kildare if she was able to find anything at the indicated spots
"
I've ordered round the clock excavations. My teams were able to unearth an entrance however, they were frightened off something about a noxious odor and the howling of something or other. Suppose that's what I get for hiring Covians whatever the case they refuse to go inside. So far we've only been able to break into the Feluccan location. The Trammel location has a bizarre magic preventing further excavation
"
The Ancient Swamp Beats may have been powerful but they were nowhere near as powerful as the wither blasts and fields of poison blasted upon the team. Vile and Murderous members Sadist, Tom, XxirridicentixX, Les Beau, Shumer, Kentucky Jelly, Apocalypse and Turls of the True Brittanian's (UHOH) left nothing but blood and body parts in their wake.
Lord Demon Slayer of Mori Village began organizing Royal Guard troops to create a defense line to hold back True Brittanian's (UHOH) invading forces. Making up the defense line were Zanku, Harq lal Dracona, Robin Hood, Tigerlily, Brooke, Blend, HITMAN, Neptune, Tip-Toe, Ananon, Cara, Celestial Knight, BlackHeart, Taizong, Wilder, Ozog Giantfart and Snooky(Gareth). Through their combined effort they were successful in beating the murders back a few times but took heavy casualties while doing so.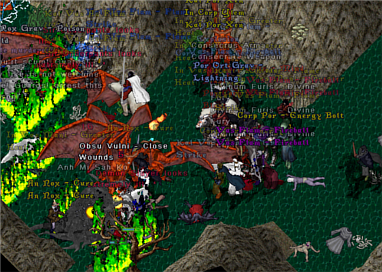 Captain Gwen Irina Com Linked the Surveyor's Office for backup, while the support of Paladins was helpful they unfortunately turned on many of the defenders making a bad situation even worse. Once the situation was corrected they proceeded into what was left of the Paws area. A few crumbling buildings, furniture and chests littered the area.

​
Historical documents were discovered in the Southern area but there was very little time to review them as True Brittanian's (UHOH) forces broke through the lines once again causing panic and mayhem. Royal Guard forces were sent an emergency evacuation gate as they were beaten back into a dead end due to the path being blocked by massive boulders.
Once Royal Guard forces were back in the safety of Trinsic Walls, Andrea Kildare and Captain Gwen Irina had a few final comments for everyone.
"
That was a most successful offensive. Despite their best efforts I would say their forces were repelled. It would seem that evidence points to the lost city of Paws, documents were recovered by some. There seems to be more to the caverns, I will contact Lord Balandar in order to procure some of that explosive Salve. That was most useful in the exploration of that undersea cavern.
"
"
There was one of the beasts left but the True Brittanian's had seized control of the place. You all did excellent though you didn't give up, excellent work!
"
PAWS MISSION
– Royal Guards
Confirm Lost City of Paws Location
Primary Objective:
SUCCESSFUL!
Recover 5/10 Paws Documents
Secondary Objective:
FAILED!
MISSION:
ACCOMPLISHED!
PAWS MISSION
– True Britannian's
Eliminate all Royal Guards
Primary Objective:
FAILED!
Recover 5/10 Paws Documents
Secondary Objective:
SUCCESSFUL!
MISSION:
FAILED!
(
Please note the Paws Mission objectives are something I added for fun and are not an official mission statement from the EMs
)