UO Content Editor | UO Chesapeake & Rares News
Alumni
Stratics Veteran
Stratics Legend
Wiki Moderator
2011 Feelin' Crabby Angling Tournament
Tournament Results for Monday, May 25, 2011
By:Merik, Imperium News Service
Captains, crewmembers and reporters from Kijustsu Anei Keys, Nidaros and Aryslan arrived at the Sons of the Sea a little before 8 o'clock to participate in the Summer "Feelin' Crabby Angling Tournament". Santiago laid registration forms out on the famous square table which we shall call the Fishermen Trap Table.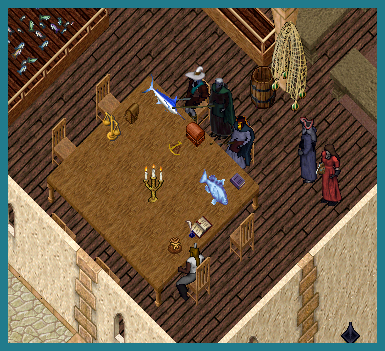 ​
(Guildmaster of the Sons of the Sea)​
"If ye beein here fer da crabbin, each cap'n needs ta fill out a book with vessel and crew. Fill out a book with your name if yer da captain the vessel name and any township ye be affiliated with. Can add or subtract crew as ye like. Only 5 at a time though per vessel put yer books in this bag here when done. They can join late so long as it doesn't put you over 5 total persons on board 1 captain plus 4 crew. All crabs and lobstahs for the next 4 hours."
Four hours may seem like a long time but allowed players who could attend the first two hours to have a chance to participate for the remaining two hours. During this first tournament window vessels dropped their pods in the water hoping to catch the most lobster and crabs, while others searched for the special crustaceans in "Trammel proper" waters, which would not include T2A or Tokuno waters.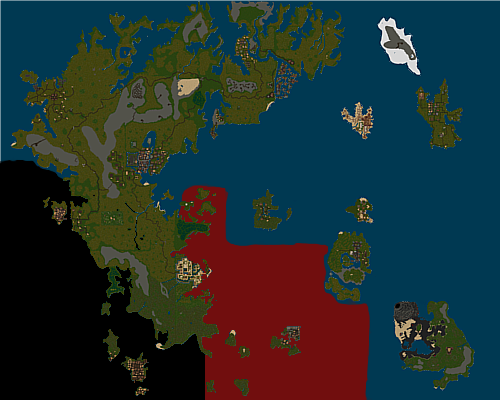 ​
We were able to extrapolate the search areas from the navigation logs of the SKS Star and their encounter with the Crimson Stingray near Jhelom and their home port of Nidaros. This may not be fully accurate but is at least 75% accurate
Although crew came back empty handed from the search they did try their best and after all it is a lot of ocean to cover. Perhaps next time one of the crews will location one of these special crustaceans next time.
​
After four hours of searching and fishing Santiago gave the last call to pull their final traps for weigh in. It took Santiago a few days to release the standings for the leaderboard, we hear he was up to his elbows in crabs….
Feelin' Crabby Angling Tournament​
Vessel Achievements
Most Crustaceans
SKS Star
: 1186
-Orin, 417
-Heimaterde, 88
-Bishop, 266
-Elves, 264
-Kaiko 161
Rum Runner
: 225
-Wotan Von Asgard, 225
Crimson Stingray
: 0
-Judge, 0
Most Crabs
No Results
Most Lobsters
No Results
Most Big Crustaceans
No Results
Individual - Angling Achievements
Most Named Catches as a result of weight
No Results
Heaviest Crab
No Results
Heaviest Lobster
No Results
Remember the Tournament runs all the way from now until September, so you have plenty of time to form a crew and increase you vessel counts. This is still anyone's game and we hope to see you out there next time!
"Big Stuff" Amendment...
From Elder EM Dudley
​
For Vessel achievement of Most Big Crustaceans (Crabs and Lobsters of any type with name of person catching and date appropriate to tournament window) we will accept any crab or lobster fished up, from a vessel, during a specified tournament window (Usually a 4 hour slot on a given night).

The crustacean must have the appropriate date, as well as a "caught by" tag & weight. No crustacean turned in, except from a tournament window, and caught on a ship, will count towards this achievement.

As far as all the individual achievements, you may fish openly to satisfy the requirements, and turn in any crustacean, so long as the date falls within the tournament period (5/25/2011 and 9/6/2011). It will be the responsibility of the angler to save the catch to be turned in during a tournament window.