Babbling Loonie
Alumni
Stratics Veteran
Stratics Legend
The Weekend Before Christmas
The Ancient Order, The Kingdom of Dawn, and The Baja Roleplaying & Event Alliance Go Christmas Caroling!
By Nicholas the Old
December 25th, 2008​

Seasons Greetings, Citizens of Britannia!
You may remember that several evenings ago, the Town Criers Association of Britain reported that Saint Nicholas himself (along with several currently unidentified companions) were spotted throughout the Cities of Britannia and the Principality of Luna through the night. Immidiately, outrageous rumors began to fly as to the nature of this mysterious old sage's visit. These rumors ranged from tales of a green imp leading a chorus of mystifying sirens who wooed the audience while Saint Nick fed the banksitters poisoned candycanes, to reports that Lady Sara and Oriana had robbed the Luna Bank and escaped with a cache full of gold coins and baubles contained in the pack of their llama.
Our reporters, busy covering the city invasions across the sea and to our north, were unavailable to report on the situation. Having just barely missed Saint Nicholas, we consulted our sister-agencies, the Stratics Herald and the Freeborn Press, but we have yet to recieve a comment before printing time.
We did manage to recieve one report covering the evenings events; an open letter sent to the Town Criers. It purports that Lady Sara was actually leading a band of carolers, while Saint Nicholas was handing out toys to all the little girls and boys of Britannia. It even purports that Saint Nicholas met with the returning "Ethereal Sages," and that a certain Vash the Harper visited a parallel universe. Once again, we clearly cannot verify the authenticity of such outrageous reports, but if anyone has any information on Mr. Grinch, please send word to the Britannian News Network Central Office.
Thank You,
Nathaniel Stonebow
Senior Editor, Britannian News Network.

Dear Criers,
I should thank the lot of you for your shoddy reporting! Claiming that Saint Nicholas the Old and Lady Sara would rob the Luna Bank? Atleast the Freeborn Press knew how to get their facts straight. Ol' Man Christmas should leave a nice cache of blackrock in your stockings. That'll teach you, you dunce!
With that said, I will attempt to convey the nights events as they actually happened (along with a couple of masterful portraits and transcriptions). Light willing, you will actually get it this time!
'Twas the weekend before Christmas, and all through Nick's house
Not a creature was stirring, not even Sherry the Mouse;
The holiday decorations were hung on the wall with care,
In hopes that touring Britannians might soon be there.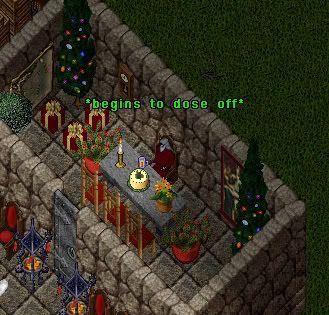 The old man was all snug at his desk,
While visions of sugar-plums danced in his head...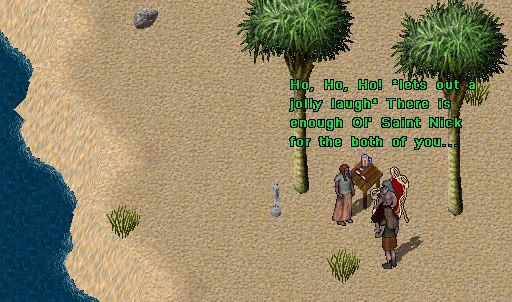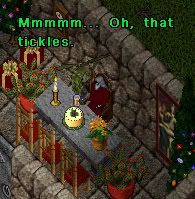 When from his daze there arose such a clatter,
He sprang from his chair to see what was the matter.
Away to his bedroom he flew like a flash,
Tore open the armoire and threw up his locker...
What!? He ate my hat?
WildStar's Translation: "Ga'kuct ate Santa's hat! Yep! Thanks Nicholas."
The moon on the breast of the new-fallen snow
Gave the lustre of mid-day to objects below,
When, what to my wondering eyes should appear,
But a miniature sleigh, and eight very sick reindeer...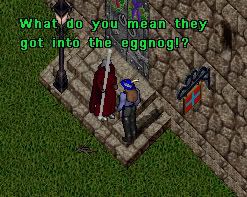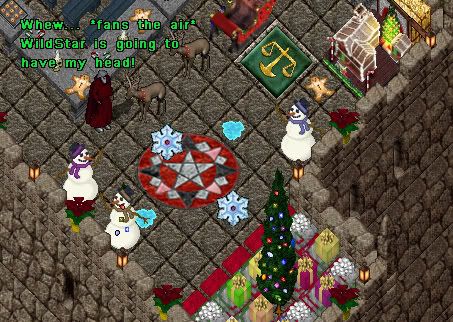 With a quick offer, so sly and quick,
I knew he must be a banksitter, that Ol' Saint Nick!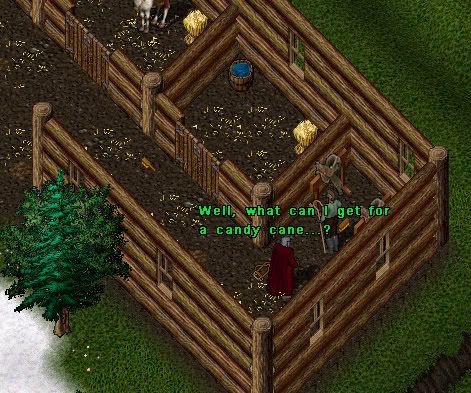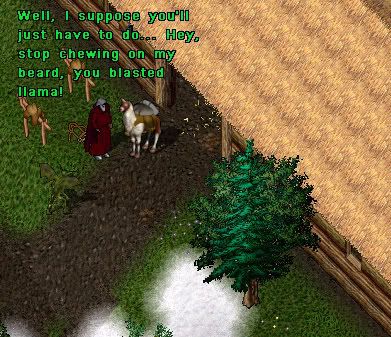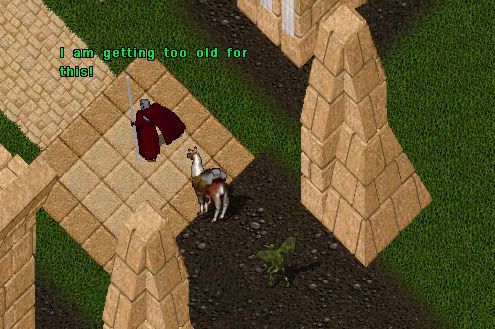 More rapid than speedhackers they came,
And he whistled, and shouted, and called them by name;
"Now, Llama! Now Grinch! Now, Sara and Oriana!
On, WildStar! On Zackarias! On Betsy and Shovel!"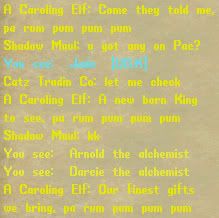 A Christmas Caroler at Luna Bank
It is here in the story, that I do say,
A wild manticore, rode into Luna like a...fey?
"EeeEmms! EeeEmms!" He shouted with glee,
And with excitement, many did go to see.
With tales of Green Robes and Old Ones, Nicholas took to the sky,
Through the cold and frigid ether they did fly!
So up to Ol' Britain they flew,
With a packy full of toys, and Mama Faith too!
As some worried that the Caroling might never get off the ground,
Until down to the conselors hall the Carolers came with a bound.
They were all dressed in Dawnite Silk, from their heads to their feet,
Their boots slightly tarnished from swift travel and soot.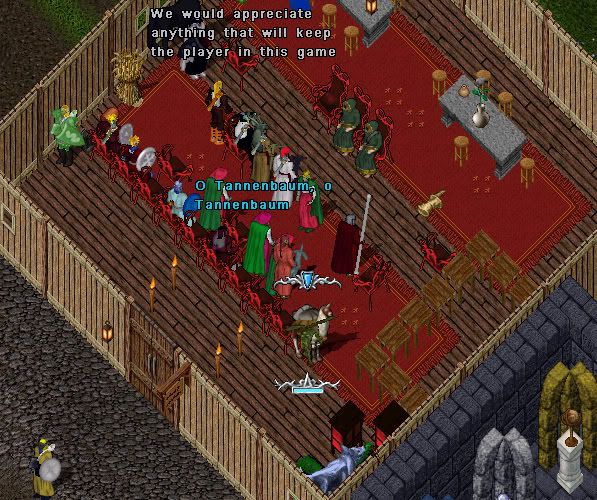 A bundle of toys St. Nicholas had flung on his back,
And how he looked like a peddler just opening his pack.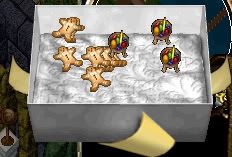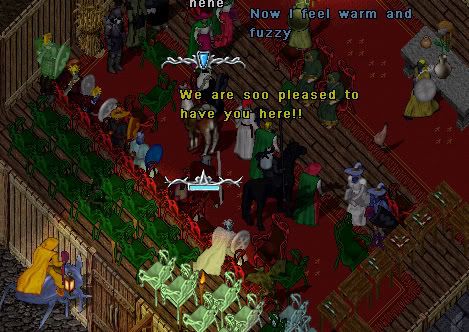 A wink of their eyes and a twist of their heads,
Seppo and Pallando assured the Britannians that they had nothing to dread;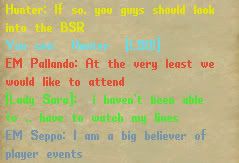 They spoke many words, about their upcoming work,
But alas they had to go, and disappeared with a smirk...
The Carolers sprang to his sleigh, to St. Nick's team he gave a whistle,
And away they all flew like the down of a thistle.
But I heard Lady Sara exclaim, as Santa drove out of sight,
"Merry Christmas to all, and to all a good-night!"
Mr. Grinch,
The Grumpiest Resident of Dawn.

The Ethereal Sages, otherwise known as "Event Moderators", have even made their presence known amongst the parallel shards outside our own. Yes, you didn't think we were the only ones, did you?
Vash the Harper, the White Council's Emissary to the PaxLair Statehood (Guild Master of the Baja Roleplayers [Chesapeake Chapter] Stone) sent back these sketches and transcripts.

Greetings, Nicholas.
I do not have much time to write to you. There are currently rumors spreading that an angry mob of impoverished peasants are planning on raiding the storage shed behind Luigi's Pizzaria in PaxLair. I am going to investigate after I send you these sketches through the Twilight Moongate.
The beings depicted in my sketch are known as "Ethereal Seers." They appear not unlike Ol' Vincent and Sameerah, and appear to posess many of the same powers. They also seem to be aware of the parallel shards, and seem to know of each other; even mentioning that you met their companions on our homeworld.
They seem to be a lively bunch; but I caution you, Sir Nicholas. They espouse a sort of innate neutrality that could be cause for concern. They speak of letting the Britannians "live out their own stories." Now, you know that I love a good tale as much as the next bard; but rumors spread that some Council of Sin already intends to harness their powers in any way possible.
I send you these words of caution. You and I both know what sleeps just outside of Trinsic.
Vash the Harper,
Trobadour of the City of Avalon.
Baja Roleplayers (Chesapeake Chapter)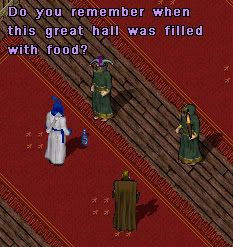 (EM Dudley, EM Tailspin, Vash the Harper of Baja, and Lord Nanoc of Chesapeake).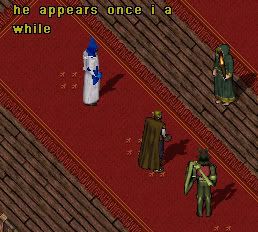 (EM Tailspin, Lord Nanoc of Chesapeake, Vash the Harper of Baja, and Lady Phoenix of Chesapeake).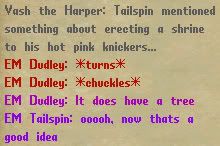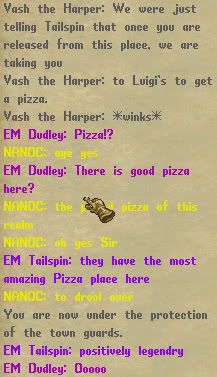 I, Nicholas the Old, would like to thank these individuals (and encourage my fellow Britannians to do the same).
Lady Sara of The Ancient Order (TAO). She was the one who planned the event, and collected all the presents for all the good girls and boys.
Lady Oriana of The Ancient Order. She was one of our carolers friday evening.
Lady WildStar of the Kingdom of Dawn. She was one of the carolers, and baked hundreds of Gingerbread Cookies for everyone to enjoy.
Hunter, for adding to the Christmas Cheer and caroling along with us at the Britain Counselors Hall.
A Christmas Caroler, for coming along to help us carol throughout the evening at Luna Bank.
Noel, for coming along to help us carol throughout the evening at Luna Bank.
NANOC of the Historic Dragons Watch on Chesapeake. He is one of our allies on Chesapeake, who told me about Tailspin arriving at the Britain Counselors Guild and invited me to come along.
Lady Phoenix of the Historic Dragons Watch on Chesapeake. She was brave enough to ask about the infamous pink underwear.
EM Seppo, EM Pallando, EM Dudley, and EM Tailspin for being so great!