Stratics Legend
Stratics Veteran
Stratics Legend
Campaign Supporter
OZOG CROWNED KING OF BRITANNIA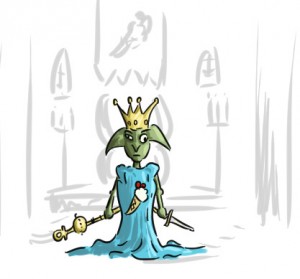 Little has been heard of Blackthorn for quite some time – a situation which has been a cause for ever increasing concern as the weeks have gone by. But it has now been revealed that just over a week ago, our former king died after choking on a chicken bone in the dining room of his new castle.
The Royal Council has since spent considerable effort finding an heir without success. Deciding to widen their search, the council's gaze came to rest upon Pitmuck Island and the pungent leader of the goblin tribe there.
Seeing what they believed to be excellent leadership skills, the council in their drunken wisdom decided to offer the crown to Ozog who immediately accepted it, and a low-key coronation was held a few days ago.
It is believed that the new king will make his first speech in the next week or so.