Former Stratics CEO (2011-2014)
VIP
Alumni
Supporter
Stratics Veteran
Stratics Legend
UNLEASHED
Campaign Benefactor
1.5 MILLION EUROS FOR YOU!
05 Dec, 2012 - 02 Jan, 2013
"Get your share of the Free Nexon Cash and Items NOW!"
Greetings Nexonians!
Year 2013 is just around the corner! We're looking forward to an amazing holiday season!
To thank all of our loyal players, and also celebrate the holidays, we will be giving out a
MASSIVE 1.5 Million Bonus Euro
in
Free Nexon Cash
to you!
Make sure you don't miss out on this
limited offer
because when we have given away all the Free Nexon Cash, the opportunity will disappear!
Also read on for more information on our exciting end of year Games events and details on how to get
SPECIAL BONUS ITEMS
as well!
1. How to get your Free Nexon Cash
Based on how much total Nexon Cash you've charged in 2012, you'll get a bonus amount of FREE Nexon Cash on your next charge during the event period! (The bonus rate is calculated from the total amount charged from 1st January 2012 to 2nd January 2013)
If you have not purchased Nexon Cash at all before, don't worry! You can also get your bonus Free Nexon Cash during the event period.
Details:
- Event period : 5th December, 2012 – 1st January, 2013
- During the event period, players can get Free Nexon Cash once they charge.
- During the event period, if all of bonus cash becomes exhausted, the event will be finished.
- Free Nexon Cash is is available on all charges using the following payment methods :
- Paypal / Moneybookers / Mopay / Boku / Daopay / E-Pin / InComm / PaySafeCard / KarmaKoin  

Let's give you an example how it works:
Let's assume you have spent 80 000 in 2012 up until now. This will bring you up to level 5! Now when you charge 20 000 Nexon Cash. By doing this you will not only get the 20 000 NEXON CASH but also an additional 20% = 4 000 NEXON CASH.
But hey it gets even better: Now you'll have a total of 80 000 + 24 000 = 104 000 NEXON CASH charged in 2012. That means you will move up to Level 6 and you can receive up to 40% bonus Nexon Cash on your next purchase! Isn't that great?
2. How to get your SPECIAL BONUS ITEMS
Depending on the amount of weekly NEXON CASH Cash spent in-game, you can also get special game items!
- Event period : 5th December, 2012 - 1st January, 2013
- Your spent NEXON CASH total will be calculated during each weekly game maintenance.
See details below:
Check out the fabulous items you can get as rewards: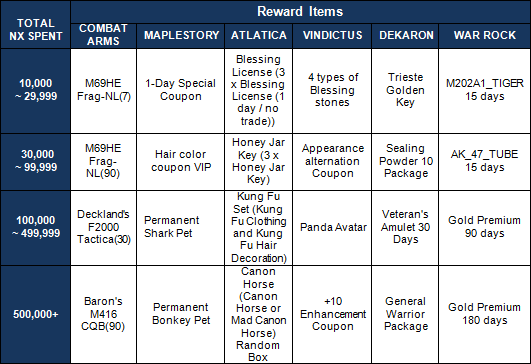 Don't miss this opportunity. Charge NEXON CASH NOW!

[Link]
http://billing.nexoneu.com/PG.aspx?PART=/Charge
Continue reading...