RSS Feed
RSS Feed
Stratics Veteran
Greetings Fellow Avatars!
This week's update brings players of
Shroud of the Avatar
a new town scene for Episode 2 Access holders! Tanglemire is located on the new continent of Mistrendur! Four new species of lava fish have been added, and many more lava fishing locations have also been added! Additionally, a sneak peek on the upcoming rideable mounts has been revealed, and building blocks now have a much more flexible behavior as decorations! For those wishing to participate in any
community activities
, upcoming one-time and recurring community events have been announced! Be sure to also review the
Players Guide
and
Known Issues
list for additional information on recent changes and upcoming fixes. Now, let's see what we have for you in this week's edition of Update of the Avatar:
News Announcements
Community Updates
New Town Scene: Tanglemire!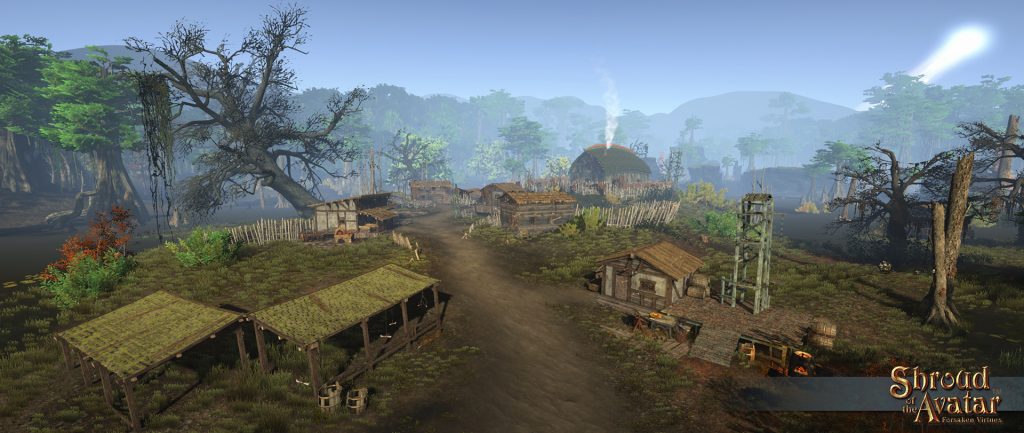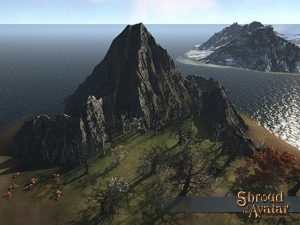 Tanglemire is now available to
Episode 2 Access
holders! Inhabited by a deeply superstitious Norgardian-style populace, the people of Tanglemire protect their borders with Spirit Warders that impede the incursion of creatures from Spindelskog.
The shadow-like beasts from within that nearby darkened wood infect their weary minds with crippling dread. The people of Tanglemire are ruled by a group of "elders" struggling to preserve their village, but how long can they delay the inevitable demise of their beleaguered settlement? What aid might an Avatar bring to a people so burdened by doubt and fear?
"Life is a never-ending struggle for Tanglemire, a fading outpost in the north of Mistrendur virtually abandoned by the Norgard Empire. Surrounded by freezing cold, deadly swamps, and a haunted wood, it's no wonder that the desperate locals have turned to unusual means for protection. But how long will their decaying "spirit warders" keep them safe from the untold horrors that threaten these peaceful people?"
The outskirts of Tanglemire, in similar fashion to Valhold, features a variety of enemies to defeat and challenges to overcome. Much of the Tanglemire content will ultimately land somewhere in the middle of the Mistrendur storyline, but for this initial release, Tanglemire features two repeatable quests. Additional quests will be added as more Episode 2 content is released in the time ahead.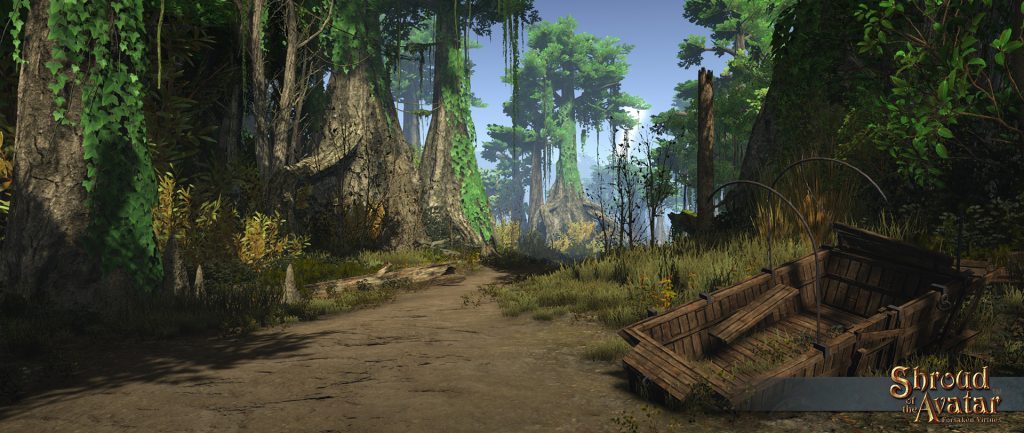 Guest Speaker Friday Livestream!
Another weekly Community Livestream is this Friday, August 28th at 4PM CT on
Twitch
! Join Chris "Atos" Spears and other development team members for a community 1 hour livestream!
This week, we have a special guest! Finn Staber will be speaking about
Shadow of Valhalla
, a new project to support!
To enter the prize drawings, type "wishing I was fishing" into any in-game chat channel OR make a purchase on the website add-on store. Please submit questions into
Twitch Chat
by inserting
!question
at the beginning of your text. Watch on
Twitch,
Friday at
4 PM
CT!
Four New Species of Lava Fish!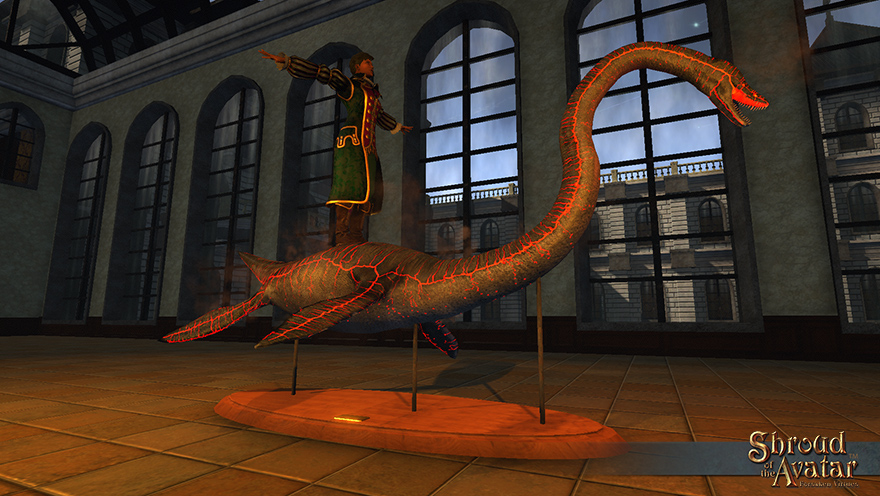 Brave lava anglers throughout the lands have discovered four entirely new species of lava fish swimming deep within the molten hot magma pools of New Britannia! Will you dare to cast your lines into the lava, Avatars? These beasts are enormous! So be sure not to be pulled into the scorching lava. Once caught, take these denizens of depths to your crafting table and create display trophies to marvel all of your visitors and friends. The following trophies and recipes are now available:
Plesiosaurus (Ground and Hanging Versions)
Ichthyosaurus
Coelacanth
Trilobite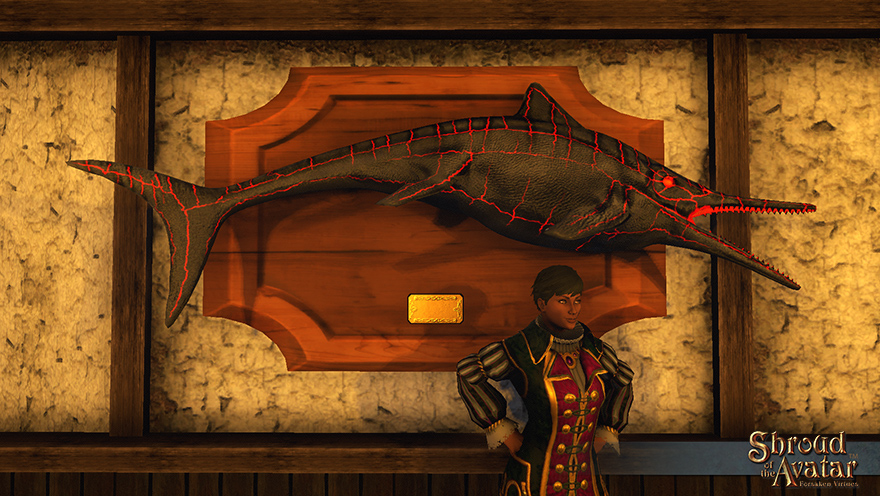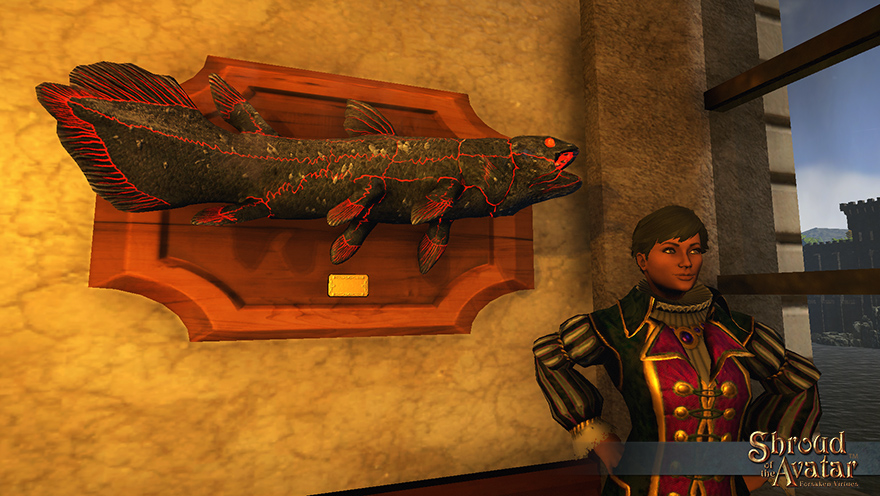 But that is not all, anglers! Scour the lands for additional fishable magma flows, for now so many more contain lava fish! Some scenes received more expansive lava fishing spots, but other scenes were added as entirely new lava fishing locations. Be sure to have a lava fishing pole equipped and gemmed lures on your hot bars, for these gigantic creatures will only nibble upon gem stones! Here's a list of all the known lava fishing locations now available:
Blackblade Foothills
Blackblade Passage
Bunker C
Etceter Crag Mines
K'rawl
K'rul
Northwest Blackblade Mountains
Oracle Colossus
Quel Passage
Spectral Mines
Sunless Barrens
Verdantis Mines
Rideable Mounts Sneak Peek!
It's been some time since Avatars have returned to New Britannia, and with their arrival came otherworldly tales of men and women riding upon beasts. The peoples of New Britannia have taken these tales to heart and have labored tirelessly to discover the art of riding for themselves. As you can see from this sneak peek video, their labors were fruitful! Soon, all players of Shroud of the Avatar will be able to dash across the lands upon rideable mounts. More news about the upcoming mount system and many other exciting new features are just around the corner!
Flexible Building Block Placement!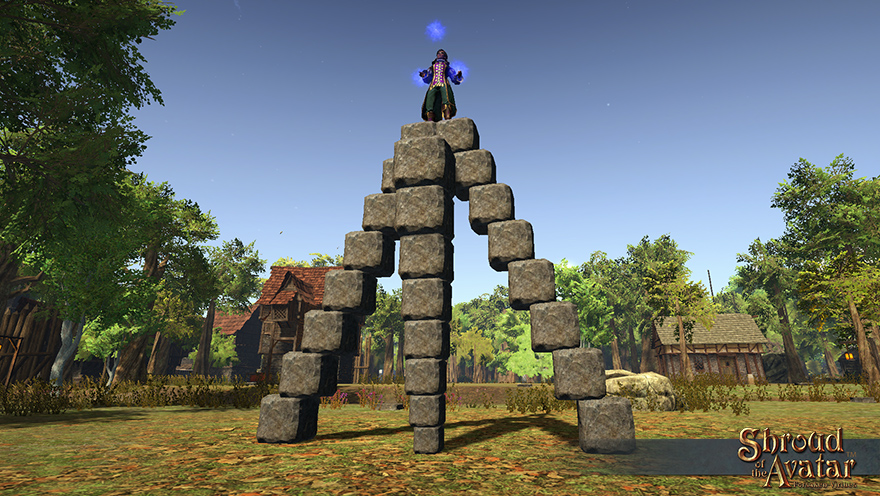 Builders of New Britannia, prepare to stack your building blocks like you've never stacked them before! As of Release 81, every piece of every building block set allows for much more flexible placement while decorating. In the image above, you can see that blocks now allow for a very significant amount of overhang. Also, larger blocks can now be placed on top of smaller blocks. With these changes as well as the recent scaling update allowing blocks to scale from sizes 0.5 to 1.3, builders will have a much wider variety of capabilities at their disposal. Happy block stacking, Avatars!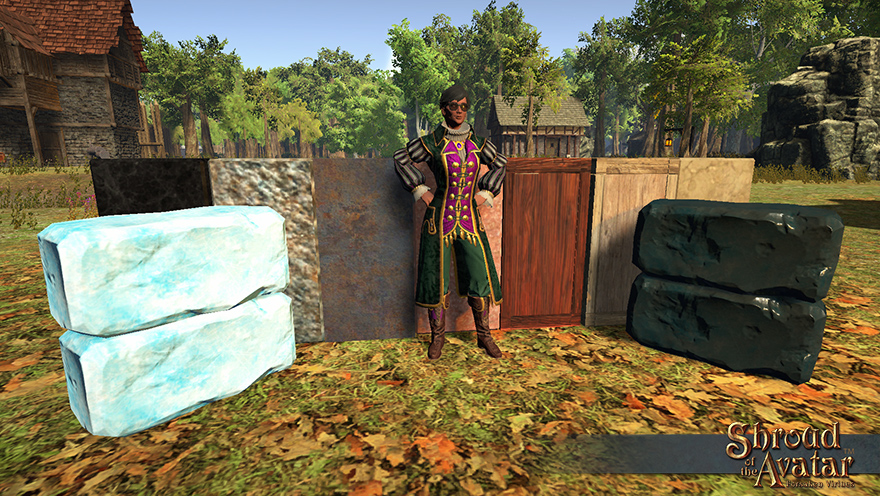 Of note, there were some slight design aberrations with the particular blocks shown in the above picture. The original versions of these blocks flipped along a different axis than their counterparts in other block sets. All Crown Store entries now sell updated replacement blocks, but any player who's purchased any of the affected block sets in the past 3 months will receive replacement blocks (applicable pieces listed below) sent to them via the in-game mail system in the coming weeks ahead. The blocks affected were as follows:
Players who've purchased the new block sets (Polished Wood, Iron, Fallow Granite, Polished Granite, Black Marble, White Marble) would have received 15 of the 2x1x1 blocks. They will receive an additional 15 1x1x2 blocks via in-game mail.
Players who've purchased the Black Ice and Ice block sets would have received 20 of the 2x1x2 blocks. They will receive an additional 20 2x2x1 blocks via in-game mail.
If players already have the 1x1x2 blocks or the 2x2x1 blocks within these block sets, those are the newer versions so they're good to go! Deliveries of blocks will begin sometime in the coming week, so please be patient as we work through the deliveries.
Screenshot/Video Contest!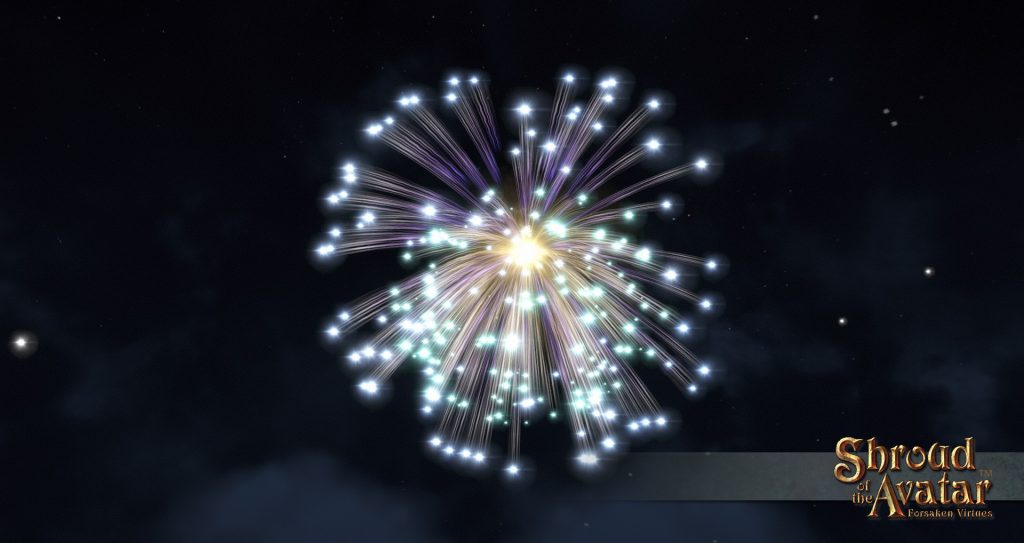 With the holidays quickly approaching, it's time for all New Britannians to partake in the festivities! Labor Day is right around the corner and within the game world, the in-game calendar is about to hit 600 P.C. for a new year and new century! To celebrate, it's time for a screenshot/video contest!
Theme:
Fireworks show! All screenshots and videos for this contest must be of a choreographed fireworks show launched from the Overworld map or from in-game towns and adventure scenes. Get your guild/team together to compete in this world wide fireworks competition!
Screenshot Requirements:
Resolution: Minimum of 1920×1080, and always in 16:9 aspect ratio (cropping allowed).
Quality: Use in-game settings to their maximum, no post-screenshot alterations allowed other than labels, overlays, or watermarks to promote your guild/team. Overlay holiday messages are also allowed.
Time of Day: Nighttime shows only, no night vision please.
Hide the UI: Please toggle off the UI using the default key F9.
Video Requirements:
Resolution: Minimum of 720p
Quality: Use in-game settings to their maximum, no post-screenshot alterations allowed other than labels, overlays, or watermarks to promote your guild/team. Overlay holiday messages are also allowed.
Time of Day: Nighttime shows only, no night vision please.
Hide the UI: Please toggle off the UI using the default key F9.
Duration: 30 seconds minimum, 60 seconds maximum. Anything occurring after the 60 second mark will not be considered for judging.
Guild/Team Requirements:
Captain: Each guild/team must select a Team captain.
12 Players Max per Team: Each team, to include the team captain, can have a maximum of 12 players.
Submission Requirements:
# of Entries Per Team: 1 screenshot and 1 video entry per guild/team maximum.
Submission Location: Submissions must be placed as a reply into the main thread for this contest on the official forums by the guild/team captain.
Post in Forums: In the submission post, the guild/team captain must post the screenshot as a viewable image and/or the embedded video.
Participant List: The captain must list out all participants of their team (max of 12 players) in their submission post. The participant list must include the proper spelling of each character. If proper spelling and character names are not provided, prize delivery will be negatively affected.
Deadline: All submissions must be posted by 6AM CT on Monday September 21st.
Best Screenshot Prizes:
1st Place: 10,000 Crowns (delivered to team captain), Title: Master Artist (delivered to all team members)
2nd Place: 5000 Crowns (delivered to team captain), Title: Master Artist (delivered to all team members)
3rd Place: 2500 Crowns (delivered to team captain), Title: Master Artist (delivered to all team members)
Best Video Prizes:
1st Place: 10,000 Crowns (delivered to team captain), Title: Master Artist (delivered to all team members)
2nd Place: 5000 Crowns (delivered to team captain), Title: Master Artist (delivered to all team members)
3rd Place: 2500 Crowns (delivered to team captain), Title: Master Artist (delivered to all team members)
Prize Rules:
Crowns will be delivered to team captain only. The team captain will determine how to split the Crowns amongst their team.
Please ensure your team member list has accurate spellings of character names, or titles cannot be delivered.
Each team can win once in the screenshot and once in the video categories.
Players can only represent a single team.
The Catnip Games team members will pick the winners based on aesthetic and creative qualities of the screenshots and videos. Winners will be announced during the community livestream 1 to 2 weeks after the contest's deadline! Good luck, Avatars!
Crowns, Deed Upgrades, & Two-Hour Flash Sales!

In celebration of Labor Day as well as the 600 P.C. in-game calendar event, various sales will begin on Friday and extend throughout the holiday. Crowns will be on sale for 20% off. Deed Upgrades will also be 20% off! To upgrade a deed, place the deed into your inventory, then right-click the deed to reveal upgrade options. But that's not all! Two Hour Flash Sales will also commence on Friday morning! So watch your clocks, Avatars! A new batch of 9 sale items will rotate into the in-game Crown Store every 2 hours!
Players have until Monday, September 7th at 1PM CT to take advantage of these great discounts, at which time all 3 sales events expire. Happy shopping, Avatars!
September Login Reward: Dyeable Fishing Rod!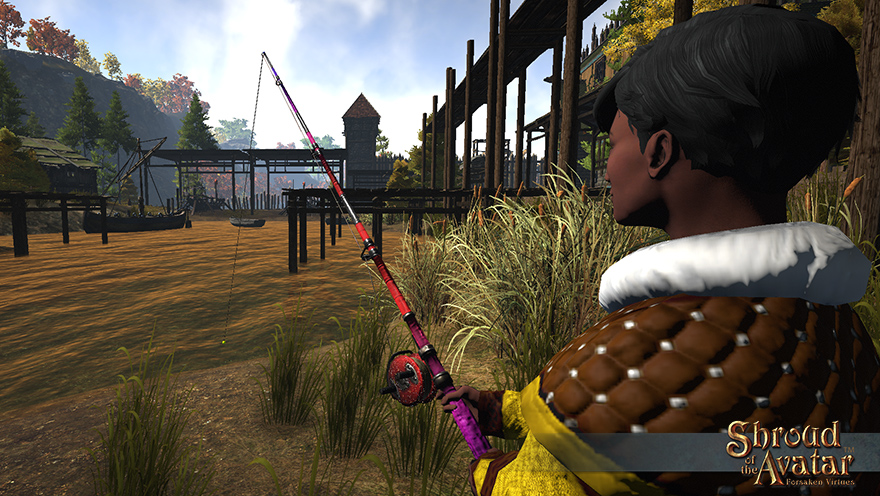 Anglers rejoice! September's login reward is an indestructible dyeable fishing rod! Featuring both primary and secondary dye layers, anglers will really be able to show off their style whilst casting a line into the waters of New Britannia! Simply log in during the month of September, and this dyeable fishing rod will become available in the Rewards Window.
Release 81 Reward Program Login Reward Items: Lord British & Farming Items!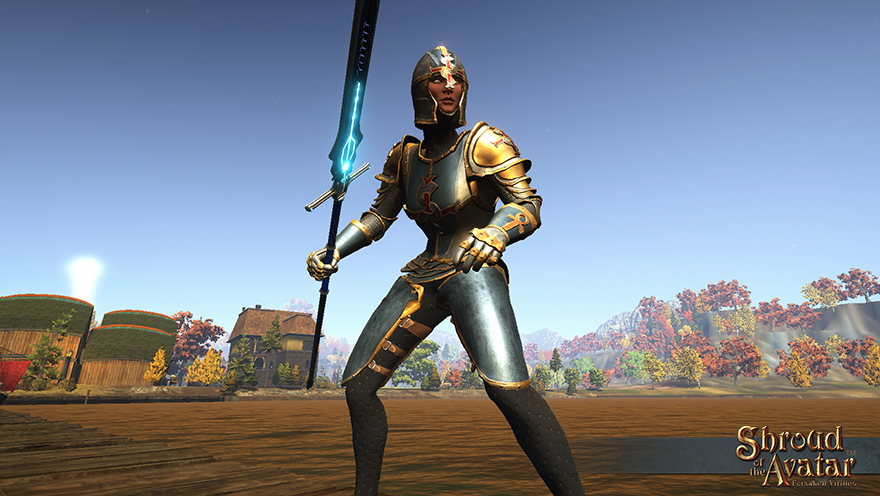 Avatars!
Rewards Program
login reward items for Release 81 are Lord British and farming themed!
Reward Program
members must login during Release 81 to receive these login items:
Lord British Plate Leggings
Large Haystack
Small Haystack
Strawbox
Box Hay Bale 5-Pack
Hay Pile
Hay Drying Rack
Hay Cart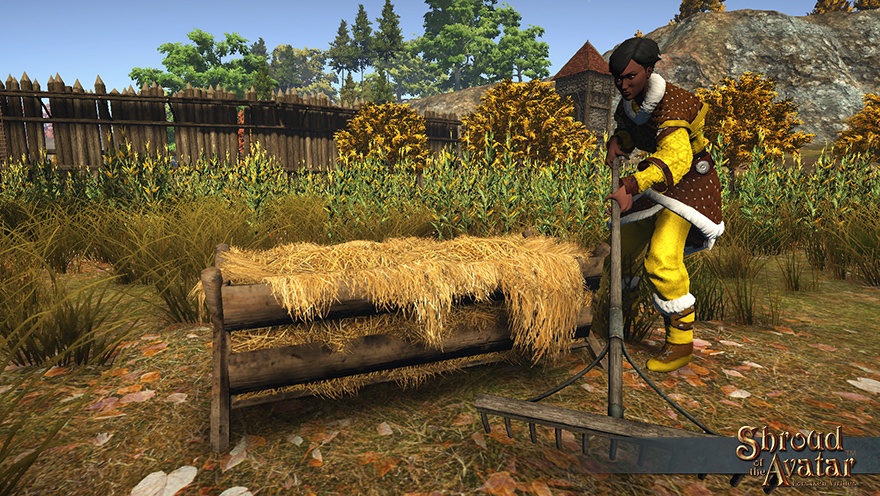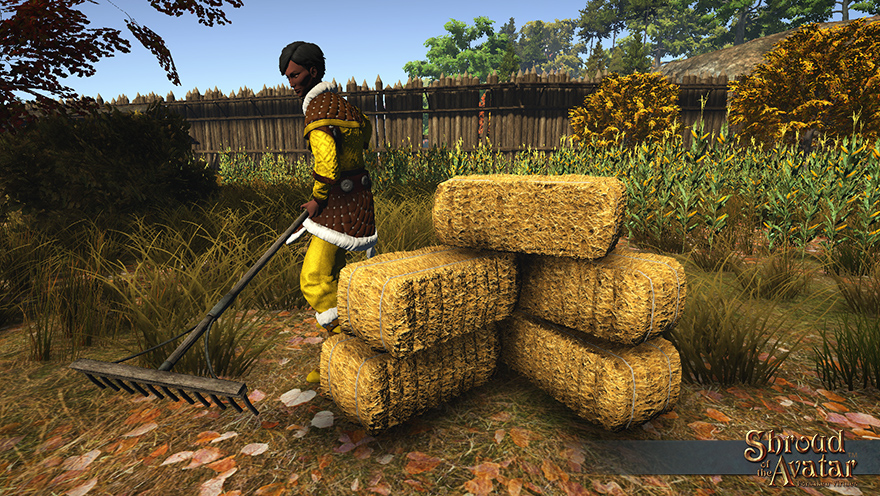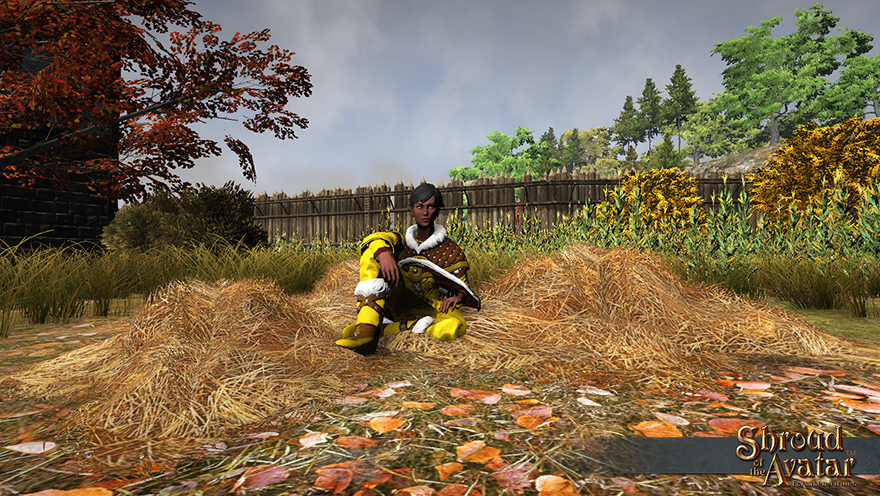 The
Shroud of the Avatar Rewards Program
lets you earn the best rate on purchasing Crowns, AND receive monthly reward items! For the low price of $9 USD per month you will receive the following:
900 Crowns of the Obsidians every month
Monthly Login Reward Items (~ 3 per month)
Exclusive Title every 3 months

3 Months: Keeper of the Faith
6 Months: Keeper of the Word
9 Months: Keeper of the Vow
12 Months: Keeper of the Flame
15 Months: Keeper of the Oath
18 Months: Keeper of the Pledge

Pick any Dye 12-Pack every 6 months
Pick any three of the 7 Obsidian Potions every month, including:

Potion of Capacity: Increases carrying capacity
Potion of Conservation: Reduces reagent use chance
Potion of Expedience: Swift gathering on all gathering skills
Potion of Precision: Increases Meticulous Collection to all gathering skills
Potion of Preservation: Reduces armor and weapon damage
Potion of Reclamation: Increases Salvage and Repair to all production skills
The Bug Brigade Rides Again!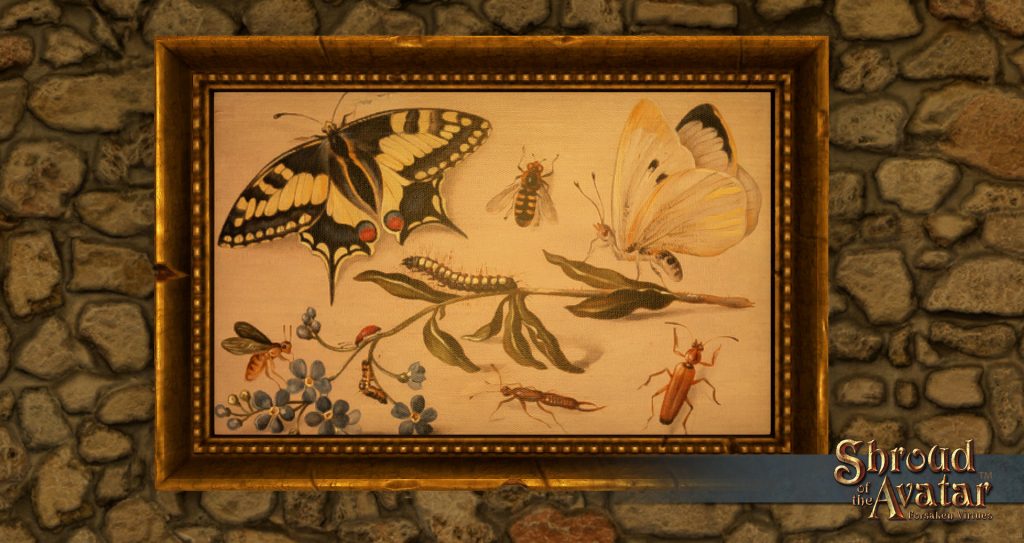 The Bug Brigade was established to assist the community and the development team to work together to improve the game. Since then the program has gone through a number of changes and was eventually placed on hold. The stability of the game is as important to the development team as it is to the player-base, and for that reason the program has been revamped and is being relaunched.
The program is now open to all players in good standing and Bug rewards are back! They will awarded be on a progression basis monthly with only a minimal requirement to be filled to qualify.
We are bringing the bug forums current and will make every effort to have triage and intake for each validated bug. To assist in doing this we have asked Alley Oop, Justyn, and Tazar to take on a moderator role within the bug and feedback forums. Please congratulate them the next time you see them in game or on the forums!
The Bug Brigade will be open to all. If you feel the game is your home, sign up and assist us in making it a better place to live! To sign up,
read the post "Bug Brigade Rides Again!"
in the main Bug/Feedback forums for both the Live or Player Test areas in the official forums. If you have trouble finding them, please ask a Hospitaller, or one of the Moderators via PM in the forums or in Discord.
New Vault Round!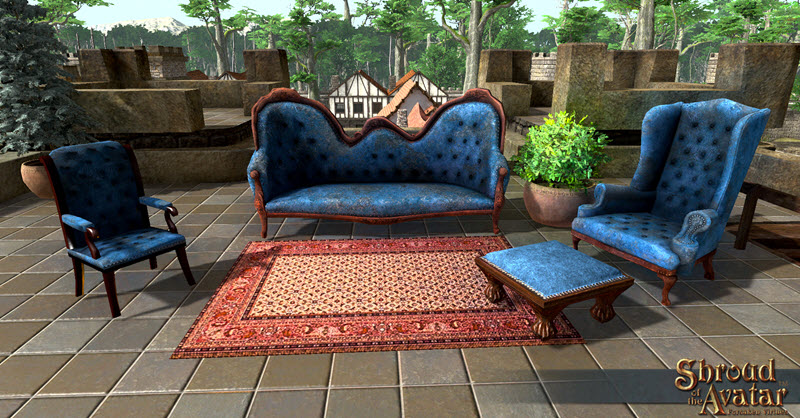 Vintage Blue Velvet with Nailheads Furniture Set
Oracle Cloak
Aether Two-Handed Mace
Tansu Chest
Ornate Elven Longbow Pattern Pack
Ornate Elven Wardrobe
Shogun Four-Story Town Home
Viking Brynhildr Shield
Elven Mage Outfit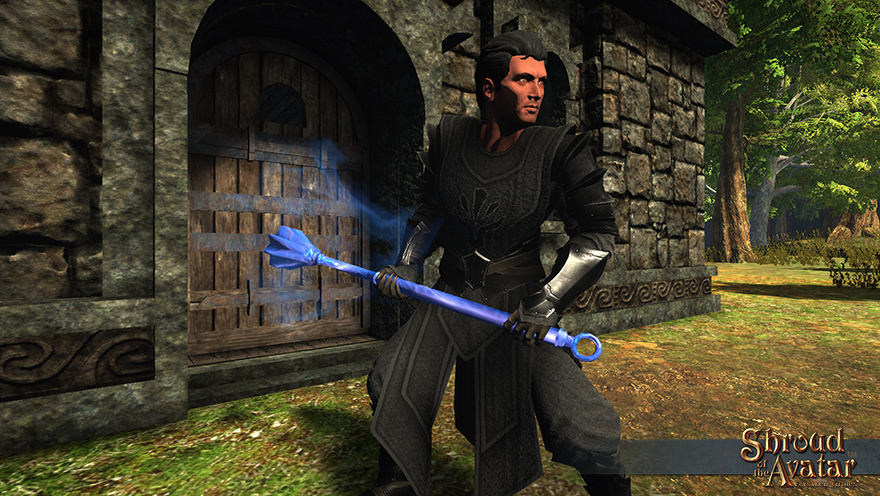 Latest Store Additions: Leather Flame Armor Set, 6 Building Block 110-Packs & More!
For those wanting a more rustic version of the Virtue Flame Armor Set, the Leather Flame Armor Set is now available! Strike fear into the hearts of your enemies whilst wearing these dauntingly wicked leather armor pieces!
Seven new building block sets have been added to your arsenal of construction materials! These new blocks come in the same 110-packs and size variants as the previous block sets. The new AND old sets can now be placed as Player-Owned Town decoration. All block sets can now scale from .5 to 1.3!
New Block Letters and Numbers Sets have arrived! These sets have primary and secondary dye layers and can scale from .5 to 2.0!
Additional items recently added to the store are the new Player-Owned Town Property Markers Set and the Player-Owned Town Wagons, Boats, Balloons Hatches and Signposts!
Leather Flame Armor Set
White Marble Building Blocks 110-Pack
Black Marble Building Blocks 110-Pack
Polished Granite Building Blocks 110-Pack
Fallow Granite Building Blocks 110-Pack
Polished Wood Building Blocks 110-Pack
Iron Building Blocks 110-Pack
Block Letters Set A-Z (Dyable, 5 Punctuation Types Included)
Block Numbers Set 0-9 (Dyable)
Player-Owned Town Property Markers Set
Player-Owned Town Wagon (Dyable)
Player-Owned Town Boat (Dyable)
Player-Owned Town Balloon (Dyable)
Player-Owned Town Hatch (Dyable)
Player-Owned Town Signpost (Dyable)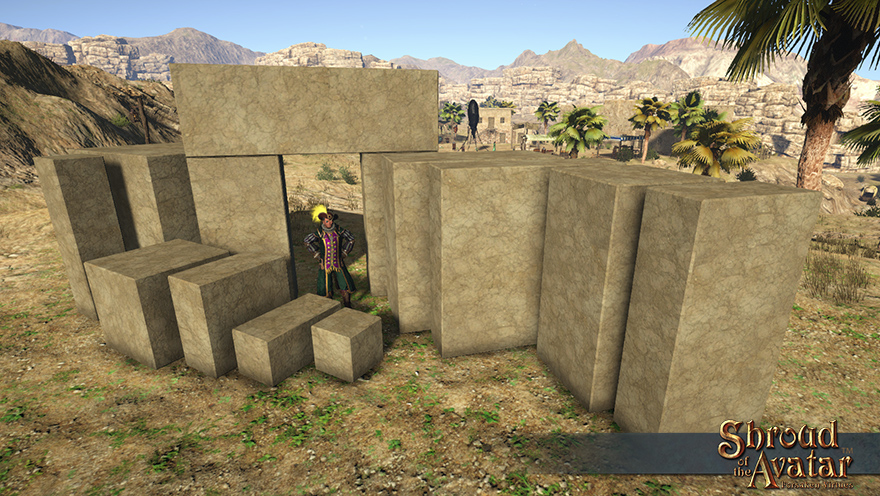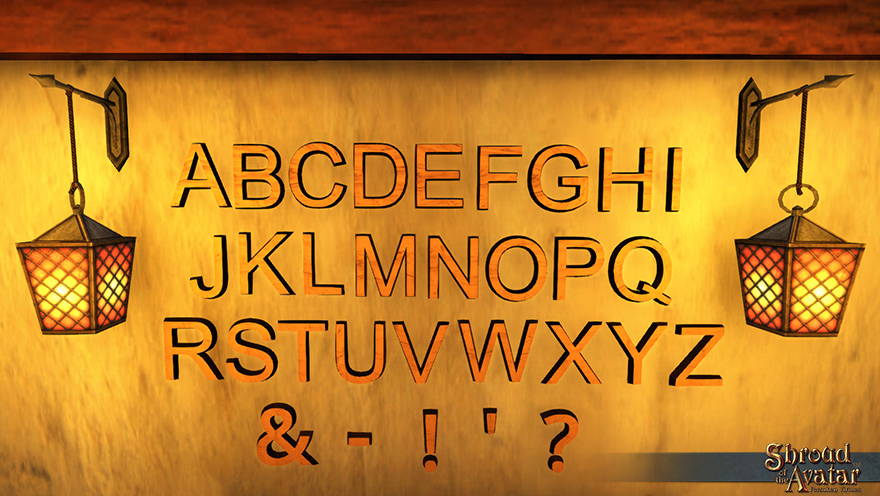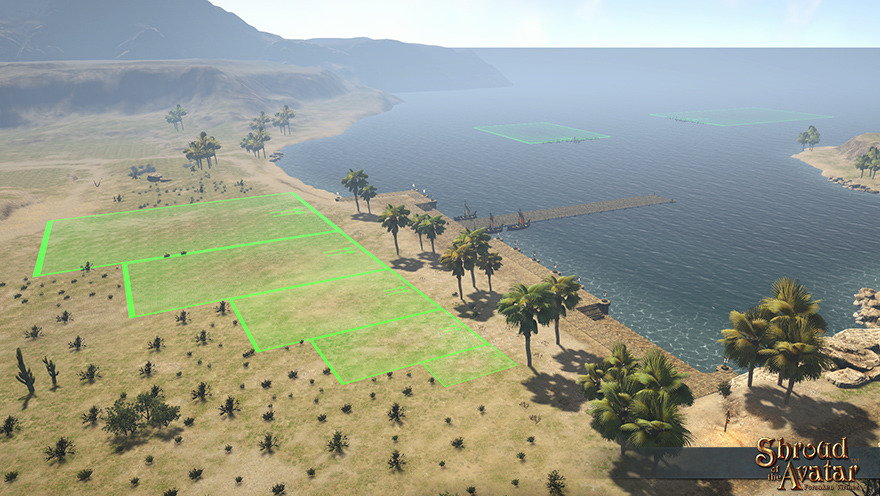 Also, we're scouring the realm for items that have long been missing from the store. Many items are being loaded into the Vault and will rotate in periodically which are announced each week as they go live, but here's a small number of additional items becoming permanently available on the Crown Store:
Glowing Jewel Cube 3-Packs (Blue, Green, Orange, Purple, Red, Yellow)
Display Camera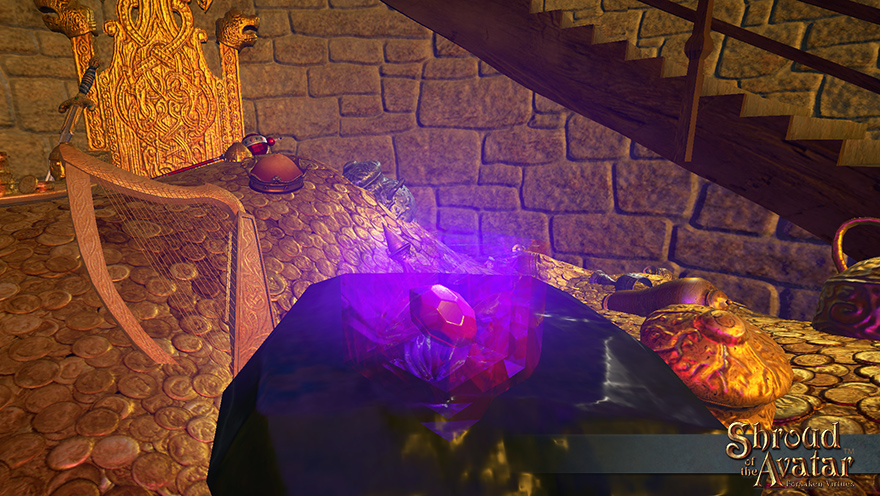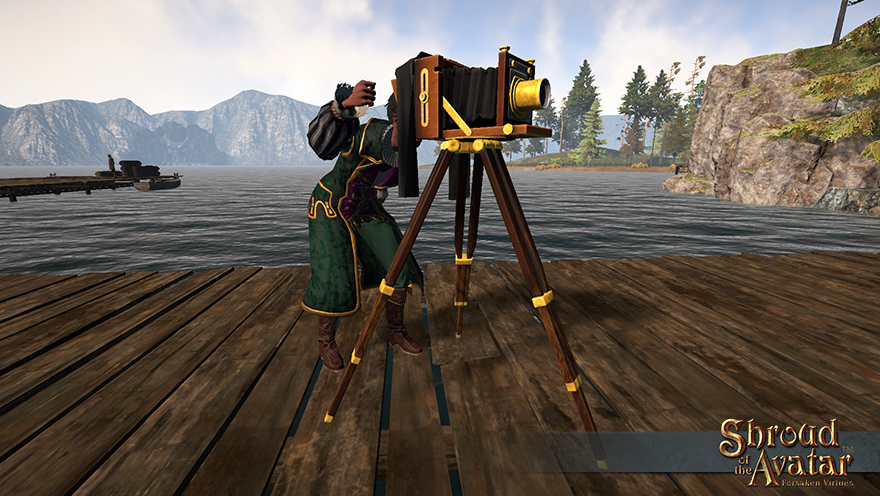 World & Miscellaneous Changes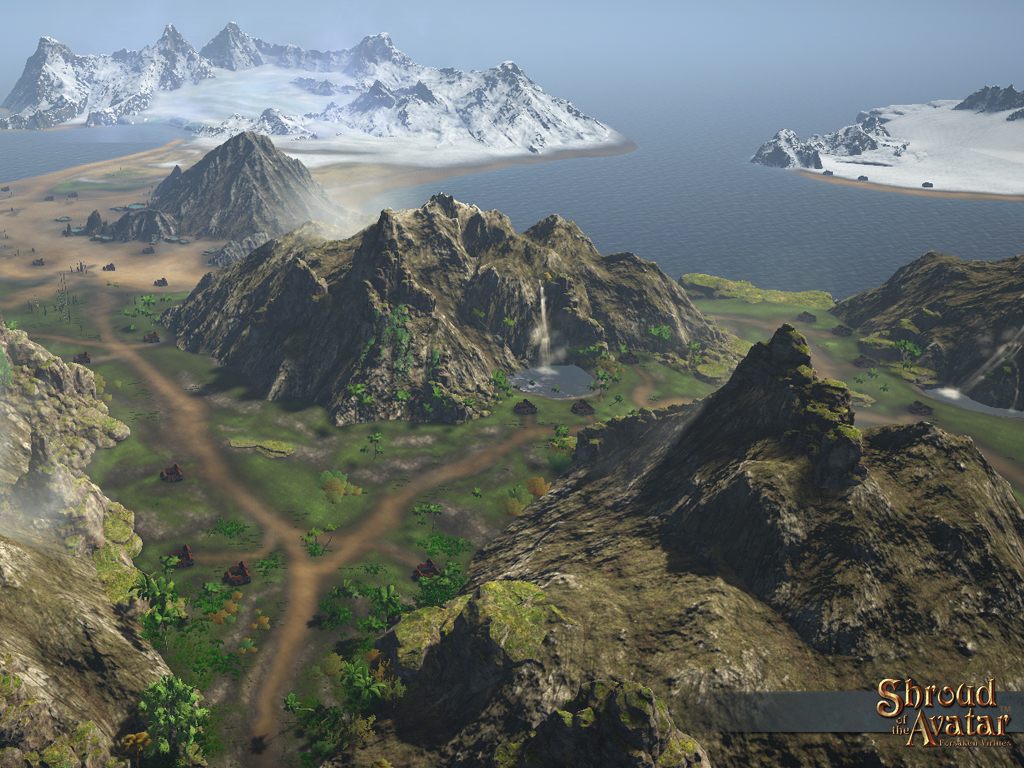 These miscellaneous updates affecting the game world or aspects of the user interface (UI) patched in during R80, will go live with R81, or will go live shortly after R81:
Offline Mode Episode 2 Access: EP2 Access is now always enabled in offline mode.
Overworld Skill/Rune Functionality: A new developer tool has been created to allow for easy adjustment of what abilities/items can and cannot be used on the Overworld.
Fireworks: All varieties of fireworks can be used on the Overworld.
Anthem of Alacrity: This bard skill can now be used on the Overworld.
Food: Food can now be consumed on the Overworld.
Vanity Pets: These zippy little critters can now follow you around on the Overworld.
Mistrendur: Wave effects have been added along the shorelines of Mistrendur on the Overworld map.
Lava and Pets: Lava is now less dangerous for pets.
Myrkur and Despair: These two dungeons have received a resurrection ankh by the spider area.
Opalis Ruins: Ransom has been removed from this PvP scene.
Spectral Mines: The hint that the Archlapin is hibernating now only appears when on a related quest, not if the "bones" quest is ended, and only once a day (thanks to a new "hint" daily flag).
Plains Road Encounter: The Pumpkin Head encounter will once again appear in Drachvald.
First Person on Overworld: Players can now view the Overworld in first person mode if they type the command /allowfirstpersonoverworld into chat.
Underworld Passages: The following underworld passages have received increased resource spawns, random mimic or loot chests, as well as various collision fixes…

Equitas Passage
Quel Passage
Paladis Passage
Spindrift Passage
Midmaer Passage

Titles: The following titles are now available as prizes to players for upcoming developer community events…

Master of the Arts: For winners of Screenshot and Video Contests.
Master Angler: For winners of Fishing Contests.
Master Decorator: For winners of Decoration Contests.
Bone Collector: For winners of PvP Player Trophy Gathering Contests.
Master of Collections: For winners of PvP Collections Contests.
King of the Mountain, Queen of the Mountain: For winners of PvP King of the Mountain Contests.
Master of the Maze: For winners of PvP Maze Contests.
Master of Mayhem: For winners of Open-World PvP Contests.

Trophy Fish Logging: Developers now have the ability to view logged information about fishing. Fish Size, Location Caught, Fish Type, and the Angler can all be determined through data pulls. This logging type will greatly assist use in more efficient developer-run fishing contests. Expect changes to the weekly fishing contest to be announced in the coming weeks. After the announcement and contest changes, players will no longer need to mail in their fish to compete. (Please continue to mail in your fish for the currently active contest.) As more trophy types become available, expect more exciting contests to come your way!
Crafting, Items & Economy Changes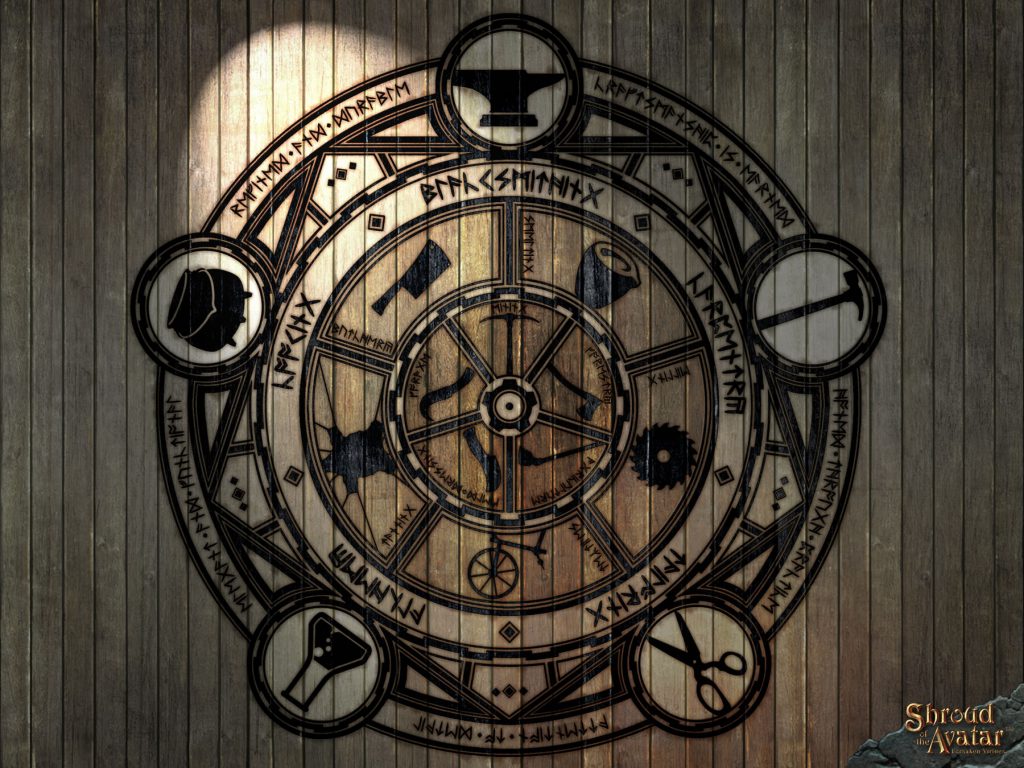 These changes to the player economy, in-game items, or crafting patched in during R80, will go live with R81, or will go live shortly after R81:
Property Deeds: Property deeds on the Crown Store have received a permanent 30% price reduction.
Deed Upgrades: Deed upgrades have received a permanent 20% price reduction.
Vault: Approximately 50 vault items which rotate into the store randomly have received significant price reductions. This mostly affects homes, pets, and some gear sets.
Epic Rings: These rings are now enchantable.
Epic Bandit Chest: This chest piece is now enchantable.
Obsidian Plate Armor: This armor set, which can only be forged in Hilt at the Obsidian Forge, has received a significant power increase.
Epic Artifacts: Almost all artifacts now have an epic version available. Only 2 Legendary Artifacts are required to craft Epic Artifacts.
Books of Unlearning: Store descriptions have been improved to better describe their functionality.
Building Block Sets: All building blocks can now be scaled from .5 to 1.3 and provided uniform values and weights.
Shadow Creatures: These beasts now drop 4X more Shadow Essences and have received other small loot increases.
Rough Wood Blocks: This new block set is now in-game and has recipes available.
Letters and Numbers Sets: All letters and numbers sets can now be fully rotated.
Mannequins: These wondrous display items can now be placed upon other surfaces such as blocks and tables. They can also now be scaled from 0.8 to 1.2.
Moondials: All normal-sized moondials can now be placed onto other surfaces such as blocks and tables.
Carnival Masks: The following items can now be placed as interior and exterior wall decorations as well as POT decorations…

Plain Carnival Mask
Virtue Dark Lepus Mask
Virtue Silver Jester Mask
Masquerade Mask
White Lepus Mask
Jester Carnival Mask
White Butterfly Mask
Black Butterfly Mask
Butterfly Mask
2017 Lepus Mask
2018 Lepus Mask
Autumn Leaf Mask
Silver & Gold Lepus Mask
Assassin's Blade
Hammer of Breaking
Mace of the Undone
Shard of Night
Autumn Leaf Shield
Autumn Leaf Trident
Thorn Mace
Thorn Wand
Thorn Staff
Electric Staff

Decorative Egg Style D: This egg can now be placed in areas besides basements.
Developer Community Event Trophies: The various fishing, decoration, and PvP trophies can no longer be stacked. This change was to ensure players do not stack like trophies which would erase the custom name applied to the item.
Stacking Streetlamps: The following streetlamps now stack in a player's inventory…

Fancy Blue Streetlamp
Fancy Red Streetlamp
Fancy Yellow Streetlamp

Streetlamps in Dungeons: The following streetlamps can now be placed in a player dungeon…

Fancy Blue Streetlamp
Fancy Red Streetlamp
Fancy Yellow Streetlamp
Kobold Spiked Streetlamp
Ornate Elven Streetlamp
Ornate Iron Streetlamp
Ornate Wooden Streetlamp
Shogun Streetlamp
Stone Streetlamp

POT Decorations: The following items can now be placed as POT decoration…

Glowing Mugs (9 Items)
Torture Devices (4 Items)
Obsidian Altar
Misc Armor/Gear (~50 Items)

Glowing Cube Jewels: All variants of the glowing cube jewels can now be placed as POT decoration, exterior and interior wall placement, and resized from .5 to 2.0.
Combat Balance & Changes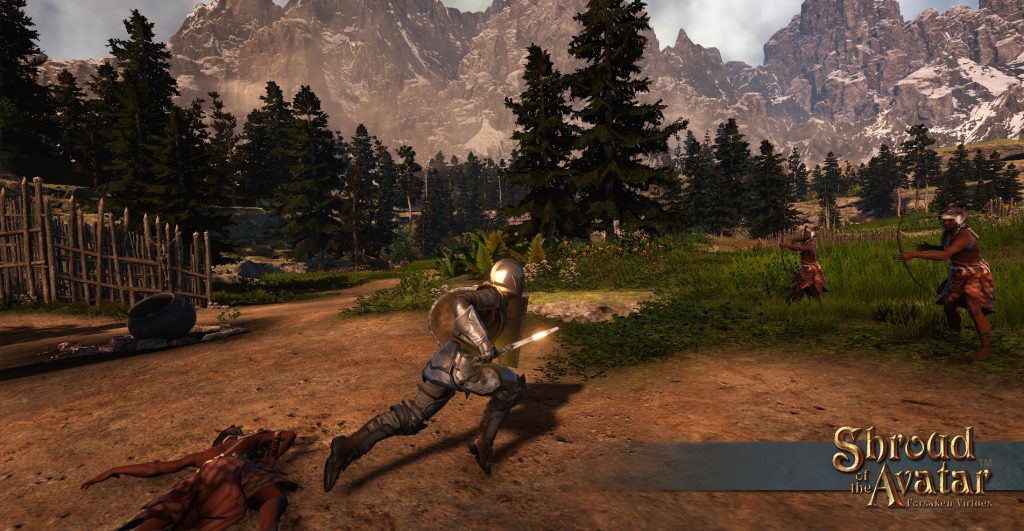 These changes to combat skills or concepts patched in during R80, will go live with R81, or will go live shortly after R81:
Stance Updates: Stance durations have been significantly increased.
Elixir Skills: Elixir skills have been added to the master focus and tactics trainers. Only one can actively be trained. Training one sets the other to unlearn.
Damage Resistance: This protective stat now scales with damage and Heavy Armor Specialization now improves how much it scales.
Slow Effects: Skills with slow effects were enhanced to have a greater effect upon high level creatures. Skills affected are Disabling Shot as well as ice spell type effects.
Shooting Star: A new single target, high focus, Moon Magic spell which has a short cast time, long cool-down, and very high damage.
Ignite Weapon: This spell now also applies a small fire resistance debuff upon the target when they are hit by the ignited weapon.
Reveal Hidden: This spell now reveals hidden objects every 2 seconds for 10-30+ seconds depending upon skill level. Also, the range for this spell has been significantly increased.
Cocoon of Night: This Moon Magic spell now has a doubled healing effect and also now includes a large agro reduction.
Sacrifice Combo: This combo (Healing Ray + Death Ray) now drains 50% of the caster's health but applies 50-90% of the target's health onto the target.
Crafted Armor: Leather, chain and plate crafted armor pieces have received a damage resistance increase. Half torso pieces now have the same stats as full torso pieces. Plate pieces also receive additional damage avoidance.
Armor Set Bonuses: Set bonuses for armor are now 2%, 5%, 9%, 14% and 20% based on the number of pieces equipped. Formerly, they were 2.5%, 5%, 7.5%, 10%, 12.5%.
Updated Player Owned Towns
These updates affected Player Owned Towns which patched in during R80, will go live with R81, or will go live shortly after R81:
Allaman: Added new interconnections.
Alphaine's Academia: Added new Holdfast to Novia, west of the Blackblade Mountains.
Arlia: Upgraded to Village from Hamlet.
Bodega of Blood: Changed biome to Swamp Island 01 and moved to the southeastern edge of Mistrendur.
Castle Barataria: Renamed from Ishum, moved to south of Owl's Head in Hidden Vale, and changed biome to Swamp 01.
Dragon's Hollow: Moved to Novia, east of Brittany.
Inselberg Wastes: Changed owner.
Magincia: Moved to Novia east of Desolis and changed biome.
Mysteria: Added new City island east of Brittany.
New Britannia Swap Meet: Added interconnections.
New Fawn: Moved to Novia west of Noreach and updated interconnections.
Novia Market: Changed owner.
Port Royal: Moved to Mistrendur from Hidden Vale and added interconnections.
Rajazel: Added new Hamlet west of Soltown in Novia.
Salem: Renamed from Goober's Gas Station and changed biome to Forest 01c.
Serpent's Hold: POT Serpent's Hold: Added new Hamlet north of Fortus End.
Tower of Xee: Changed biome to Mountain 01 and moved to mainland Mistrendur.
Treasure Island: Added new island northeast of Brittany in Novia.
Valor: Upgraded to Town and added interconnections.
Wakoku: Changed biome to Grassland 01a.
Bug Fixes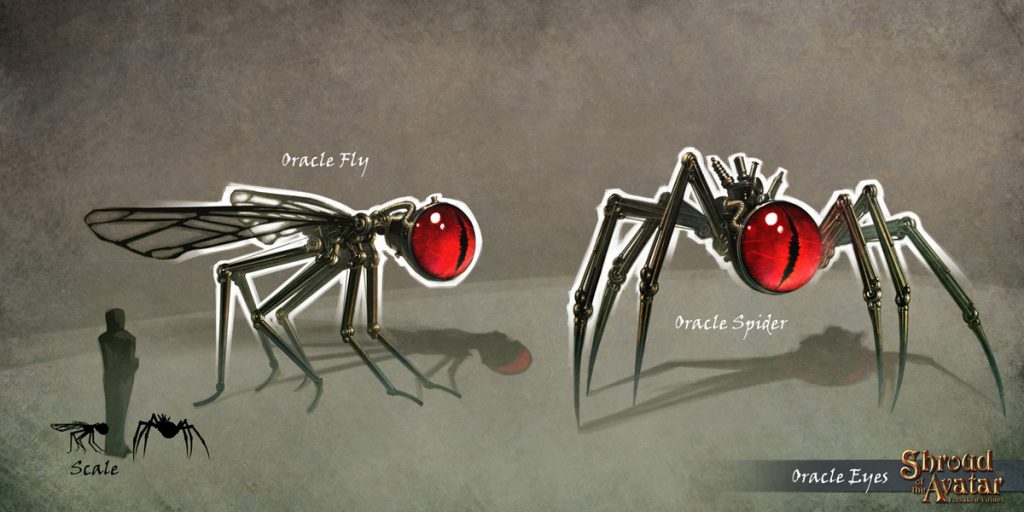 Albeit many bug fixes patched in during R80, will go live with R81, or will go live shortly after R81. Here are some of the highlights!
Duration bonuses were fixed for all potions when new Elixir skills are applied.
Multi-item dragging issues have been fixed.
Fixed missing images for Block Numbers Set on the Crown Store.
Fixed hex coordinates issue for the Player-Owned Town Rajazel.
The banner for Spindelskog now indicates "Normal" difficulty to match the Enter button.
Fixed an issue with the new rowboat list teleporter that connects Noreach with Mud and Dysborg.
Added fixes to Timothy the Enchanter's conversation in Ardoris for a typo, logic, and name-remembering.
Fixed an issue where Helen and Owen misremembered players' names when they first asked for those names in Brittany Graveyard.
Fixed an issue for all island POTs with signposts teleporters that weren't adding all secondary docks to the selection list.
Fixed leaderboards issues caused by players receiving name changes.
Pet foals can now be placed in the upscale stable.
Fixed a small exploit in regards to the new Elixir skill training. Now, only 1 can be trained as intended.
Elixir Extension skill now works correctly.
If players have multiple stacks of the same consumable in their inventory, the stack that is used will now receive the reduction in quantity.
Fixed an issue with Saddle Bag decorations where they could not be placed back into a player's inventory.
Fixed an exploit allowing non-Episode 2 access holders to enter Episode 2 areas.
New You and initial character creation hair colors are no longer washed out by a bright light and will more closely resemble final character hair colors.
Some female emotes would play 2 times per command. This issue has been fixed.
Filmore of Solace Bridge Outskirts now properly indicates he wants 4 pieces of cotton.
Improvements were made to Ulfheim cliff/platform collision.
Improvements were made to Graff Gem Mines stairs collision.
Moving lines graphical aberration witnessed in some scenes has been fixed.
Aerie's northern rockface has received improvements and fixes.
Ulfheim's teleporter in the "church" no longer clips through the floor.
"Second Memory of Three" task is Solace Bridge Outskirts has received a typo fix.
Rayond in Soltown now spends much less time in his tent and his off-duty dialogue has been removed.
POT fishing merchants no longer mention the type of nearby water in their dialogue since governors can alter their water types now.
An unreachable barrel in Elysium Mines can now be accessed.
Fixed collision issues in Spectral Mines near where the Archlapin and its minions spawn.
An unreachable maple tree in Lamech's Bazaar and North Midmaer Way is now accessible.
The monoliths in Far Hinterlands no longer display the names of towns when players mouseover them.
Improvements have been made to the New You NPC conversations to better explain the transaction process.
Players can no longer decorate with equipped tools. The tool must be unequipped first, then used for decoration.
Stuck spot in Spindelskog is no longer sticky.
Floating bricks have been removed from Blood Bay.
Players can no longer activate the New You transaction in Ardoris by clicking on the mirror. They must speak with Bruno.
Crafting explanation in the information window accessible at crafting stations has been improved.
Housing explanation in the information window accessible at the property marker has been improved.
Players will no longer know Vlasta's name in Desolis if their quests have been reset.
Preview of store items with fire VFX no longer show inappropriately scaled flames.
The Silver Mini Automaton now properly indicates that it is an Inky NPC in its Crown Store description.
The book "Concave of Celestis" is now correctly spelled "Conclave of Celestis."
The book "Formorian Wars" is now correctly spelled "Fomorian Wars."
89 additional books can now be flipped onto their side:

The Alchemist
Ancient Experimental Logbook 1
Ancient Experimental Logbook 2
Ancient Experimental Logbook 3
Ardoris – A Tour Guide
Ardoris Salon Register
Ardoris Sewers – A Tour Guide
Beast in the Cave
Beast of Averoigne
A Boiled Seed Cannot Sprout
Book of Mighty Weapons
Brightbone Pass – A Tour Guide
The Broken Horse
Castle Irvine – Lord Fearghas
Castle Irvine – Lord Neachdainn
Castle Irvine – Lord Solas
Castle Irvine – royal Lineage
Cave Fables I
Cave Fables II
Cave Fables III
Cave Fables IV
The Chains of False Belief
The Courageous Mother
Cruciatos Strides
Death and the Woman
The Dirae Prophecy
Donec Imperdiet
Don't Give Up Your Goodness
Everyone Needs Courage
The Fearful Rabbit
Flynn LEclot's Journal
For the Best
Grandma kellen's recipes
Greyacre – a tour guide
Grim Anthology vol. I
Grim Anthology vol. II
Grim Anthology vol. III
Grim Anthology vol. IV
Grim Anthology vol. V
A Handwritten Journal
A History of Lord Anapa
House of the Past
Hymn of the Final Conquest
Hymn to Orta
Kindness in Giving Creates Love
Lifted by Your Wings
Lighthouses and You
The lion tattoo
The Monkey and the Dolphin
The Most beautiful Heart
The Mouse and the Camel
My Suffering
Nameless City
Necropolis – A Tour Guide
North Celestial Swamp – A Tour Guide
On the Following the New Order
On the Nature of Orta
On the Peculiar Qualities of the Artifacts Wielded by the Titans of Novia
Orta's Blinding light
Paen to Lord Visayon
Panther
Partition of Virtuous Pretense
Places to Live
Player Events
Register of the Lottery of Artifice
Rendezvous with Death
Report from "R.K."
Savrenoc Stronghold – A Tour Guide
Savrenoc Timberland – A Tour Guide
Solace Forest – A Tour Guide
Solania – A Tour Guide
Spectral Mine – A Tour Guide
A Study of the Dire Prophecies III
Through the Lunar Rift I
Through the Lunar Rift II
Through the Lunar Rift III
Through the Lunar Rift IV
Through the Lunar Rift V
Through the Lunar Rift VI
Tome of Death
Tome of Friendship
Tome of Greatness
Tower of the Shuttered Eye – A Tour Guide
Truth is Rewarded
Vengeance – A Tour Guide
Verdantis Shardfall – A Tour Guide
The Village Street
The Wolf and the Seven Kids
Writing a book

Various books that displayed as notes when read now properly display as books.
Plains Road Encounter has received creature and pilgrim pathing improvements.
Soltown's Nyssa and Emily have new schedules and will be more easily available. Off-duty conversation responses have been removed.
Recent Shroud of the Avatar Livestreams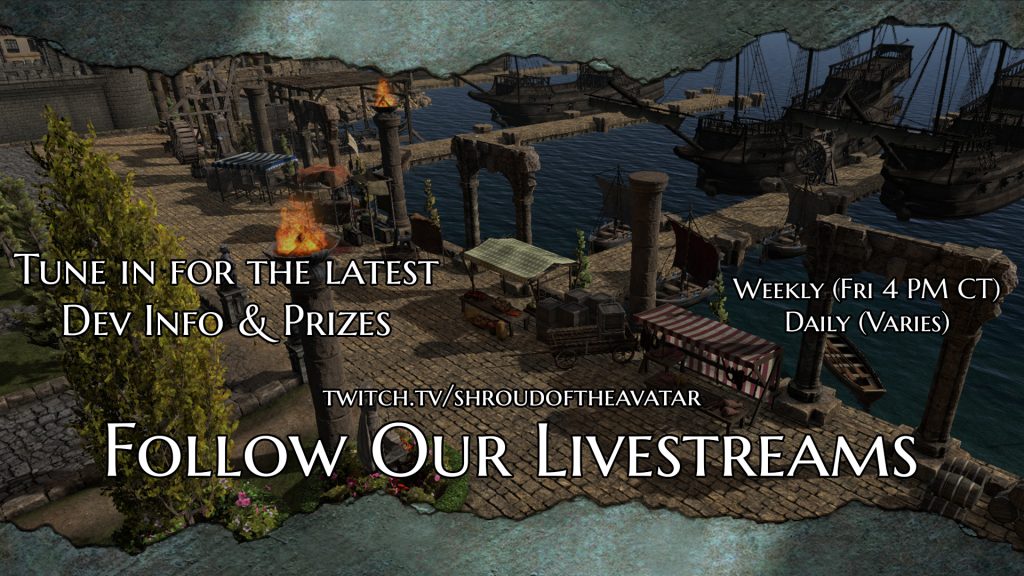 Atos and other members of the Shroud of the Avatar development team go live very frequently on our TWO Twitch Channels:
twitch.tv/shroudoftheavatar
and
twitch.tv/communityoftheavatar
— be sure to get these channels on follow and get the latest information right as we go live! Also, if you've missed our latest streams, check out our archive of content at our
YouTube Channel
(complete with "Mojito the dog" cam). Like! Follow! Subscribe! Prizes!!!
Don't forget to also join the Shroud of the Avatar team and community over at our other social media venues:
Are You a Livestreamer?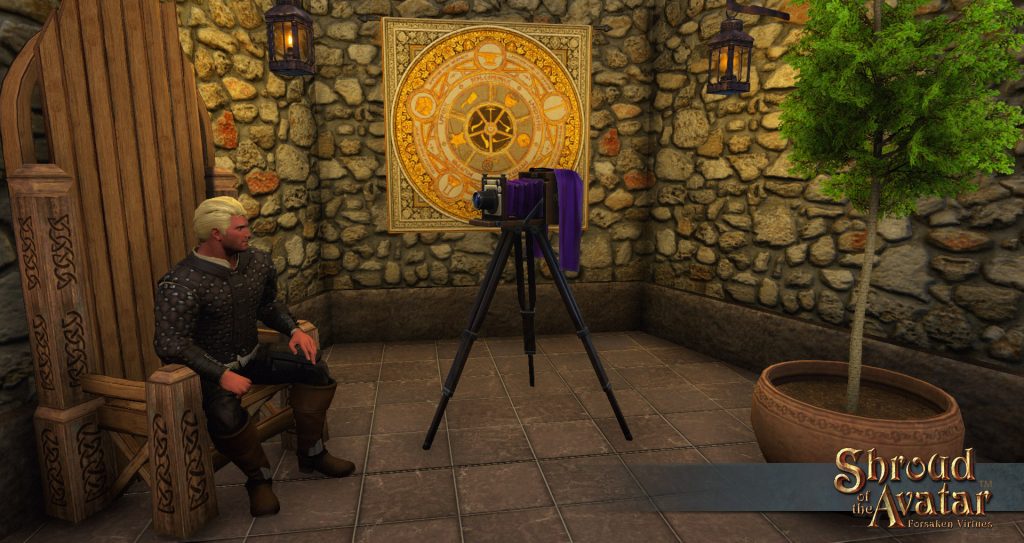 Soon, the Streaming Reward Program will be returning. As the details are getting reworked, we'll reveal more information. Traditional streaming rewards included an exclusive in-game Streamer Camera for being a veteran of our
Streaming Program
! Expect the camera reward to return! More goodies will come to your way as the program fully develops. Thank you for streaming
Shroud of the Avatar!
Lord of the Isle Episode 2 Bundles
As one of the biggest and earliest supporters of Episode 2 you will be granted the largest lot deed in the land (Castle), the title Lord (or Lady) of the Isle, a tour of Lord British's property, and dinner with the game leaders including Lord British himself!
Only 24 of these unique bundles will be sold!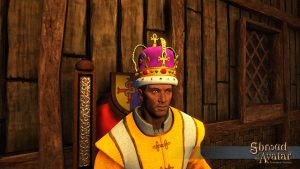 Complete List of Rewards:
Lord of the Isle Place Anywhere Castle Lot Deed: Tax Free Forever (when placed in a POT) and Tax Free for 1 Year (when placed outside of a POT). Placeable on water as well as land!
Title: Lord of the Isle or Lady of the Isle
Unique Lord of the Isle Home (pictured above)
NEW – Town Size Upgrade (if a town is not owned by the LOTI supporter, they may gift this size upgrade to another town owner. Maximum possible town sizes will be taken into account, but the Megalopolis size just became available!)
Choice of 1 House currently available in the store
Castle Basement currently available in the store of your choice
Castle Wall Set currently available in the store of your choice (with enough for Castle Lot)
Unique Lord of the Isle Dungeon Room (To be revealed later)
140,000 Crowns
1000 Bank Slots
Pick 12 Prosperity Tools
Lord of the Isle Crown (In-Game Wearable Item)
Unique In-Game Emote (To be revealed later)
Early Access to Episode 2
Episode 1 Box and map signed by the team
1 hour one-on-one with Chris for design discussion (via video-conference)
One real silver ring crafted personally by Lord British: Numbered 1 – 8
In-game version of the Lord British ring: Numbered 1 – 8 (including a place-able decoration version)
Tour of Lord British's property
Fine dinner and drinks with Lord British, Darkstarr, and Atos at a location TBD in Austin or NYC.
NOTE: Digital items that are currently available will begin delivery as soon as Release 62 (Jan 31, 2019). Other items will be delivered at a future date TBD.
NOTE: Travel costs NOT covered by Catnip Games for Tour & Dinner.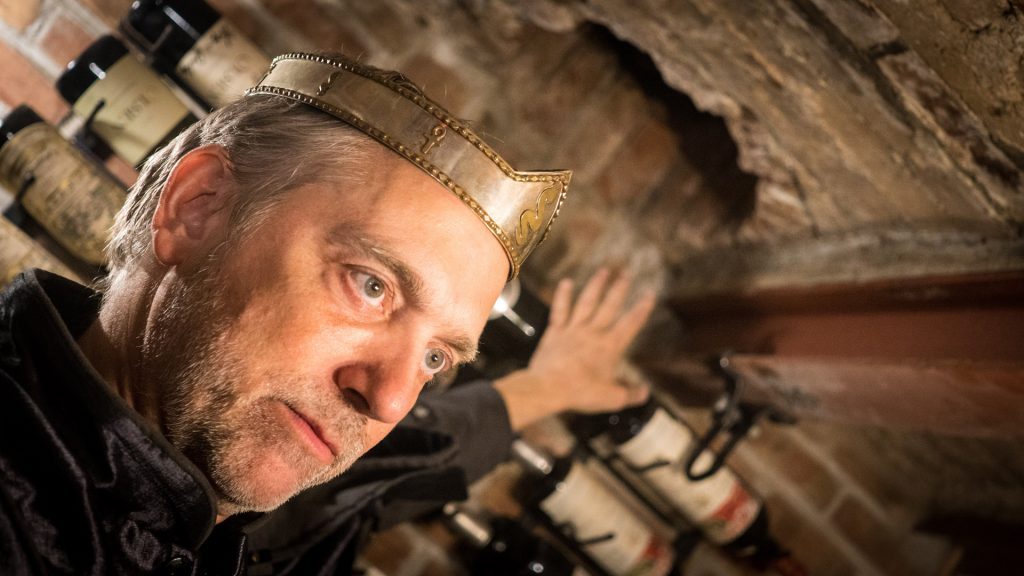 Upcoming Events Calendar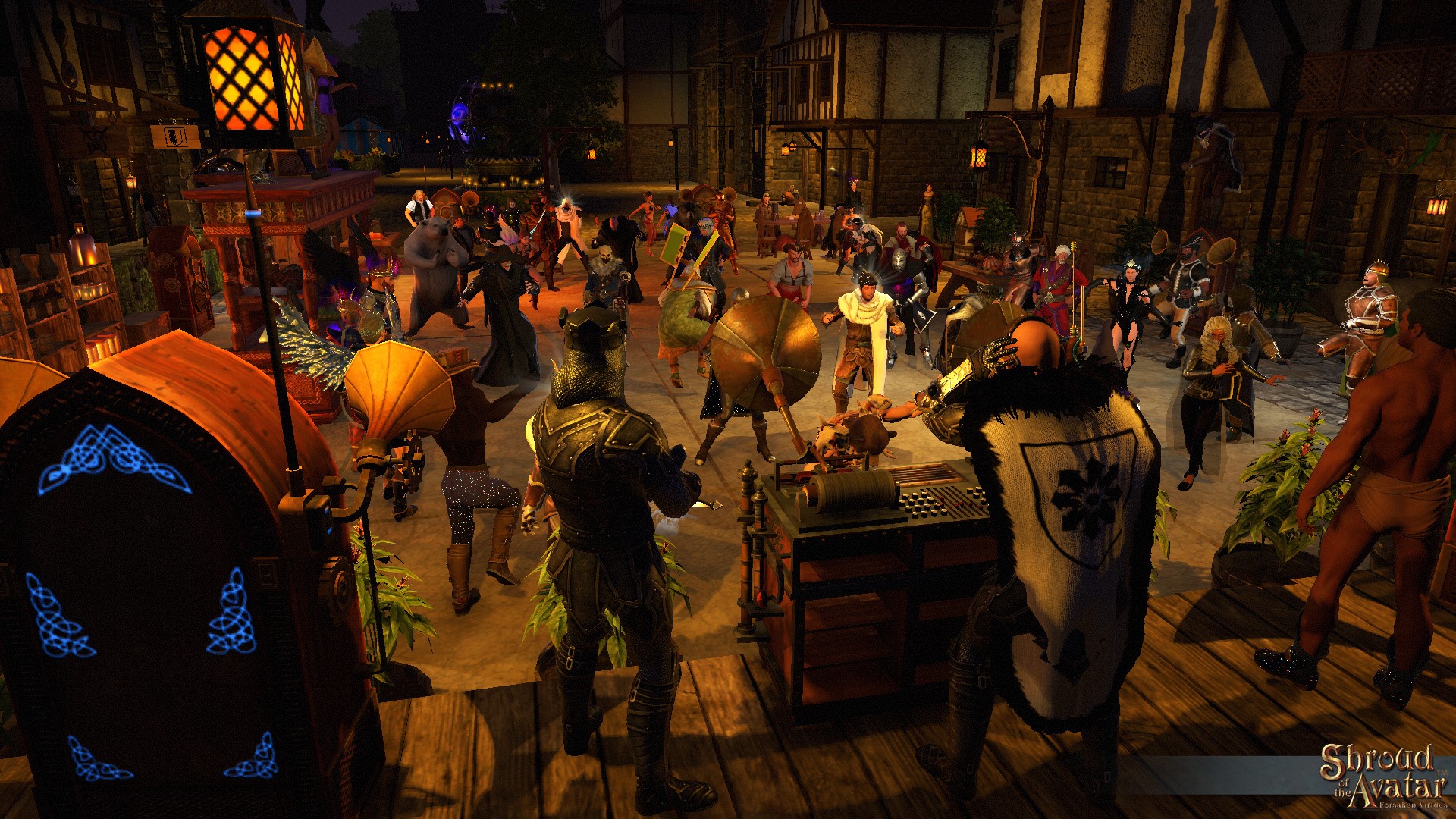 Be sure to check out the
Upcoming Events
page for spotlighted events plus links to various areas to post or find events on our forums:
2020 Events
Aug 27 – Release 81
Sep 24 – Release 82
Oct 29 – Release 83
Meretz: Win a Topiary Keep Dragon Statue (No Trade)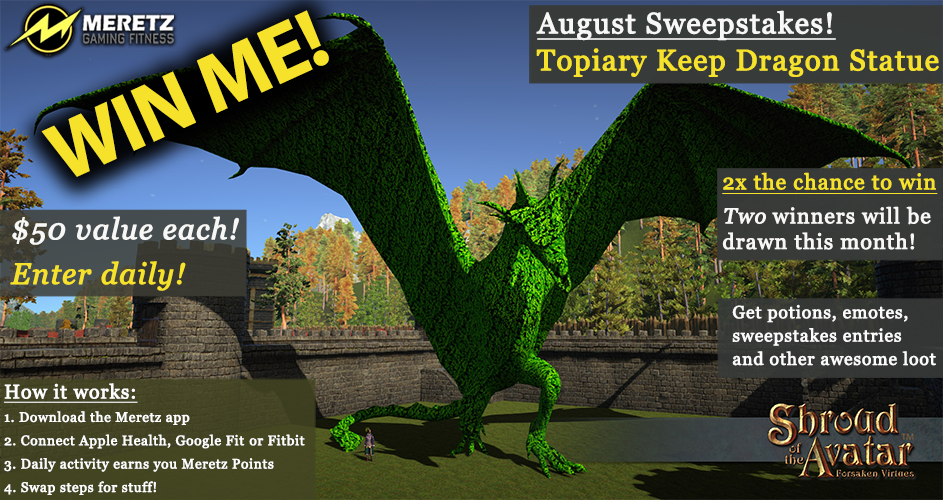 Whether you move a little or a lot, as a Meretz user you rack up valuable Meretz Points (MPs). The more MPs you have, the more stuff you can buy!
Think: in-game SotA goodies, Sweepstakes entries and tons more. With Meretz, we launch several sweepstakes every month. This month, we're giving away a Topiary Keep Dragon Statue (No Trade) to two lucky winners! AND, use your MPs every day for in-game items like potions and emotes.
What're you waiting for?
Download Meretz TODAY!
Community Event: Catnip Games Weekly Fishing Tourney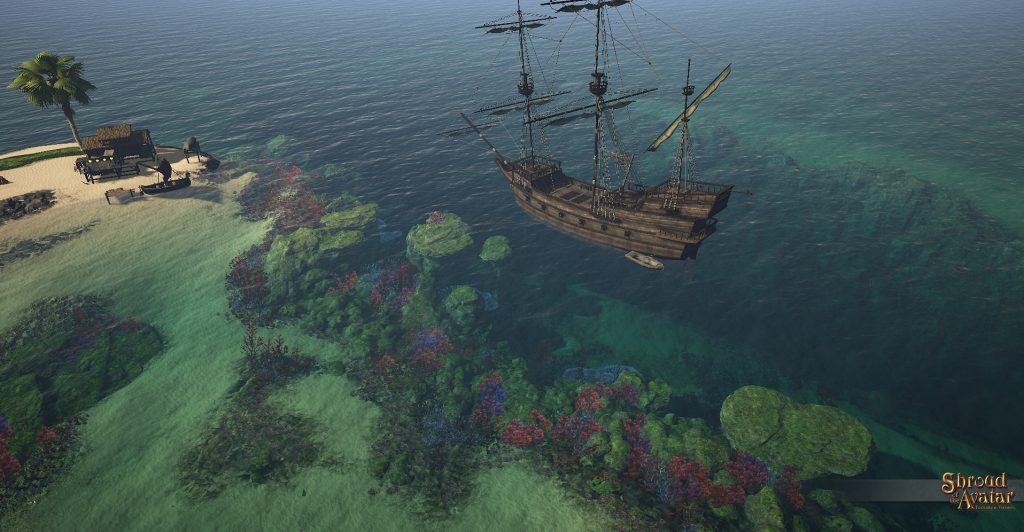 For the Anglers of New Britannia, a weekly developer run fishing event has arrived! These weekly tournaments start at Noon CT every Friday and will last until Noon CT the next Friday. Players may register towns to be put into a registry list which will dictate most of the venues available for the fishing competition. Every week, the venues shift to the next 3 towns from the registry. Also each week, a new spotlighted PvE and PvP scene cycle into the contest. Each category (POT, PvP, PvE) features different prizes and goals.
All fish must be caught within the timeframe of the contest.
Here are some of the details:
Largest Saltwater Fish (Town):
Prizes: Player-Owned Town Row Lot Deed, Large Gold Fishing Trophy
Rules: Must be caught from one of these towns
Largest Fish (PvP):
Prizes: 2 Chained Obsidian Shard 3-Packs, Large Silver Fishing Trophy
Rules: Must be caught in Verdantis Shardfall
Largest Lava Fish:
Prizes: Fishing Rod of Prosperity, Large Bronze Fishing Trophy
Rules: Must be caught in Spectral Mines
Consolation Prizes:
Prizes: Silver Fishing Trophy
Rules: Everyone who submitted an entry that did not win an above prize
Spinoff/Crossover Events:
Arlia: Lots of additional prize options for anglers in Alria as well as Lava and PvP zone fishing from @Zeek Latreck — check it out!
Prizes provided by the Community Manager will be available for attendees, but governors, guild leaders and players are welcome to sweeten the pot by providing additional prizes based on objective criteria entirely of their own design. In fact, please consider planning events to overlap the duration and chosen weekly locations of the Fishing developer events. Please post these events in the in-game events forums and the Community Manager will promote accordingly. Expect a constant stream of weekly events, each to feature new locations and new objectives. Head on over to the
Fishing Event Forum Thread
for more information. Happy adventures, Avatars!
Community Event: WRFB Dance Party at Autumn Rising Brewery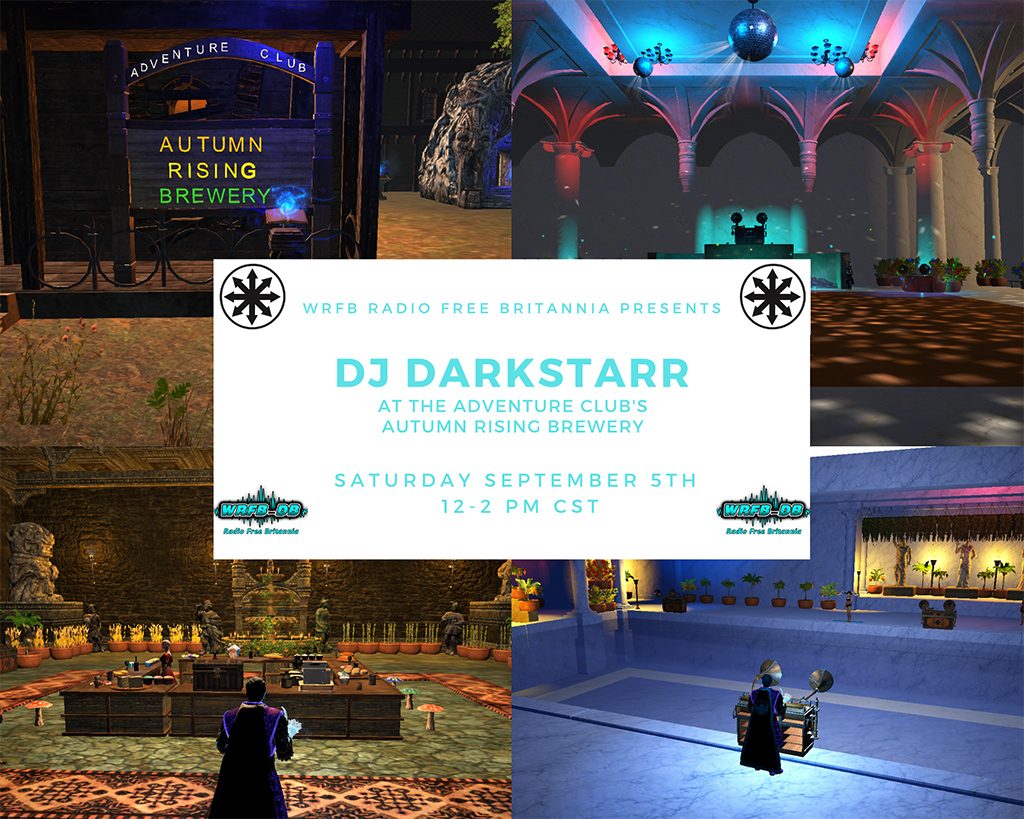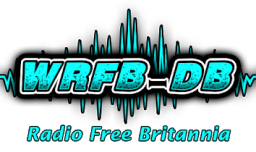 WRFB presents a dance party at Autumn Rising Brewery with DJ Darkstarr!
Location: Adventure Club's Autumn Rising Brewery
When: Saturday, August 5th, 12PM – 2PM CT​
Come out and sport some awesome dance moves, trade emotes and recipes, chat with friends, launch off fireworks and simply have a lot of fun! For more information, check out
the main forum post
on the official forums. If you'd like to learn how YOUR town can become a site for upcoming WRFB parties, please contact
@Lazarus
Long or
@Jack
SinAssist on the forums.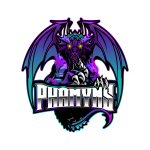 Community Event: 2nd Annual Team Fishing Contest
Anglers! The Second Annual Team Fishing Contest is nearly upon us! Phamyns and crew are planning a team fishing contest! During the week of the contest, the Official Catnip Games Fishing Tourney will be suspended to encourage maximum participation in this annual event. Many prizes will be available! Once players determine their 2-Person team, please contact
@Phamyns
on the forums or via in-game mail with your team name!
When: August 28th Noon CT to September 4th Noon CT​
For more information about the contest, please read the
main forum thread
on the official forums.
Community Event: Show Your Stats, Win Your Stacks Raffle
Titania Xylia and friends have created a raffle related to your play time in-game! For each hour your character appears in the stats, whether it is one kill, death or receipt in-game. You will receive a raffle ticket. Eventually, your raffle entries will be reported on your character's page on their API site, so expect this feature shortly! Once raffle entries are showing on the character pages, search for your character's name using the search bar just under the banner at
shroudoftheavatar.net
to determine your number of raffle entries.

To participate, all you have to do is share your stats in the API. To share your stats, simply right-click your health bar at the top-left corner of your in-game screen, the select "Show name in public stats." Prizes will be mailed in-game the during first week of September! Raffle prizes are chosen randomly. Players can only win once in a raffle.
For more information about the raffle rules or prizes, please visit
Titania Xylia's
forum thread on the official forums.
Community Event: Mad Splatter Tea Party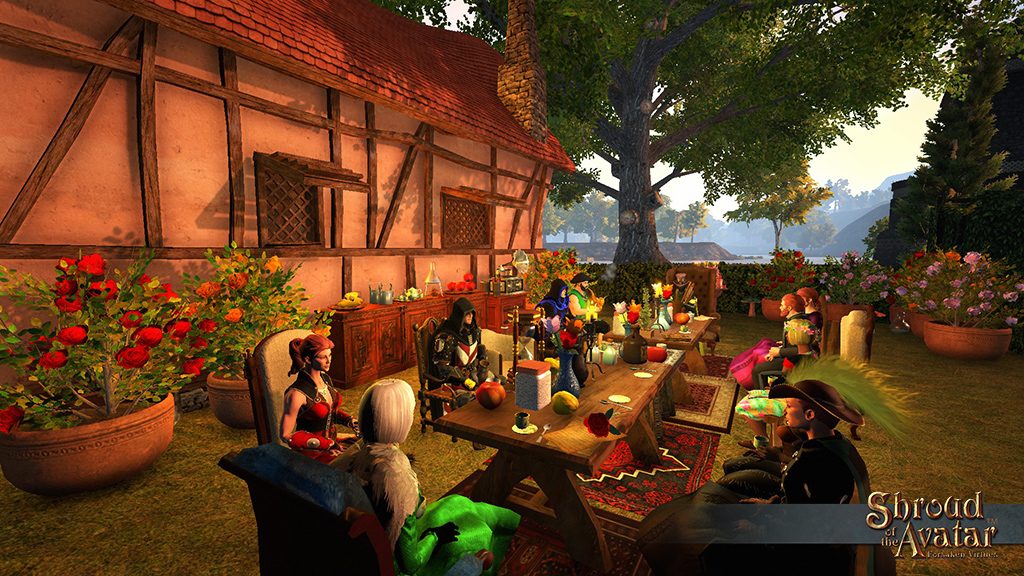 [Forum Post by Lily Byrd]
The Mad Splatter Tea Party takes place every 3rd or 4th Sunday of the month, which is a tea party in my back garden at my home in Jade Valley. There are drinks and eats, there is sometimes music, there are often party games with prizes, and sometimes we just sit and talk about life in Novia.
Where: Jade Valley, Lily Byrd's Cottage and tea garden is south of the Hall of Inquiry and Learning in Jade Valley
When: 3pm CT, August 30th (Usually every 3rd or 4th Sunday of the month)
Attire: This is a role playing event tea party so come as your avatar
We play games, we eat cake and drink…various teas and drinks… There are goofy prizes for winning games if we play them. See you there, Lily Byrd.
Project to Support: Shadow of Valhalla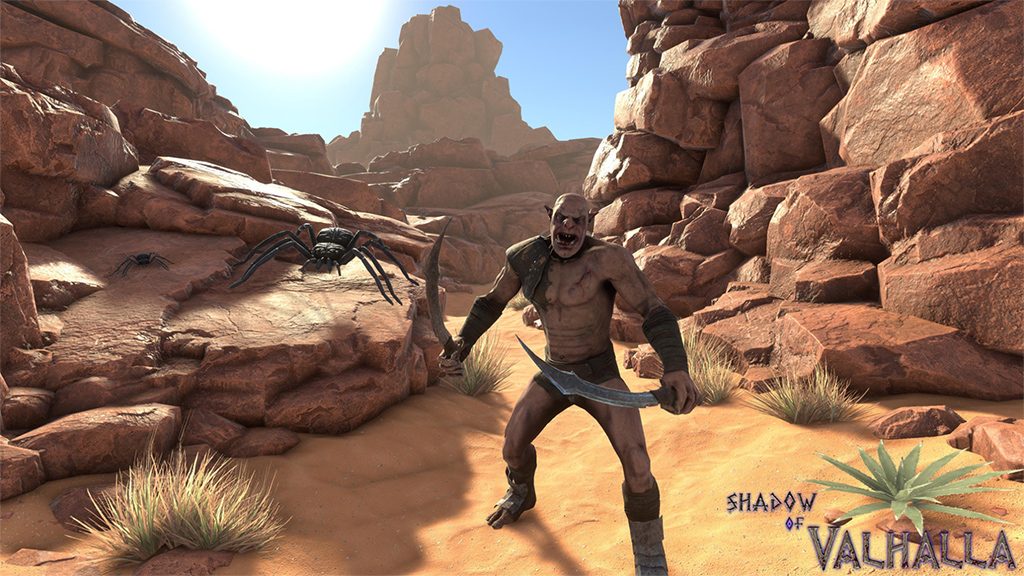 Shadow of Valhalla
is a visceral physics-based VR combat game with dynamic RPG elements, set within an ancient realm of Viking lore and mystic powers! Early Access beta includes "endless horde mode" featuring a variety of enemies with progressive difficulty. Also, players can discover many magic spells to unlock! So much more is coming!
Finn Staber with Chicken Waffle, will join the
Shroud of the Avatar team on Twitch
during their Friday the 28th livestream to showoff this new Early Access game! Also, here is a teaser video on YouTube:
The development team is working hard to create additional environments and new quests!
Shadow of Valhalla
is
available on Steam
as Early Access. Additional features coming to the game:
More Enemies!
More Environments!
More Magic Spells!
RPG Quests!
Weapon Forging and Crafting!
Much, much more!
If you would like to learn more about Shadow of Valhalla, be sure to stop by the
main webpage
for the game as more news becomes available!
Project to Support: Jar Wars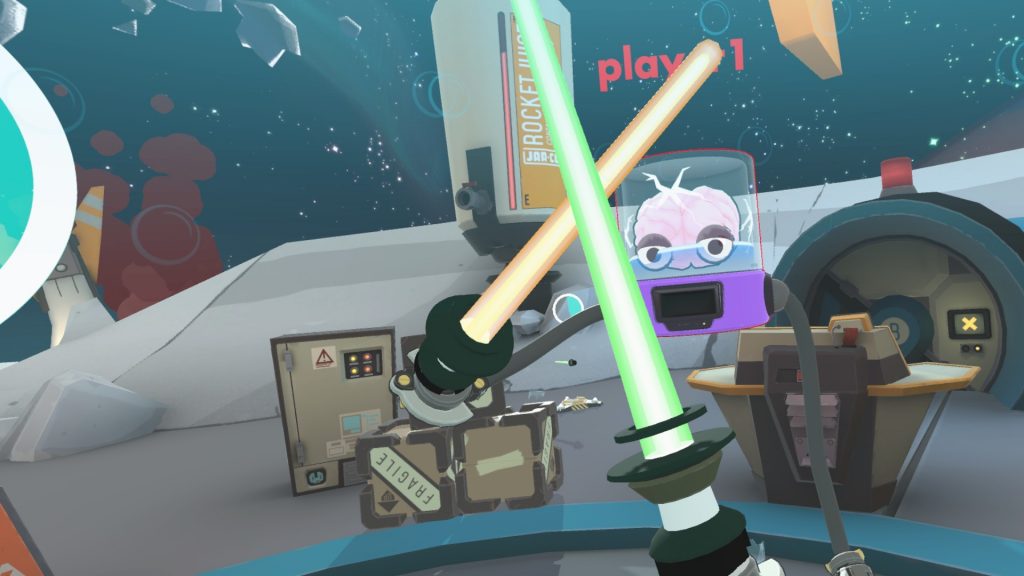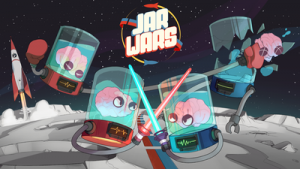 https://d2sx9mrt4zumaq.cloudfront.net/wp-content/uploads/2020/03/JarWars6-600x338.jpg
While you are delving into Virtual Reality (VR), be sure to check out this exciting and hilarious new game,
Jar Wars!
Our very own Darkstarr has been busy on some side projects, one of which is Jar Wars, a slapstick multiplayer game made just for VR enthusiasts. Battle your friends with wacky weapons and intriguing gadgets for total domination of the Moon! Available for free on
Steam!
Project to Support: Dragon Fight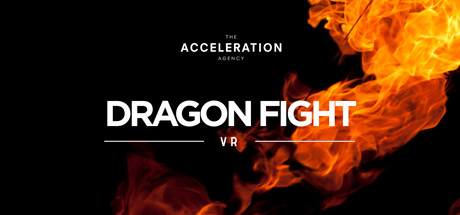 Darkstarr has also been hard at work with the team for Dragon Fight VR which recently went live on Steam! Dragon Fight VR is an internal experiment to capture the "essence" of a dragon fight, the classic penultimate experience of every fantasy story. We wanted to create a short visceral, realistic experience stripped of user interface, lobbies, scores, levels, and other visual intrusions that might distract. There were some key elements of fighting a dragon that we wanted to capture and we felt VR was uniquely qualified to convey:
Face to face with a large scale hostile creature trying to kill you
Using a sword and a shield
Fire!
Nowhere to run!
This started out as an internal experiment to learn some things about VR's capabilities, be reductionist in our designs, etc. We felt that the experiment was successful enough to release as a free experience to share. Enjoy! Available for free on
Steam!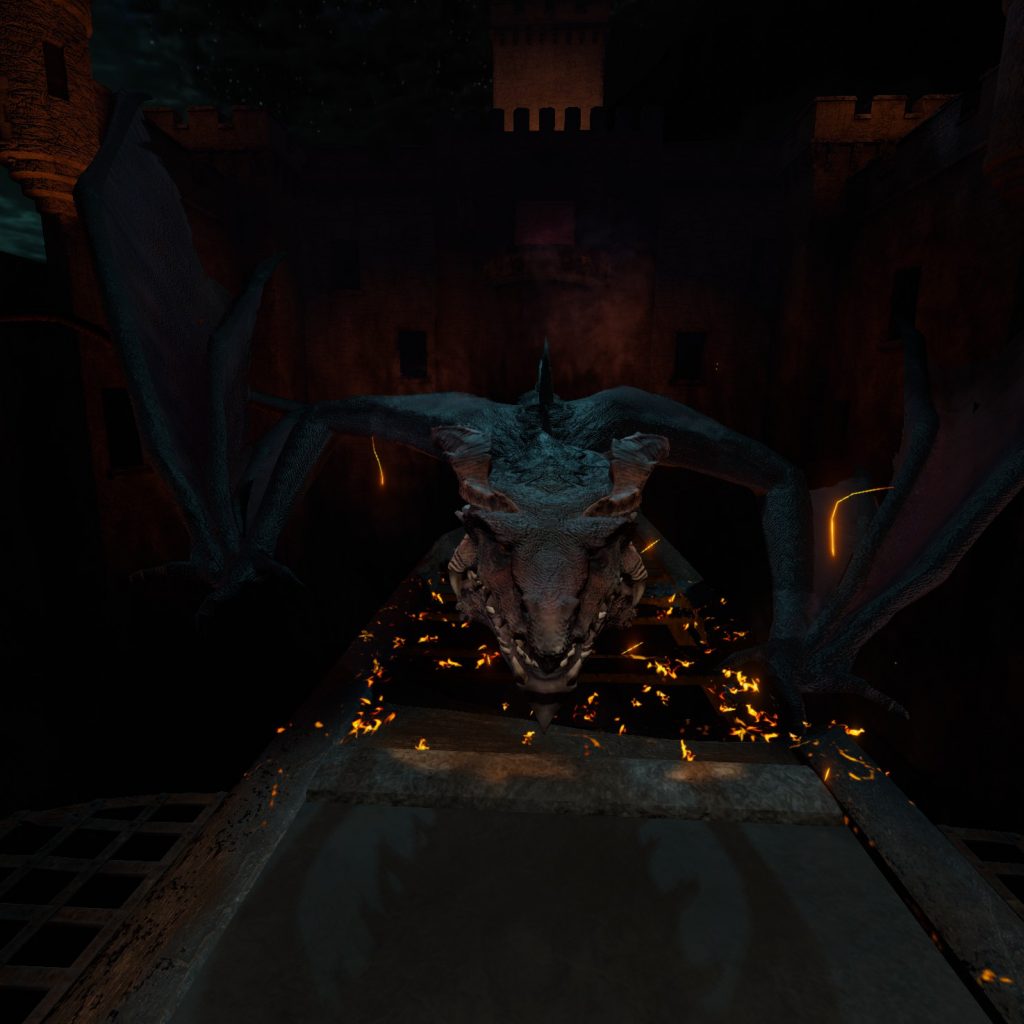 Project to Support: Crowfall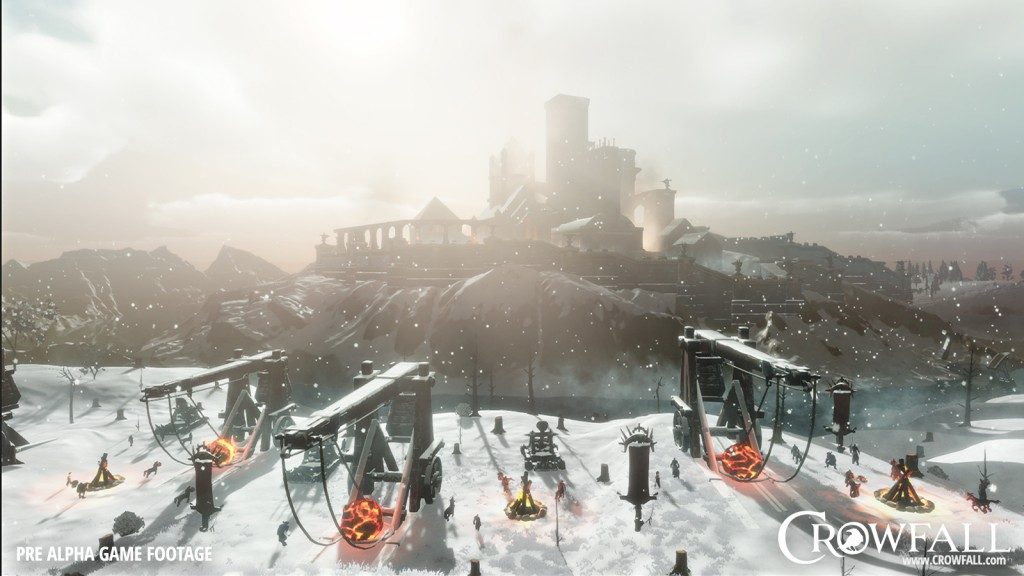 Be part of shaping the next great MMO by becoming a
Crowfall Backer!
Crowfall is the first and only online Throne War game. You can win. Join intense PvP battles

that demand strategy, survival and a fierce competitive spirit. Reap the spoils of war as an Eternal Champion!
Claim virtual territory on behalf of your guild or faction. Capture mines, mills, and quarries to secure resources, build castles, and besiege your neighbors. Scavenge artifacts and relics from the Dying Worlds and install them in your temples to grant blessings to your vassals. Capture lost spirits to do your bidding — or bind them into your weapons to infuse them with sorcerous power!
Project to Support: Avatar Express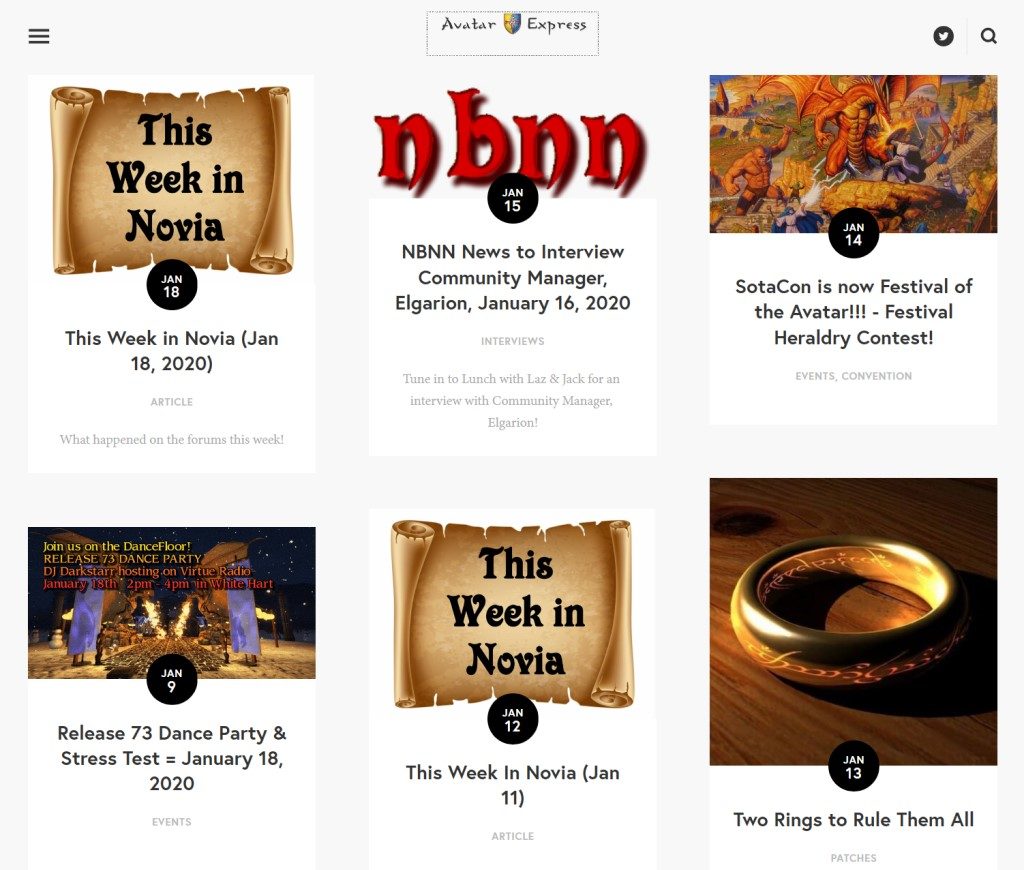 [Forum post by Vladamir Begemot]
I'm pleased to report that
The Avatar Express
is clacking away furiously. News is being delivered and we have established systems to deliver it directly to your brain. You can use one of those systems by following us on
Twitter
at @avatar_express. Even more reliable due to its fully automated nature is joining us on the
Discord
server. News items are posted there via RSS. Or you can subscribe to RSS directly on the site.
If you run an event, quests, etc, please consider helping out by self reporting. The Shroud community is big, and many things are happening that are never seen by others. With 10k monthly users, we would need a full time staff to track down everything that is happening.
You can fill out the
contributor form
, message
@that_shawn_guy
here or post in the Discord server that you would like to help. There is no committment once signed up, you can post as much or little as you like.
Writing up your own events has several benefits beyond the immidiate exposure. It serves as a record for others to see the history of New Britannia as we create it, in an attractive format. Publishing in the Express also has a higher chance than the forums of being seen by search engines and random readers, thus bringing more eyeballs and new players to the game.
It will even make posting in the forums easier! You can upload images to your news item, and then link to those images in your forum post. No more need for 3rd party image hosts!
So if you have something going on in your guild or town, or want to be a Reporter, Cartographer or Historian,
please join us!
Resources: Players Helping Players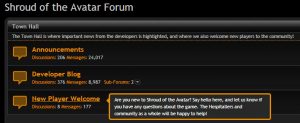 The official SotA
New Player Welcome Forum
and the
Player Created Resources Forum
have the best player created resources for Shroud of the Avatar, whether it's a Player Written Guide, a Video Walk-through, or a Wiki-type Website.
Visit the official
Community Resources page
for a complete listing of all things community.
Continue reading...