Sorry, this is written in Japanese. I hope Kanji letters will help you.
ウルティマの古くからの家々
家の所有者の皆さんへ呼びかけます!
築後十年以上の古い家を持っている人はいませんか? 私たちは、UO チームと共同して、そうした家々の所在を確認したいと思っています。
Mesanna が古い家を所持しているベテランたちに名乗り出て欲しいといっています! もし築後十年以上の古い家を所持していたら、ゲーム内でそのことを認知してもらうために、その家の情報を登録してください!
下のフォームに入力してください。その家はどこにありますか? シャード、ファセット、家の座標を教えてください。必要があれば、六分儀(Sextant)を使って調べてください。私たちが全シャードで築後十年以上の古い家を探していると、皆さんのお友だちにも教えてあげてください。こうした家々をすべて見つけ出すのに力を貸していただきたいのです。Mesanna が私たちの協力を求めています!
家の看板の「家の情報」ページを開き、看板上にあるのと同じ書き方で、日付を登録してください(下の SS の例では、"2001-10-15" という書き方になります)。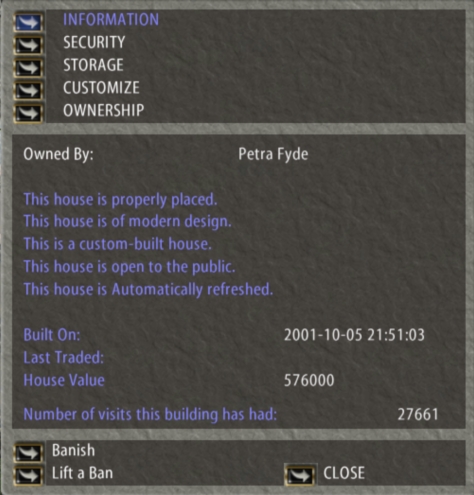 スクリーンショットをネット上に置けるなら、その URL も教えてください。次のフォーラム
Homes and Castles Forum
に投稿した場合は、投稿内にそのリンクを示してください。
登録された家は、私たちの
Homes and Castles
のレヴューコーナー(Review)に掲載する予定です。
Submit a House: 家の登録
Your Name: あなたの名前
Email: メールアドレス
Facet: ファセット
Co ordinates: 家の座標
House Name: 家の名前
Build Date: 建築の日付
House Owner (the character name that is on the house sign): 家の所有者(家の看板に記載されているキャラクターの名前)
Screen Print URL (if any): (もしあれば)スクリーンショットのURL
※Co ordinates は「家の座標」です。六分儀(Sextant)を使って調べてください。
Ultima's Oldest Houses?
Calling all house owners!

Do you have a house that is 10 years old or more? We, in collaboration with the UO Team, want to locate them all.

Mesanna is asking for Vet Houses to step right up! Submit your house information if you have a house placed for 10+yrs to receive in game recognition of your accomplishments!

Fill in our simple form below and tell us about it. Where is it? Shard, facet, co-ordinates. Find these with a sextant if you need to. Tell your friends too, we want to find every home 10 years and older on all shards. Help us find them all, Mesanna is counting on us!

Find the 'information' page on the house sign, enter the date in the same format as it is shown on the sign ( 2001-10-05 for the house pictured)



If you have a screenprint of the house, include a url please, or post it on a thread in the Homes and Castles Forum and include the thread link instead.

All the homes submitted will be featured in our Homes and Castles Reviews Section as we receive them.